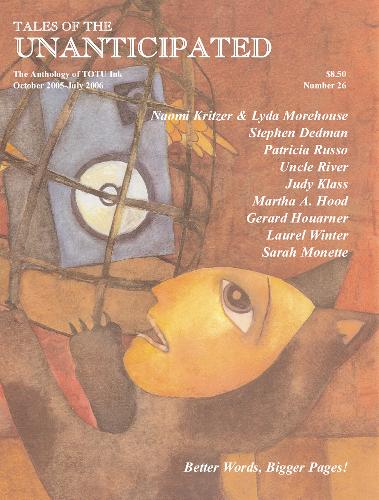 About the Story
This story was originally written for an anthology of stories about bookstores. What if, I thought, a book were a literal voyage to another place? A bookstore owner would be like a harried travel agent, desperately trying to please customers who are stuck in various situations "on the road."  Imagine being support staff for the adventurers in The Tough Guide to Fantasyland. The story built itself around the main character, whom I envisioned as a rather Connie Willis sort of heroine, and I was pleased with it when it was finished.
Unfortunately, I missed the deadline for the anthology, and then the second magazine to which I submitted it sat on it for nearly two years (I eventually pulled it after 569 days of non-response). While I was waiting for it to come back from that magazine, Jasper Fforde's The Eyre Affair, based on some of the same concepts, came out, rendering my story apparently derivative.
I'm grateful to Tales of the Unanticipated for publishing it anyway. I still think it's a charming little fantasy.
Excerpt
Julie was shaken from her reverie by Mrs. Beach's voice.  "Herbert, where's Vanessa?"
"Isn't she in the children's corner?" he replied from somewhere back in the stacks.
"No.  I was just tidying up a bit — honestly, I don't know how you can find anything in here, Mrs. Barrett — when I noticed she wasn't there."
"There's a bell on the door," said Julie, "and I haven't heard it since you came in, so she hasn't left the store.  And it's Ms. Barrett."
"Vanessa!" called Mrs. Beach.  Her voice was immediately absorbed by the masses of paper all around.  Books stood on shelves, sat in boxes, lay in piles everywhere.  No echo returned from them.
"I'll bet she's just disappeared into a book," Julie said as she stepped out from behind the counter.  "Probably Narnia, or Pooh.  I spent whole days with Pooh when I was her age."
"She's too young for that."  Julie herself had begun vanishing at six, but she said nothing.
There was no Vanessa in the children's section, and no books out of place either, but the yellow rain slicker hung on the back of a tiny chair.
"I'm sure she's fine, ma'am." Julie walked down the rows of shelves, looking for an open book.  "There are so many good books here," she said with false cheer, "and you know how easy it is to get sucked into a good book."
"But there are books of all kinds piled everywhere!  God alone knows what she might have gotten herself into!  Vanessa!"
"Please don't yell, ma'am.  We'll find her."  It wasn't the first time she'd had to search for a misplaced customer.  Most people knew to bring a book to the counter before sampling it, but sometimes the temptation to "just skim a little" turned into a full-blown reading expedition.    Once a very embarrassed young man had turned up the day after he came in.  Julie hadn't even known he was missing.
Just then Julie spotted a book lying open, tucked in atop other books on a lower shelf.  It was just the sort of place a small person whose knees were not yet acting up would curl up on the floor to read.  "I'll bet she's in that book right there," she said, heading toward it.
"Vanessa!" cried Mrs. Beach, doing the same.
They collided half-way there, collapsing in a tangle of knees and elbows.
A cascade of books thudded down on Julie's head and shoulders. The shelves emptied themselves one after another as they tilted, volumes tumbling over the edge like synchronized swimmers from an old Esther Williams movie.  Julie caught a brief glimpse of the open book as it joined the cascade.
With one last thud, a copy of Paradise Lost fell onto the jumbled pile of books at their feet.
The book with Vanessa in it was somewhere in the midst of the pile.
Honors
Honorable Mention in Gardner Dozois's Year's Best Science Fiction.