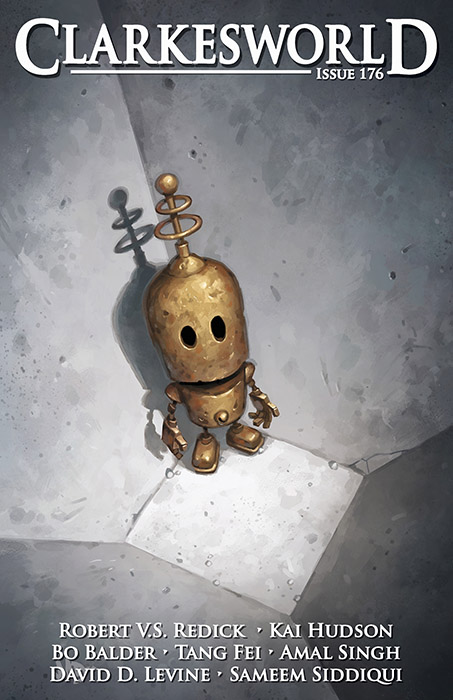 About the Story
This story started at one of the "Idea to Outline in an Hour" workshops I present at science fiction conventions and writers' workshops. In this workshop I walk the participants through a series of fifteen questions, which I originally got from my instructor Pat Murphy at Clarion West, which I have found reliably guide me from a vague idea to something with characters, setting, and structure that I can actually begin writing.
This particular workshop was at the Foolscap convention in September 2012, and in this case I started with the two-word idea "Space Mice!" and worked through the exercise right along with the participants. I don't always do that, but in this case I did, and the outline I wound up with struck me as perhaps worth pursuing. But I didn't get to it right away. In fact, it remained in a folder on my hard disk for over eight years.
As you may know, my wife Kate Yule was diagnosed with brain cancer shortly after I sold my first novel, Arabella of Mars, in 2014. I managed to finish the Arabella trilogy during her illness and death, but I didn't have much energy left over for short stories. After turning in the third and final Arabella book, I started in on a new novel… but between grief, post-trilogy syndrome, a medical crisis of my own, and a global pandemic I didn't finish it until late 2020. It wasn't until February 2021 that I started to consider writing short stories again.
I'd been thinking for some time that the "space mice" idea I'd worked up back in 2012 felt like something compact, self-contained, and fairly lightweight, a good candidate for getting back on the short story horse. So on February 25 I started in on writing it, and by March 14 I had a draft. I sent it off to a couple of friends for their feedback, then after a few small revisions submitted it to Clarkesworld on March 29. On April 10 it was accepted, and after a few more small revisions it was published on May 1. That's about the fastest I have ever gone from outline to publication! I hope you enjoy it.
Reviews
"In May Clarkesworld starts off with a new David D. Levine story, always a treat. 'Best-Laid Plans' is a charming story about a modest space station run by a small university. Dr. Chelle Yan is studying how genetically modified mice (not allowed on Earth) transmit knowledge, but all that's interrupted when the station starts leaking air, no one can find the hole to patch it, and they're told they'll need to evacuate – including either abandoning or euthanizing the animals. Dr. Yan locks herself in her lab behind a series of awesome obstacles to thwart the security and administrators, and starts working furiously to try to teach the mice repair skills. … I absolutely loved the tale of the quirky but heroic researcher tackling a crisis. Recommended." — Karen Burnham. Locus
"Although frequently humorous, the story never becomes silly. The speculative content is believable, and the narrator is a convincing portrait of a working scientist. The author manages to create a truly original version of problem-solving science fiction." — Victoria Silverwolf, Tangent
"In this rather cute story, Dr. Yan is a scientist working in a space station using mice for experiments into learning and genetics. It's pretty standard stuff, really, until a micrometeor hit means the station will have to be evacuated in a hurry unless someone can find and patch the hole. Which isn't going well, and puts Dr. Yan in a place where all the station's mice might be euthanized. Except, there's a plan. A long shot. And it makes for a fun and thoroughly entertaining read!." — Charles Payseur, Quick Sip Reviews
"Dr. Michelle Yan is doing research on mice on Lasky Station run by Grinnell University, a small liberal-arts college that owns a space station thanks to the generosity of a rich alumnus. It involves seeing if genetically enhanced mice trained to put a marble in a certain color hole, will then train other mice to do the same. Things are going slowly but she wonders where eighteen of her subjects have disappeared to. Then, the station is penetrated by a micrometeoroid and they can't find the hole which is leaking air. If they don't in eighteen hours, they will have to evacuate the station without the mice, which will have to be euthanized. Michelle doesn't want to do that so she takes a desperate chance on a wild hunch. Great fun story. Just delightful." — Sam Tomaino, SFRevu
"This is a really delightful story about mice, learning, academia, and a future Grinnell College that owns a space station." — Naomi Kritzer, Hugo-winning author of Catfishing on CatNet
"A fun, light story about genetically modified mice at a research station. In space. The station is hit by a micrometeoroid, and Dr. Yan, the researcher, attempts to save the day, and the space station from evacuation. I especially liked the elves – a tantalizing bit I would love to know more about. Overall, this was an exciting, fast paced story, and I'd certainly keep an eye out for more of this author's work." — Myra Naik, SFF Reviews
Excerpt
The mouse floated in the air in the middle of its cage.
It was an ordinary lab mouse, with white fur, beady red eyes, and an adorable little pink nose. The left ear was tattooed with a constellation of dots that identified it uniquely from all its siblings and cousins. A small nick in its tail showed where I'd taken a tissue sample soon after it had been born. The fact that it was alive today, a fully grown thirty-one-gram adult, showed that it had passed that test: it carried a modification in CHRNB2, the cholinergic receptor nicotinic beta 2 subunit gene, which we hoped would positively affect its ability to socialize with and learn from its peers.
The mouse looked at me. I looked back.
It clutched a shiny blue marble in its front paws.
It wasn't a surprise that the mouse was floating peacefully in midair. Mice adapt quite well to zero gravity, and this particular mouse had been bred, born, and raised here on Lasky Station, as had generations of its forebears. Foremice. Predecessors.
As for myself, I floated on my side of the glass with my hands folded behind my back, my face carefully neutral. Not that it mattered directly, given that I was wearing a surgical mask, goggles, and face shield, but we'd all learned as undergrads that controlling your expression is a quick shortcut to controlling your body language and pheromones, and you do not want to influence your lab subjects in any way.
But I really, really, wanted it to put the marble in the black ring…