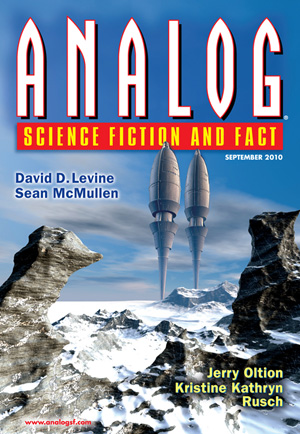 About the Story
This one started when the question came up in conversation: how exactly does a grub transform into an adult insect? Do the parts slowly morph into other parts? What would you see if you opened a pupa midway through its metamorphosis? A little research showed that the organism actually turns into undifferentiated goo, which is then built back into a different form by DNA. Weird.
This combined with another thought I've had, which is that we think of the adult form as the "insect" and the grub form as something minor and unimportant that leads up to that, but the fact is that many insects spend far more of their lives in the grub stage than they do as adults (for example, mayflies). The adult form of such an insect is like the flower of a shrub or the visible above-ground part of a mushroom: a showy, temporary affectation for the purpose of reproduction, but not the most important part of the organism at all.
Which led me to think, as one does, of this question: suppose you were such an organism, and you knew that once you pupated, everything you ever had been would vanish and you would be replaced by a completely different organism with the same name? To make it more of a challenge I gave her a mission that had to be accomplished before she ran out of time.
I also played a sneaky writer trick with this story. You'll know it when you see it.
Excerpt
"You should have realized," Takacha was saying, "that you wouldn't be able to maintain this deception forever."  As she spoke, a flavor of apprehension drifted through the slightly open door to Ksho's fingers.  Both adults were nervous, verging on terrified.  Why?
"Don't do this, Takacha."  Xinecotic was holding perfectly still, most unlike the usual rolling and preening of an adult being groomed.  "You can stop this madness now, before any permanent harm is done.  I'm authorized to offer clemency if you halt the operation immediately and surrender."
Takacha chuttered, antennae lifting, as though Xinecotic had just said something funny.  "Clemency."  She raised one hand, and Ksho's already-sour stomachs soured still further, with fear, as she realized Takacha held a weapon leveled at Xinecotic's thorax.  That explained her parent's unnatural immobility.  "You'll have to offer far more than that to make abandoning this operation worthwhile."
"Think, Takacha.  What you've done so far is only a level three offense, but harming an agent of the Grand Nest means death by suffocation.  And if I don't check in, there will be an investigation."
"Oh, you will check in tomorrow, at twelve past the hour of waking, just as you have been doing every sixthday."  Xinecotic's eyes twitched at the statement, and the flavor of anxiety that pervaded the room intensified.  "Yes, we've been monitoring your communications.  And we're able to reproduce them as well.  You won't be missed until after our job here is done."
Xinecotic bristled.  "A bad clutch of eggs always hatches a bad swarm.  One of your compatriots will betray you to the Grand Nest in exchange for leniency."
All during this conversation Ksho's mind raced — there must be something she could do to help her parent.  But her soft little voice would never be heard more than a few rooms away, and even if she ran for help, no adult would listen to a juvenile.  Even the structural failure alarms were deliberately out of reach of her stubby little limbs; everyone knew that juveniles, with their undeveloped brains, could not be trusted with such a responsibility. 
But Ksho was almost an adult.  Anyone could see how close she was to pupation.  Surely she could use that fact to convince someone to come and help.
Just as she was about to slip her eye out of the door and ease it closed, Takacha buzzed "None of my compatriots would ever betray me!  This nest is as one."
This nest is as one.  Takacha was saying that every single adult on the expedition was part of… whatever it was that Ksho's parent was trying to stop.  Something illegal.  That meant that even if Ksho managed to get one of the adults here to believe her… it wouldn't save Xinecotic.
Ksho trembled, immobilized by fear…
Honors
Listed on the Locus Recommended Reading List and Tangent Online Recommended Reading List. Second place for Best Novelette in the Analog readers' poll. Honorable Mention in Gardner Dozois's Year's Best Science Fiction.
Publications
Analog, magazine, September 2010
edited by Stanley Schmidt