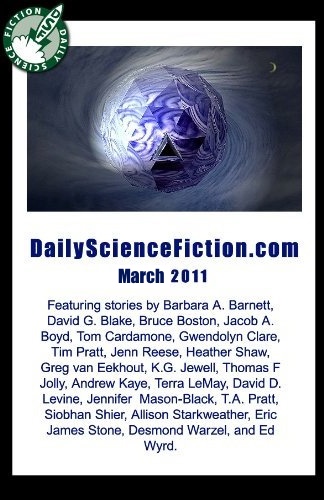 About the Story
I posted this query to my blog: "I want [my next story] to be a real challenge, something that stretches my talents, something that maybe goes places I'm scared of.  This time out, I want to risk failure.  You, my readers, may have a better view than I do of where my strengths and weaknesses lie.  What kind of story would you like to see me tackle?"  Among the answers I got, here are the ones that really grabbed me:
From bjcooper: A serious near-future story that deals with global warming, totalitarianism, etc. designed to poke fun at the powers-that-be.
From csinman: Use an unreliable narrator.
So that's what I wrote.
I started with the narrator talking to herself, in an interior voice, and was surprised that the story just kept going in second person. Some people are allergic to second person present tense, but in this case it seemed a good fit for the story and situation.
Excerpt
You've got to hold to your priorities, Michelle Fletcher.  That's what you tell yourself as you scrub and scrub and scrub at the crusted black grit in your one saucepan.  You've got to remember what's important.  Your nails are short and bare of polish, ragged and splitting where they clutch the rusty steel-wool pad, and the skin of your hands is red and rough and raw.  You have to hope the constant ache in your joints is just from the never-ending effort of staying alive, and not the beginnings of arthritis.  There are no decent doctors here.
You've only yourself to blame, 'Chelle.  You got distracted again, got thinking about what you would have done with a nice salmon filet back in the Heron Point house, and let the rice burn in the pan.  Oh, you managed to save most of it, and gave the least-burned bits to Tom and Janie, but the part you kept for yourself tasted of charcoal and shame.  A fitting punishment for letting your mind wander.  You have to stay on your toes if you're going to keep your family alive on a pitiful half-cup of rice per person per day.
They said there might be beans next week.
But Janie's been getting so thin…