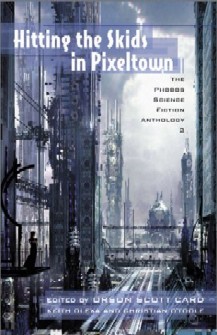 About the Story
"Ukaliq and the Great Hunt" began with an image, which I think might have been in Gene Wolfe's Soldier in the Mist: the sailor painting in the eye of the mythical creature on the prow of his ship, so it can see to bring him home safely. I combined this image with research in anthropology, biotechnology, and astrophysics to produce the story of a culture and a hunter that are not what they seem.
On July 30, 2002 I was reading a story on the Asimov's web site, and on that page was a banner ad saying something like "Enter the Phobos fiction writing contest!" I'd never heard of the contest, and I never click on banner ads, but for some reason the ad caught my eye and I clicked on it. Let's see… open to anyone in the USA over 18, top prize is a thousand bucks, and the deadline is… tomorrow!?
I count myself lucky that entry to the contest was by email, that "Ukaliq" was not in submission anywhere else at the time, and that I had a copy of the file on my work computer.
The people in the story are based on the Inuit (Eskimos), though their biology and their culture have both been modified. The last line of the story is a standard Inuit story ending, and the character and place names are mostly animals:
Ukaliq = hare
Irkaluit = Frobisher Bay
Tiriganiaq = fox
Udjuk = bearded seal
Koovianatuklook = (an Inuit proper name, I don't know what it means but I liked the sound of it)
Umingmak = muskox
Natsiq = seal
Reviews
"Hitting the Skids in Pixeltown is a collection of stories by generally new writers. Regarded as a showcase of new writers, it's impressive, and I'll certainly look to see more work from these folks. … I particularly liked 'Ukaliq and the Great Hunt', by David D. Levine, which cleverly recasts American Indian-style legends to tell a story that turns out to be straight SF."
— Rich Horton, Locus
Excerpt
When I was a young man, just a few years older than you, the elders saw the signs in the sky and declared it was time for the great hunt. They sent all the clan's hunters to cut a black cedar tree, while the gatherers set up camp at the traditional carving place.
Every step in the preparation of the great hunt totem must be performed exactly according to the ancient ways, or the totem will lose its way. Or even worse! In my father's day a clan near Irkaluit was destroyed by a great fire while carving their totem.
Only the wisest elders and the hunters with the surest hands do the actual carving. I was with another group of hunters, who went to the encampment of the glass people for trading.
No, they are not made of glass! Who told you that? Well, your sister is wrong, and you can tell her Grandfather Ukaliq told you so. We call them the glass people because they make so many things of glass. Even their houses are made of glass! In my great-grandfather's day they wore glass hats that covered their heads completely, but they are not so vain today.
Even the biggest glass person is no bigger than you, and as skinny as a hare's foreleg. They always wear bulky clothing — to keep them warm, they say, but I think they are ashamed of their tiny, sunken chests. Their skins are very pale, and they smell like burnt antler. But they are much stronger than they look.
Some say the glass people are very stupid. It's true that they are poor traders, but they are excellent healers and great travelers. And great liars! One tried to convince me he was born on a star!
Honors
Honorable Mention in Gardner Dozois's Year's Best Science Fiction.
Publications
Hitting the Skids in Pixeltown, anthology, September 2003
edited by Orson Scott Card, Keith Olexa, and Christian O'Toole