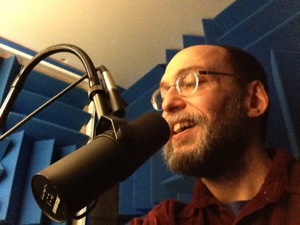 As you may know, I've been working for some months on a professionally-produced audiobook version of Space Magic, my award-winning short story collection. Well, it's finally done, and today is its release day!
The Space Magic audiobook is now available from Book View Café, Audible, Amazon, and iTunes in a variety of audio formats. Tell all your friends!
If you'd like to try before you buy, you can download a five-minute sample of "Tk'Tk'Tk:"
This has been quite an adventure. It's been a lot more work than either I or the audio engineer had expected, and a real learning process for both of us. I've learned all about sibilants and plosives and "mouth noises," and I've discovered that I don't really have as many different voices in my repertoire as I thought I did. But I hope that you will find an entertaining variety of voices within each story. There are some dramatic scenes I'm really proud of, and I'm quite pleased with how the alien language in "Tk'Tk'Tk" came out.
This has also been a couple of months of having my own fiction rubbed in my face. You know how they say you should read your work aloud as part of the editing process? They're right — there is no better way to spot problems in your own prose, and now I wish I had done this for some of these stories before they were published. And having to not only read my own work over and over, but then listen to it over and over (and I know I'm far from the only person who hates the sound of his own voice) has been truly humbling. But, on the whole, I find that I am still proud of these stories, and despite the problems I can still hear in the recordings I'm happy with the audiobook and I hope that you will enjoy it.
Many people have told me how much they enjoy my readings at conventions. Now here's your chance to take a little piece of that experience home and enjoy it at your convenience.
Some people have asked me where and when they should buy my stuff. The bottom line is, you can get it wherever and whenever you like. If you buy from Book View Café I get more money, but if you usually get your audiobooks from Audible or iTunes or Amazon you should go ahead and buy it there, because those sales will help drive the "if you liked this audiobook you may also enjoy" engines at those sites. It would also be helpful to me if, after you've listened to the audiobook, you would rate it or even post a review at the site where you bought it (or on your blog, or anywhere really). But what I really care about is that people read (or, in this case, hear) and enjoy my work.
So, wherever you go, just go out and buy it… and then you can stick me in your ear! :-)
#SFWApro