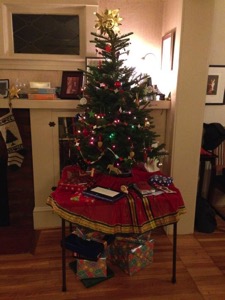 Happy Boxing Day!
Kate started her radiation and chemo treatments this week. So far the side effects have not been too bad, although she's started to lose some of her hair, which is upsetting. However, there has been no nausea.
The aphasia, unfortunately, continues, varying in severity with the time of day and Kate's energy levels. We've begun working with an excellent speech therapist, and she's already given us some useful techniques to improve communication. Kate is fine at naming specific objects ("convergent naming") but has trouble with generating specific words from a general concept ("divergent naming") so visualizing an object or action in a concrete way before speaking is often helpful in working around the failure to find the word. Fortunately, she has no difficulties with reading or comprehending spoken language.
Radiation will be at 9:30 every weekday morning from now until about Groundhog Day. If you are in a position to provide Kate a ride from our house to Providence for this half-hour appointment while David gets something else done, it would really be appreciated. In particular, Kate will need rides to radiation at 9:30am and speech therapy at 3:00pm on January 8 because David has other appointments that day.
It is still very helpful to us to have home-cooked dinners in the freezer. Thanks to helpful neighbor Michelle, we are having a freezer delivered on 12/30, so we will shortly have much more room for frozen foods. If you could provide us a healthy meal with protein for damaged tissues, fruits and vegetables for fiber and vitamins, and not too much salt, it would be very very welcome. We expect to have out-of-town guests during some of January, so if you could provide a meal for three or four people that would be even better.
Christmas chez nous was pretty good. We had a delicious Christmas Eve dinner at new-to-us restaurant Cabozon, there were lots of presents under the tree (thanks in large part to Janna Silverstein, hero of the revolution), and on Christmas Day we had a lovely, quiet open house with just enough people, food, and jigsaw puzzles. The day was not without tears — I don't think either of us has had a day without tears since this started — but it was, all in all, a very pleasant holiday.
The help and support you all have provided have been absolutely invaluable. Thank you so much from both of us, and best wishes for the holidays and new year.