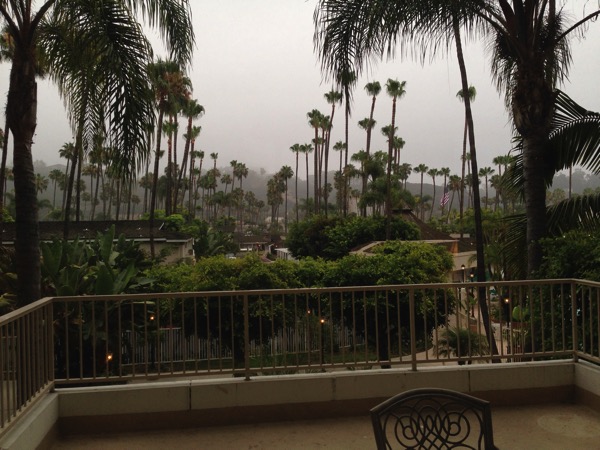 Things are going pretty well around here. In the last two weekends we attended the Locus Awards in Seattle and the Westercon in San Diego, and both were fun, if quite laid-back for us. I was on a lot of programming at the Westercon; Kate attended a couple of program items a day and spent much of the rest of the time napping or relaxing in the room. But we had many fine meals, hung out with friends, and enjoyed the weather (paradoxically, San Diego was a refreshing 68 degrees and overcast while Portland was an unpleasant 90+ degrees and sunny).
Kate had another bi-monthly MRI, which was almost identical to the previous one. Although we had hoped to see some healing, given the typical behavior of this type of tumor "no news" is definitely good news. She has also completed another round of chemo — round 5 of 6 planned monthly doses, and at this point the doctor still thinks we will stop after round 6 — with minimal side effects. Her biggest problems now are muscular weakness (from the steroids), fatigue (from the chemo), and memory issues (most likely from the radiation), and we're working with a physical therapist, occupational therapist, and speech/cognitive therapist to try to improve those. Her speech and right-side weakness seem to be better than in previous months, but it's hard to say… the improvement is very slow and subtle, and not on a constant upward slope.
In general, it's hard to say whether she's doing better or worse overall. By comparison with the first few months after the surgery, her energy, mood, and ability to communicate are substantially better. But the fatigue and weakness are worse, the memory problems are new and frustrating, everything varies depending on time of day and energy levels, and we don't know whether or not to expect them to get better. What progress there is, is sometimes hard to observe. We persevere.
Thanks to Geri, Janna, Mark, Cynthia, Teresa, Ariel, Page, and everyone else who's come by for a visit. We are almost always open for callers. Also, Kate would love to get out of the house more, so if you can come by to take her to a park (in the morning when it isn't too hot) or shopping or any such thing, please do contact me.