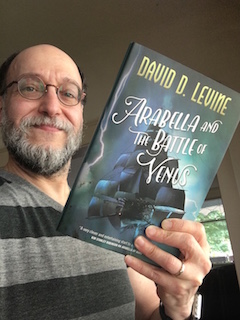 My second novel, Arabella and the Battle of Venus, sequel to the Andre Norton Award winning Arabella of Mars, comes out this week! The official release date is July 18, but I have seen copies in two bookstores already. You can buy it from Powell's, University Book Store, Barnes & Noble, iBooks, Kobo, Your Local Independent Book Store, or Amazon.
Is there an ebook? An audiobook?
The ebook of Arabella and the Battle of Venus should release simultaneously with the hardback, from all the major ebook vendors, without DRM. I haven't seen any sign of the audiobook yet, but for the previous book it followed the hardback release by a few weeks.
Are you planning a book tour?
Yes! Here are the planned stops:
If any of these events is local to you, please come if you can. There will be music, costumes, and giveaways! Come in costume! Tell your friends!
What's the book about?
From the publisher: The thrilling adventures of Arabella Ashby continue in Arabella and the Battle of Venus, the second book in Hugo-winning author David D. Levine's swashbuckling sci-fi, alternate history series!
Arabella's wedding plans to marry Captain Singh of the Honorable Mars Trading Company are interrupted when her fiancé is captured by the French and sent to a prisoner-of-war camp on swampy Venus. Now, Arabella must find passage to an enemy-controlled planet in the middle of a war, bribe or fight her way past vicious guards, and rescue her Captain.
To do this she must enlist the help of the dashing privateer, Daniel Fox of the Touchstone and build her own clockwork navigational automaton in order to get to Venus before the dread French general, Joseph Fouché, the Executioner of Lyon.
Once on Venus, Arabella, Singh, and Fox soon discover that Napoleon has designed a secret weapon, one that could subjugate the entire solar system if they can't discover a way to stop Fouché, and the entire French army, from completing their emperor's mandate.
What can I do to help?
You should buy the book, of course. Buying it on the release date is helpful but not necessary. If you can't buy it, borrow it from the library. If you can't find it at your local library or bookseller, ask them to carry the book. Also, it's extremely helpful if you post a review on Goodreads, Amazon, your own blog, or anywhere else people might see it. It's okay if you don't like the book! Even a negative review can be helpful if you say why you didn't like it. (Reviewer: "I hated this book! It has Martians and airships and girls dressing as boys! Yuck!" Reader: "Cool, that's just what I love!") And please mention the book to your friends online and off. 
Where should I buy the book? Is paper better than ebook?
Wherever and in whatever format you like to buy books. I get the same money wherever you buy it, and I don't care whether you read it on paper or on screen. There are benefits to me if you buy it on Amazon, but personally I'd prefer it if you would support your local independent book store. Or you could get it from Powell's, which is my local independent book store. You can even order a signed edition from Powell's, which I will sign for you at my reading on July 18.
How is Arabella of Mars doing?
Very well, thank you! It won the Andre Norton Award for Young Adult Science Fiction and Fantasy and was nominated for the Oregon Book Award, Locus Award, and Compton Crook Award. Sales have been quite satisfactory, and the mass market paperback was released on May 30.
Will there be a book 3?
Yes! I just submitted the first draft last week, and it should be out about the same time next year. This third book, which is currently titled Arabella and the Winds of Phobos but might be called Arabella the Traitor of Mars, concludes Arabella's story, but there are more tales which could be told about other people in other times and places of Arabella's world.
How are you doing?
As you know, the last year has been an extremely difficult one for me. But I am doing better, and Arabella's success has been a great comfort. I thank all of you for your support of me and of the book.