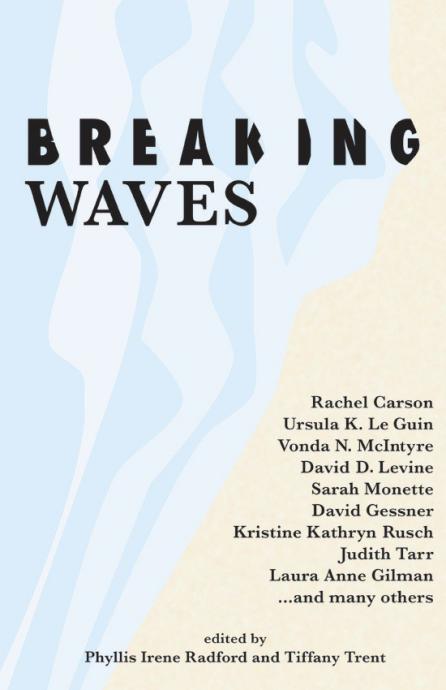 About the Story
My friend Andrine de la Rocha traveled with the Flying Karamazov Brothers and other jugglers and entertainers to New Orleans after Hurricane Katrina, to help out and to entertain the people of that devastated area. During the trip she sent back emails to her friends describing the horrific and heartwarming things she saw. I wrote back saying that what she had written, with its amazing real-life descriptions, had all of the characters, situations, and settings of a fabulous fantasy story — all it was lacking was a fantastic element. With her permission I took her journey and many of her words and turned them into this story of devastation and redemption. And then came another Gulf Coast disaster, and this story was a natural for the benefit anthology.
Excerpt
Everyone piled into the bus and vans, dressed to the nines in their boas and petticoats, band jackets and wild hats.  I wore my favorite red and blue jacket with the two rows of shiny brass buttons, topped with a headpiece that looked as if I had had a tragic kitchen accident involving a pair of tongs. 
We marched into the Senior Center to the "Flying Credenza March," a composition of Chip's.  The room was pretty small for our large group; about a third of it was filled with shelves of relief supplies, and there were seats for only about twenty folks around the edges.  But the elder folk were delighted to see us.  
The first act was our nonagenarian Winnie Hope, "The Fort Knox of Folk Music," who sang a couple of songs to her peers and juniors.  Then came our youngest performer, nine-year-old Noah Pendergast, who juggled three clubs with some actual skill.  Next Carlos came out and did his amazing punk-rock fire-eating act, followed in turn by a couple of Irish singers, Theo's rapid-fire card tricks, and an accordionist.
The Credenzas performed in our usual next-to-last slot, juggling and telling jokes even older than our audience.  They ate it up, laughing and applauding with gusto.  But my eye kept being drawn to two figures standing near the back, barely visible in the glare of our lights, who weren't laughing at all.
Then I recognized the taller one, with a shock that made me miss a catch.  It was the skinny homeless guy I'd seen at the fence, with his eyes like black ice.  The shorter one might have been his daughter, a ragged little black girl with the same bitter hollow eyes.  I bent to retrieve the club I'd dropped, and when I straightened I didn't see them any more.  I kept peering into the audience, to the point that Peter raised one eyebrow in his trademark "keep that up and I'm going to be really ticked" expression, but no matter where I looked I couldn't see them anywhere in the crowd.
We wrapped up with Momus doing two-high juggling, nearly giving the elders heart failure with their antics.  As we prepared to depart, to the band playing Sousa's "Washington Post," one of the old ladies stood up and asked to speak a few words.  It turned out to be Arlene.  I was amazed that such a tiny white-haired woman could have had such a huge impact on so many people's lives.
Arlene thanked us all for coming to their little town, for helping to take down the tent and clean up the yard, and most especially for bringing them joy and laughter.  I looked around through my tears to see that all the other New Vaudevillians had glistening eyes and sniffles as well.  I reached out and took the hands of each of the folks sitting there and looked into their eyes, thanking them for their hospitality and love. 
I had forgotten that I was wearing a pair of kitchen tongs through my head, but that made them smile too.