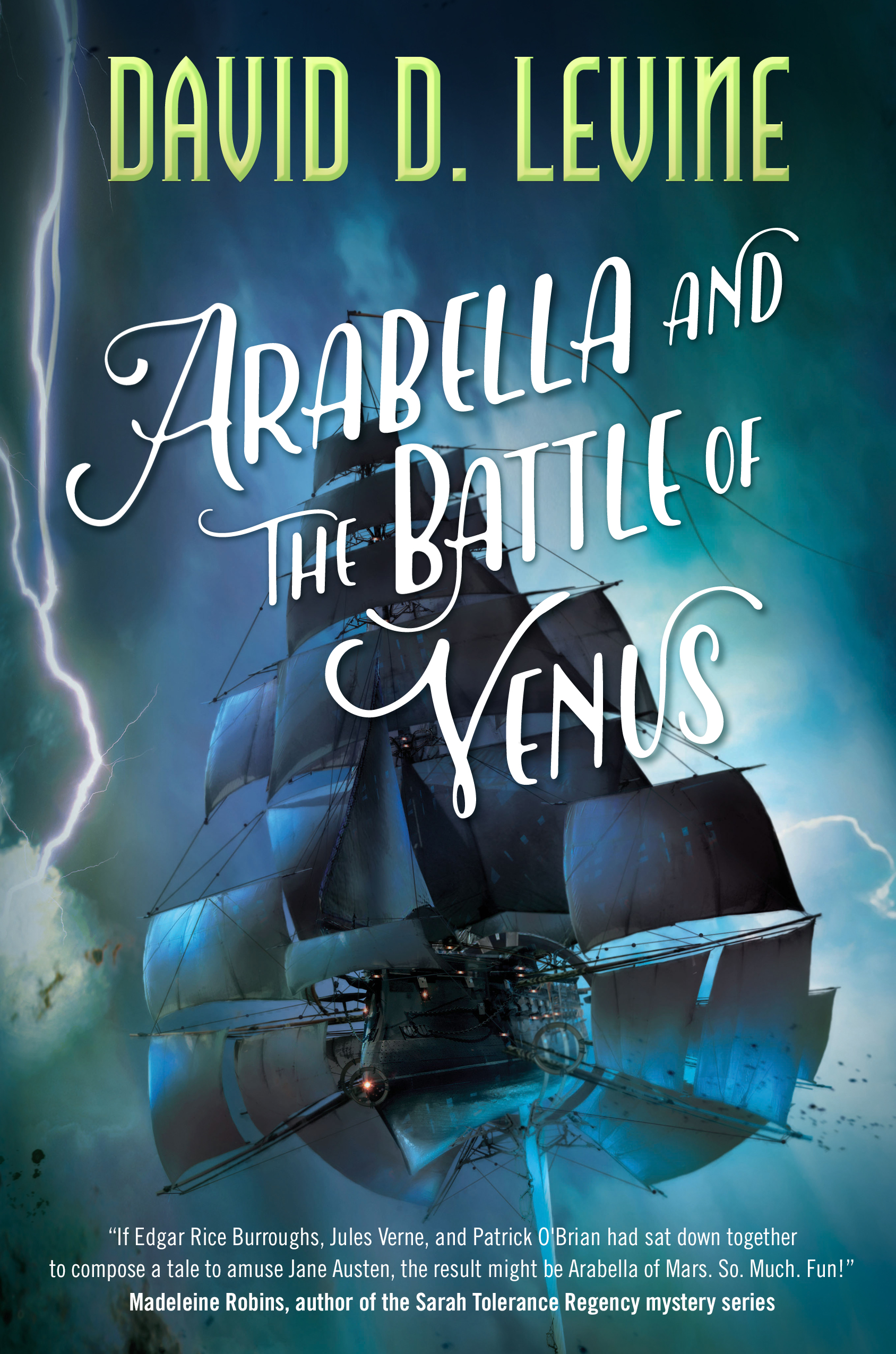 About the Book
The thrilling adventures of Arabella Ashby continue in Arabella and the Battle of Venus, the second book in Hugo-winning author David D. Levine's swashbuckling sci-fi, alternate history series!
Arabella's wedding plans to marry Captain Singh of the Honorable Mars Trading Company are interrupted when her fiancé is captured by the French and sent to a prisoner-of-war camp on swampy Venus. Now, Arabella must find passage to an enemy-controlled planet in the middle of a war, bribe or fight her way past vicious guards, and rescue her Captain.
To do this she must enlist the help of the dashing privateer, Daniel Fox of the Touchstone and build her own clockwork navigational automaton in order to get to Venus before the dread French general, Joseph Fouché, the Executioner of Lyon.
Once on Venus, Arabella, Singh, and Fox soon discover that Napoleon has designed a secret weapon, one that could subjugate the entire galaxy if they can't discover a way to stop Fouché, and the entire French army, from completing their emperor's mandate.
Reviews
"Set in a well-constructed 19th century world where battles between countries take place on the inhabited planets of Mars and Venus, Levine's latest is an extraordinary read. The very independent and spirited Arabella is a bold, intelligent heroine who stands out as she drives the story forward. The cleverly crafted plot is believable in its originality, and the colorful, distinctive characters will engage readers. Levine's storytelling is animated, infused with humor and wit, and with this second installment in his series, he pens an entertaining, adventurous tale that readers will not be able to put down."
— Melanie Bates, RT Book Reviews (RT Top Pick)
"Charming young Arabella (introduced in Arabella of Mars) embarks on another entertaining quest in an imaginative setting that combines 19th-century seafaring with pulp-style space adventure. This time she's setting out to rescue her fiancé from a prison camp on the planet Venus, where Napoleon's forces are holding him and his crew. To do so she employs the help of a dashing and impulsive privateer, Captain Fox. This interesting piece of speculative fiction draws on venerable imaginings of distant worlds while still feeling fresh and original, especially to the younger readers who are its most likely audience."
— Publishers Weekly
"What makes these books so charming, without ever veering into twee coyness despite the precocious main character with her nimble brain and unsinkable spirit, is that Levine isn't afraid to let Arabella fail. While she occasionally saves the day by being clever, sometimes, too, events simply overtake her. Plans don't always work out. Her charm isn't always magical enough to overcome the obstacles. Her story frequently becomes about how you achieve your end goal when plans A, B, and C collapse. Also refreshing is that the plot isn't solely focused on marrying Arabella off to an appropriate male. There is a marriage plot in the sense that she's trying to rescue her fiancé, yes, but a wedding isn't where the plot has been jiggered to go. There is a little light romance and a smidgeon of temptation, sure, but this story is about Arabella growing as a human, not simply to becoming a respectable wife. Still, most compelling is Arabella herself. Let's see where that can-do spirit takes her."
— Adrienne Martini, Locus