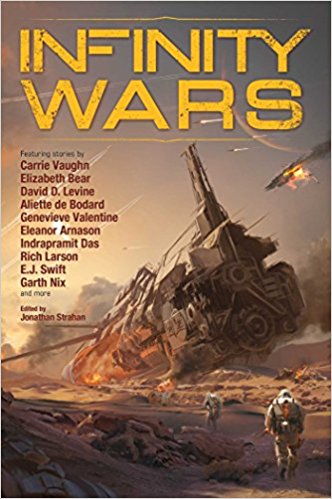 About the Story
The seed of this story was an idea I haven't seen used elsewhere: the use of teleportation as a weapon. Wouldn't it be cool (for some values of "cool") to be able to teleport a munition or a spy anywhere in the world instantaneously? I decided to stick as closely as possible to established physics — no violations of causality, no handwaving away the problems of mass and energy — but though I worked out a theory of how a particular form of teleportation might work and how it might be used as a weapon, I couldn't quite figure out how to turn it into a story. But when I got the invitation to Infinity Wars I decided to go ahead and take it all the way.
I met with my friend Andy Nisbet, my go-to guy for matters military (he served in Viet Nam and I believe his father was a general), and in a long conversation I discovered that all the ideas I had about how such a weapon might change warfare were off base. Frankly, the weapon itself, as I had spec'd it out, couldn't do anything that existing technology couldn't already do. But Andy had some suggestions as to where we might be going, militarily, and some of the issues that might divide nations and decide strategy and tactics in the future. I folded his ideas and mine together into what I hope is a satisfying future-war story.
Excerpt
Blood spattered the inside of Amirthi Kandiah's visor. "Balli kar dena!" she swore, her native Tamil returning under stress… and then she coughed again, a wracking spasm that left more red drops obscuring her heads-up display.
"What's wrong?" asked her helmet, in its precise neutral Hindi.
"Just another damn nosebleed." She raised the visor and cleaned it, eking out the last use from an already-blood-saturated wipe, then sucked down more water from her canteen before lowering it again. They had drugs for altitude sickness, drugs for headaches, drugs for pain and fatigue and nausea, but the air of the Tibetan Plateau — the chill, bone-dry, oxygen-poor air at nearly four thousand meters — led to coughs, cracked lips, and constant nosebleeds, and drugs couldn't help with those. It was just physics and physiology.
Bad enough that the Chinese were shooting at them. Even the air here in Lhasa was hostile.
Kandiah checked her heads-up for any nearby movement, following up with a visual scan of the area, before hunkering down again behind the fragment of wall where she'd been waiting for the last twenty minutes. "Dighe." Her helmet beeped and opened a connection with Lance Naik Dighe. "Waitin' on ya."
"Almost there, Havildar." Dighe's Hindi words through the headset came as a labored gasp — not too surprising, as her helmet cam showed she was moving at a near run over bomb-shattered pavement. Even walking was an effort at this altitude, and she was carrying over fifty kilos of gear. "Had to wait for a patrol to pass."
"Roger," Kandiah replied. The English word roger was a sign of modernity and respect across ranks. Even though Dighe was only a Lance Naik, the lowest rank in the squad, and Kandiah was her Havildar, or sergeant, Kandiah tried to consider herself first-among-equals.
The local map in her heads-up showed the six other members of Strike Team Makdi already in position. They were moving to surround a Chinese unit camped out in what had once been a tourist mall — dozens of stalls where impoverished Tibetans had sold "authentic handicrafts" under a Chinese-built roof with harsh old-fashioned LED lighting — but was now a fortified base ringed with sandbags and snap wire. Symbolic of the whole thing, really.
As she waited, Kandiah peered in all directions. Electronic intelligence was imperative on the modern battlefield, but there was nothing like using your own senses. Nothing moved except a scrap of plastic sheeting, whipped by the wind at the broken edge of the wall behind which she crouched. The wind was running fast and cold today, raising a rushing whistle at the edges of her visor; it carried smells of rust and explosives and shattered concrete. From above, on all sides, came the ever-present mosquito whine of drones, beyond that the cough and rattle of tracked vehicles, and far above that the deep authoritative rumble of Indian air support. But the battle right now was on the ground, nasty and personal and house-to-splintered-house.
Sometimes she fantasized about calling in a teleport strike — dropping a pellet on the base would eliminate it without requiring her or anyone in her squad to risk their lives. But no one, not even Kandiah herself, believed that a single small target like this was worth the billion rupees a teleport strike cost, never mind the political repercussions. So this sort of task fell to ground troops, as it had for centuries…
Publications
Infinity Wars, anthology, September 2017
edited by Jonathan Strahan

Forever, magazine, September 2021
edited by Neil Clarke