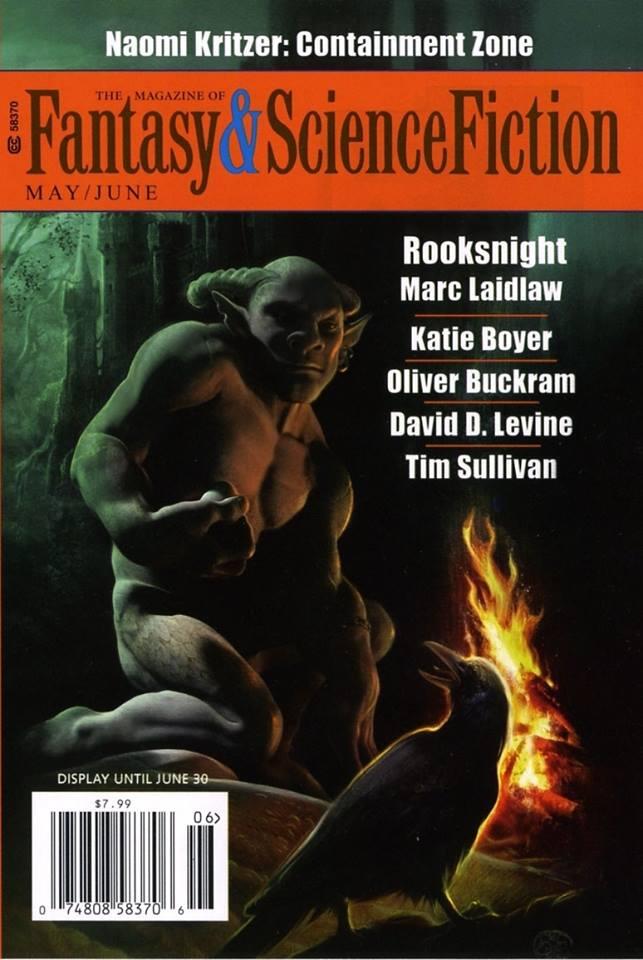 About the Story
This story takes place in the same universe as "The Wreck of the Mars Adventure", but where that story is set on Mars in 1701, this one is set on Venus in 1936.
What I had in mind for this one was a "Venus noir" story in the mold of C. L. Moore's "Northwest Smith" stories, with froggy Venusians, a damaged protagonist, love, guns, and betrayal. I was fortunate enough to begin work on this story at the Rio Hondo writing workshop, where I got a lot of help from Daniel Abraham, Walter Jon Williams, Diana Rowland, and others.
Walter Jon gave me the insight that the noir hero is all about "a peculiar kind of loyalty." In noir, often the initial plot question falls away to be replaced by a bigger question; the actual whodunnit of the initial question may be left vague. It's the hero's backstory that pulls him into the story, and lust that keeps him in and draws him still further. No one is what they seem. Hidden identities. Murder, murder, murder. In the end, the hero betrays one set of loyalties in favor of another. Legality is optional, betrayal is just par for the course, but still a guy's gotta have his standards. I had a lot of fun writing this one, and I hope you like it too.
But if you don't… forget it, Jake. It's Venus.
Reviews
"Levine's two pivotal female characters have aspirations, loyalties, and convictions that prevent the narrator from steering them to behave according to his design. The resolution satisfies, fitting the characters and their noir-feel world."
—C.D. Lewis, Tangent Online
"Clever, fast-paced and very enjoyable."
—Eamonn Murphy, SF Crowsnest
"A nice little old-fashioned combination of old-style science fiction and hard-boiled detective."
—Sam Tomaino, SFRevu
Excerpt
Cooksport had changed a lot in twenty years, and not for the better. The small and shabby passenger dock from which I'd departed had been replaced with a grand palatial terminal, which had itself fallen into disrepair, with chipped terrazzo and falling plaster and only five of the sixty slots on the arrivals board occupied. I was sure the cargo terminals had seen even bigger changes, following the silk industry's rising and falling fortunes.
Emerging from the terminal, whose ceiling fans were tarnished but still slowly turning, was like stepping into a sauna. "Ah, Venus," I said, fanning myself with my hat. "How I haven't missed you."
Though it was just past noon, the sky above the port was a curdled mess of gray cloud and weak, fitful light, the best old Sol could manage even at a distance much closer than Earth's. Wormlights, each sucking a sugar-teat at the top of a light pole, illuminated the square fronting the terminal, where a row of cabs awaited the arriving passengers.
"Superior Silk," I said to the cabbie as I tossed my suitcase into the cab's howdah, clambering up after it.
"Office or plant?" the cabbie gurgled from the driver's saddle. He was a froggie — a "Venusian aboriginal," to be polite — crammed into a human-style cab driver's outfit, complete with a uniform cap that perched unsteadily behind his bulging eyes. His collar and cuffs were frayed, and damp with the moisture that oozed continually from his pale, greenish skin.
"Office, I guess."
The cabbie's throat-sac worked in acknowledgement. He pushed the flag on the meter down with one webbed hand and goaded the cab with his heel-spurs. The cab whuffled and gurgled as it rose unsteadily to its six suckered feet, then took off down the street at a shambling run, leaving me hanging onto the grab bar with one hand and my hat with the other. The suitcase I wedged between my hip and the howdah's side.
The breeze helped a little, but not much.