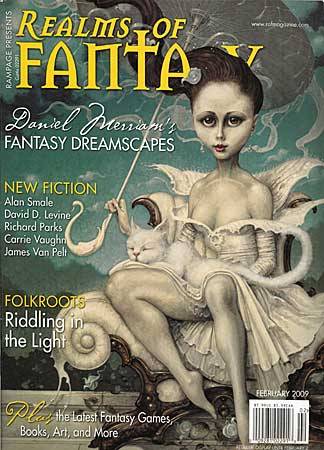 About the Story
This story was written at Clarion West, immediately following the worst year of my life — the year I spent as a manager at a large semiconductor manufacturer. I poured into this story all of the pain and suffering and frustration I'd felt in that post, fighting bureaucracy and paperwork and well-meaning higher-level managers who only managed to make my life hell. Naturally it came out a gentle comedy.  (Oh, who am I trying to kid? It was a comedy from the beginning —  in an early draft the characters were named Dilbiel, Walliel, and Bossiel — but all real comedy comes from despair, don't you think?)
The title, of course, comes from C. S. Lewis, to which I would add, "…but apparently they aren't very good at it."
This story forms a pair of bookends, or a diptych, with "The Curse of Beazoel," which was written years later but published earlier.
Excerpt
Monday.  The angel Umiel was trying to finish writing a Customer Research Report when her screen beeped.  Again.  It was an e-pistle from Ganiel, her supervisor: would she please update her monthly budget figures?  Today?  By 11:00? 
Umiel looked at the clock in the corner of her Illuminated User Interface — the little hand was on the X and the big hand was on the IIII — and sighed.  She considered asking Ganiel if this budget thing were absolutely necessary, but she knew what the answer would be: all priorities are top priorities, it's your job to manage your own time, et cetera, et cetera, et blah blah blah. 
The morning was not going well.  She decided to take an ambrosia break.
Umiel took her halo from its hook and walked down the corridor to her friend Imaliel's cubicle.  Umiel and Imaliel had both worked in the Customer Research department of New Product Development since… well, since forever.  She knocked on the pearly wall next to the doorway — no door, of course, not for a mere Research Associate — and said "Morning, Ima.  Ambrosia?"
"Love some," he replied, donning his halo.  He'd chosen a burnished brass halo today, which complemented his wiry red hair.
As they walked down the corridor, Imaliel waved at some of the other angels, going about their business in their cubicles or other corridors.  Umiel was secretly annoyed at Imaliel for this; it pointed out that he could see over the cubicle walls.  She was on the short side herself, with black hair and a perky upturned nose.  She didn't like the nose — she thought it made her look too much like someone not to be taken seriously — and she really didn't like the height.  The offices of Heaven were infinite in extent, of course, but if you couldn't see over the walls your horizons could be awfully limited…
Honors
Honorable Mention in Gardner Dozois's Year's Best Science Fiction.
Publications
Realms of Fantasy, magazine, February 2009
edited by Shawna McCarthy