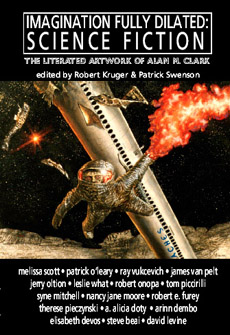 About the Story
This story was written for an anthology of "literated pictures" — stories based on pictures by artist Alan M. Clark. The only thing I knew about my selected picture (below) was the filename, "VVCepheiAFromHelvoran.jpg".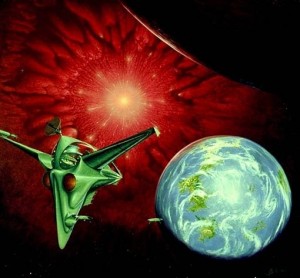 A web search on "VV Cephei" revealed that it is a binary system consisting of a red supergiant (VV Cep A, spectral type M2) with a blue giant companion (VV Cep B, type B8). The orbital period of the companion is 20.4 years. The eclipses of the companion tell us that VV Cep A is one of the largest known stars — if placed at the center of our solar system it would extend to the orbit of Saturn (17.7 AUs, or 3 billion km, or 600 light-seconds in diameter). It is a massive star near the end of its life cycle; some time in the next million years it will explode into a supernova.
VV Cephei is a variable star (the "VV" in its name tells us that). My reading told me that the most massive known stars are 50 times the mass of the sun and live less than 10 million years. (Red supergiants are a million times brighter than the sun and one-millionth as dense. "Giants" and "supergiants" are so called because their brightness is much greater than other stars of the same spectral type. The spectral types, from hottest to coolest, are O B A F G K M; within type x they are divided from x0 (hottest) to x9 (coolest), e.g. B8 is hotter than B9 which is hotter than A0.)
But… the planet in the picture looked like an Earthlike planet, with water, clouds, and greenery. That's impossible! There is no freaking way you can have a living planet, illuminated by white light, in the VV Cephei system. Binary star systems result in unstable orbits for planets, meaning that the planet will not have consistently habitable temperature. Red supergiants don't last very long, resulting in not enough time for life to evolve. And between the powerful solar wind of VV Cephei itself and the UV coming off its blue giant companion (the result of infalling matter from VV Cephei itself) the planet would be bathed in radiation. Yet here it is. How can this be? Who has come to visit? Why? And what will they find?
So this is a story based on an artwork, but grounded in astrophysics. Though I tried really hard to get the science right, at heart it's an old-fashioned sci-fi story of interstellar exploration, with spaceships and aliens and everything. In fact, the tension between science and science fiction plays a part in the plot.
By the way, Alan M. Clark said he liked it a lot.
Reviews
"Fine new writer David Levine offers 'Legacy', an affecting (if slightly contrived) story of sacrifice on a scientific mission to a supernova."
— Rich Horton, Locus
"David Levine's 'Legacy' will give you a chill up and down your spine — much like the one you got when you heard about a particular Northwest incident that I can't mention for fear of spoiling the story."
— Susan Matthews
"This is a good story. It has good hard SF elements, strong emotion, and evokes a keen sense of wonder."
— James Palmer, Tangent Online
Excerpt
The natives looked like the aftermath of a collision between crabs. Green and rough, bristling with spikes, their flat segmented bodies ranged from one to two meters long. Each was about half as wide as its length, and 20-30 centimeters in height. Jointed legs of various sizes poked out at random points on the body's perimeter; empty sockets and stumps showed where other legs once had been. There were many other scars, as well.
Life on Pointless was clearly not easy.
They moved fast, scuttling around and over each other. The lead creature raised its front segment, seeming to study us, though its tiny black eyes did not show the direction of its gaze. Mouthparts rasped together, making a chirruping sound.
"Keep it talking," said Susan. We had a reserved Simultaneity channel to the database of alien languages and translation software at the Smithsonian. Humanity was still paying the Lilliandree for that, and would continue to do so for decades, but it had already proved its value in several first-contact situations.
I couldn't help myself. "Take us to your leader."
#
Within a few hours the translation had become reasonably fluent and the natives brought us to their "city" — really more of a village. It consisted of several dozen low buildings, broader at the bottom than the top, constructed from solid slabs of stone as tightly fitted as the road. Each had an entrance slot at ground level, just large enough to accommodate one native, and no other openings. "These look like they could survive anything," Susan said.
Fifteen earthquake this season, no building fail, one of the natives said, the words appearing above it in my helmet display. The word "season" represented the planet's 120-day orbital period.
"Do you use ornamentation or decoration at all?" asked Leonard. Chirruping sounds came from his helmet speaker.
Don't understand.
"Patterns, colors, or textures, to please the eye and other senses."
No use if building fail. It waved a limb. Building not fail, that please me.
"Do you have any religion?" asked Susan. "Gods? Supernatural beings of great power?"
Four God. This from the largest, most scarred native, which limped along on only three limbs. It pointed into the sky. Big red God sends drought, tiger, hurricane. Little blue God sends cancer, blindness, fever. Big black God sends darkness, glacier, chill. Then it gestured at the ground beneath its feet. Biggest God sends earthquake, stingweed, locust.
"Are there any rites or practices? Prayers or sacrifices?"
Don't understand.
"Statements or activities meant to please the gods and bring good fortune?"
Build well. Plant well. Hide well. Hope God not see me.
"Sounds like their religion is just to stay out of trouble," I said. "Too bad it's not going to work for much longer."
Why not work? Too late, I realized I'd spoken on the open channel.
Leonard shot me a look. "Your big red god is very old."
Yes. Long time ago, small and yellow. Now big and red. Old.
"How could they know that?" I asked — on the private channel this time. "It was millions of years ago."
"They don't," Susan replied. "It's just a legend."
Leonard was still on the open channel. "Even the gods must die when they get old enough."
I know. Big red god getting sick. Die soon.
"How do you know this?"
Bigger. Redder. Spotty.
"What will you do when the big red god dies?" asked Susan.
Die.
Honors
Honorable Mention in Gardner Dozois's Year's Best Science Fiction.