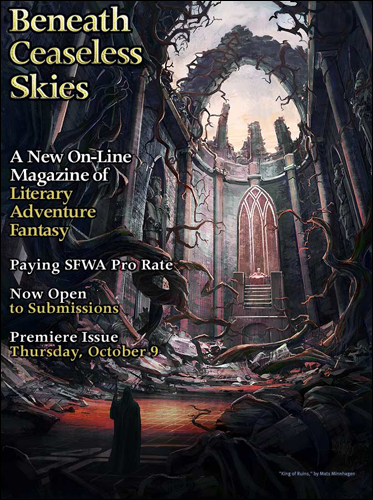 About the Story
My Writers of the Future class is an awesome bunch of individuals. It includes Pat Rothfuss, Nnedi Okorafor, and Carl Fredrick among others. Not long after we got back from the workshop, someone suggested on the group mailing list that we might want to try writing stories on a theme. Someone else suggested "I like the idea of writing them about caving, or cave diving or BASE jumping, or mining — anything that has to with getting into a cave underground and having a story happen."
I did some research and wound up basing this fantasy on the true story of Floyd Collins. I have a touch of claustrophobia, so the idea of being trapped in a narrow cave is really a terrifying thought for me. I amplified the heroine's problems by having her be a warm-weather priestess in a cold climate, an idea I later reversed in "Circle of Compassion" (which was, as it happens, published earlier).
Excerpt
"Captain!  Why have we stopped?"  Shira sharpened her voice as she leaned out of her palanquin.  Bad enough that she had to serve for five years in this mud-encrusted backwater, but to spend even one more moment in the agony of travel piled indignation upon annoyance.  Her breath steamed in the mountain air.
"This man help seeks, Most Holy Sorceress," the captain of her personal guard replied, bowing his head in deference to her.  He was a Vubinian, black as coal, and his Novarran grammar was appalling.  But at least his years in the Novarran Imperial Army had taught him some manners. 
The panting Ucnian man held by two soldiers had no such manners.  One soldier forced him to bow his head, but even as he did so he glared at Shira from beneath his tangled red bangs.  She met his gaze, taking in his untamed beard, his ragged woolen clothing, his battle scars.  He looked old enough to have fought in the last disastrous attempt at a local uprising.
"What kind of help?" Shira asked, not taking her eyes off the man.
"Boy in cave, he says, trapped is.  But this an ambush could be."  The captain — Gvubi, that was his name — shielded his eyes with one hand and peered off at the horizon, where a thin column of smoke rose from a cleft and stained the gray fabric of the clouds.  The vegetation on the stony hills to either side was scrubby, ugly, and tenacious — like the region's people.
"Send a runner to investigate.  If he is telling the truth, I will help."  Annoyance seethed beneath the bronze Sun amulet that lay on Shira's breast, but she was here to render aid as well as to represent Novarra.  The life of a Sun Sorceress was a life of service, to the God and to the Empire.
Even if the Empire sent her to a cold, rocky, mountainous hell of barbarous people, hideous food, and perpetual overcast.
Honors
Honorable Mention in Gardner Dozois's Year's Best Science Fiction.