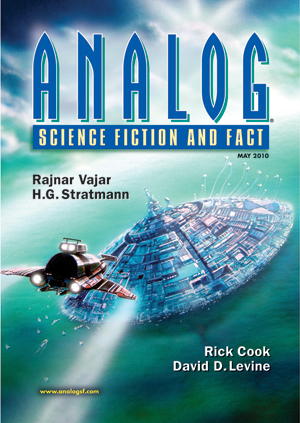 About the Story
This was my first sale to Analog. It started as an idea I had for an anthology about alien federations, but December got kind of crazy and I didn't even start writing it until after the deadline for that anthology. It evolved quite a bit in the process of drafting and editing, and I finally wound up taking out the aliens altogether, leaving it as a character-focused story of Earth politics.
Believe it or not, the original impetus behind this story was the costumes. I wanted to write a science fiction story in which the main characters wore fancy double-breasted jackets with epaulettes and braid and brass buttons. The entire society, with its genetically-engineered royals, was built around that fanciful idea. Of course, then I had to work out how and why the society should turn out like that, and then figure a way for it to go wrong in an interesting way…
Excerpt
They knew what they were doing, whoever they were.  I was restrained, shoulders to ankles, in something so strong not even I could get loose.  Four numb spots throbbed on my skull where the data nodes in each temple, the main antenna across the top, and the tiny, X-ray-transparent tracker on the right near the back had been removed.  That last one was supposed to be a state secret.  There was another numb spot in my lower back, which I couldn't correlate with any of my implants.  But it seemed they intended to keep me alive; when I rubbed my head against the rough sterile paper of my pillow I felt and heard the crinkle of bandages and smelled the cold astringent stink of antiseptics. 
Focus.  Concentrate.  Plan.  What was my situation, what were my options?  Cool air blew steadily across my brow above the heavy blindfold.  The bed to which I was bound rattled when I wriggled, sounding like metal rather than plastic or nanofiber.  From the echoes I was in a small room, hard-surfaced.  Apart from those rattles and the soft sigh of the air vent, the only sounds were occasional footsteps, too faint and distant to tell me much. 
The door clicked open, with a squeak of hinges.  One pair of footsteps approached my bed.  I readied myself to strike if the opportunity presented, but kept my breathing slow and regular.
"You needn't pretend to be asleep."  Not a voice I knew.  Male, mature, speaking English with an American accent, but not entirely uncultured.  "We're monitoring your vital signs, using the same sensors your 'friends' at the Institute implanted."  
"You won't keep me long," I replied in English, the words rasping across a leathery dry tongue.  I swallowed, licked my lips.  "Even without the tracker, we have other means of locating royals. My troops are closing in on this facility even as we speak.  But if you surrender now, I can promise you leniency."  Bluffing cost little and could have great benefits.
A wry chuckle.  "If we hadn't removed your data nodes, you'd know we've already had you for nineteen days."  Nineteen–?  The last thing I remembered was the sound of a breaking window behind me, the hiss of gas, a sharp medicinal smell… and then I'd woken up here, on this bed, a few minutes ago.  "Sadly, your charred body — well, a convincing simulacrum, complete with your own DNA — was found in the wreckage of our getaway vehicle, not far from the palace.  So I'm fairly certain we'll have no difficulty keeping you here as long as we wish…"
Honors
Honorable Mention in Gardner Dozois's Year's Best Science Fiction.
Publications
Analog, magazine, May 2010
edited by Stanley Schmidt