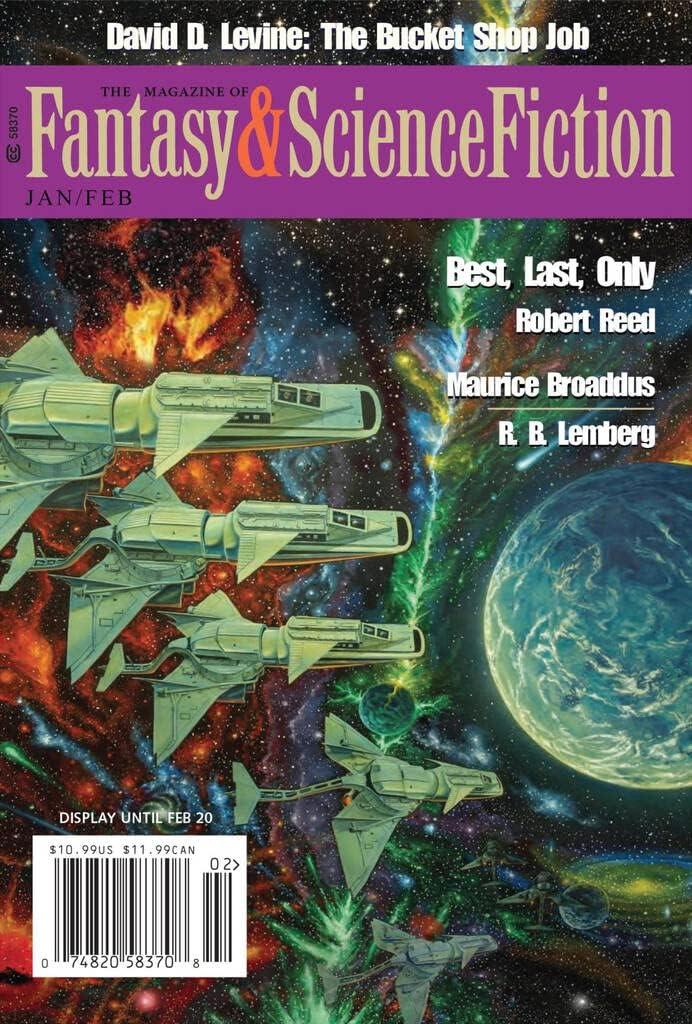 About the Story
If you want to know what someone's real priorities are, look at what they do — how they spend their time — rather than what they say. Applying this metric to myself, I'm clearly a researcher who writes rather than a writer who researches.
I love research. I will spend weeks or months doing research for a short story, then a couple weeks writing it. And if anything pops up during the writing that can be answered by more research, I will drop everything and do that research right away rather than keep pushing my nose against the drafting grindstone. I did this even back in the days when research meant a trip to the bookshelf or the library (oh, oh, don't throw me into that library briar patch!); now that the whole Internet is on the same device I use for the writing the temptation to research instead of drafting is even harder to avoid. And the impact of the research on the finished product can be minimal. I saw a tweet recently that sums up this problem: "I spent a whole day researching toilets and sanitation in the time period of my story, and the end result was exactly one sentence: 'There was a privy in the corner, and it stank.'"
But — I say to myself — it's worth the effort because it makes the story richer. And even details that don't make it onto the page directly can have an indirect impact, by making the writer's visualization of the setting denser and more realistic, which can impact word choice and atmosphere even if a specific fact doesn't appear in the text. I often find that facts that turn up in research can suggest plot twists, aspects of character, and even entire stories. And it's fun! I find that for anything in life, anything at all, the closer you look the weirder it gets. Even something as simple as a pencil has a fascinating history that touches on history, technology, and politics, leading to endless rabbit holes of more research.
The whole idea of "The Bucket Shop Job" came from my researches. It began with an offhand remark by a character in my SF novel The Kuiper Belt Job that he and another character had originally met on Titan — a moon I picked just because it sounded like a plausible place for the two characters in this future history to have met. When I later decided to write up that meeting as a prequel novelette to the novel, I looked into Titan and discovered it is an amazing place. It is the only known moon with a substantial atmosphere, and the only known body other than Earth with lakes and seas (albeit of methane rather than water). Furthermore, Titan's dense atmosphere means that humans can walk around on the surface without a space suit — again, the only known body other than Earth where this is possible — though they do need supplemental oxygen and heat to survive. The things I learned about Titan from my researches suggested a whole industrial system, centered on harvesting and processing hydrocarbons, which formed the infrastructure of the plot and provided a backstory for the main character.
Reviews
"'The Bucket Shop Job,' by David D. Levine, is a treat of a novella, and as you'll see, serves as a tasty appetizer to the forthcoming The Kuiper Belt Job…. [T]his roister-doister tale of backstabbing and double-dealing… not only reminded me in some respects of Cowboy Bebop and elements of Zack Snyder's Army of Thieves, but also made me want to go out, buy the sequel, and become a member of a very exclusive gang. Great fun!"
— Andrew Weston, Amazing Stories
"A smash-'em-up action story that was entertaining to read."
— Kevin P Hallett, Tangent Online
"Great story and I will have to read that novel!"
— Sam Tomaino, SFRevu
Excerpt
After we finished eating Max took me aside, while everyone else busied themselves clearing the plates. "Let's spar," he said. And with no more warning than that, his meaty fist shot out at my face.
I dodged easily — too easily. "Don't pull your punches," I said, hitting back with a palm-heel strike. But he was a lot faster than his bulk implied and he dodged, too, whipping his leg around to take me down. I leapt over the swinging foot — thanks to Titan's low gravity — and caught myself on the ceiling, pushing down with my arms and striking out with my feet.
But, amazingly, he caught my feet in his hands. And with the great strength of his arms and his feet firmly planted on the floor, he pushed back and sent me sailing toward the wall behind me.
I flipped in midair, pushed off the wall with my legs, and came flying right back at him, hitting him hard in the gut with one shoulder. But where most opponents would have doubled over with an "oof!" of breath, he just took it, grabbing me by the hips and preparing to pile-drive my head into the floor.
But here his strength and his Titan inexperience betrayed him. As I descended, he moved upward, giving me enough time to plant my hands on the floor and push back hard. Despite his bulk, the combined strength of his arms and mine was more than enough to overcome our minuscule weight and the two of us went flying upward. Surprised, he didn't let go of my hips, and his head smacked into the ceiling with a crack that I felt as much as heard. As we descended to the floor he tapped my hip three times, conceding the fight.
I flipped away and landed lightly on my feet, watching from a safe distance as he bounced off the floor and wobbled to a standing position. Even though he had tapped out, I never take anything for granted. The others, I noted as my attention widened from the hyperfocus of the fight, had held back, watching carefully but not interfering. Finally, Max raised a hand, palm toward me, and I relaxed. "You're pretty strong for such a skinny kid," he said, settling into a chair.
I nodded acknowledgement of the compliment. "I can bench eight hundred."
"Eight hundred kilos?" He snorted. "Bullshit."
"Eh," said Tai. "That's only, like, a hundred ten on Earth."
Max nodded slowly. "Okay, that's pretty impressive."
"And," I said, "you have to pull almost as hard to bring it down again."
While we were talking, Alicia came up behind Max — gently touching his shoulder so as not to startle him — looked at the top of his head, and made a face. She waved a sign at Strange, who ducked into the bedroom and returned with a bandage, which he skimmed through the air to her. She applied it to Max's head, followed by a chaste little kiss. He patted her hand in thanks. All of this without interrupting our conversation.
I must admit I was jealous of their easy camaraderie, the way they all looked out for each other and did what was needed without being asked. I've always been proud of my independence and fiercely protective of it, but still, it would be nice to have someone you can trust to watch your back.