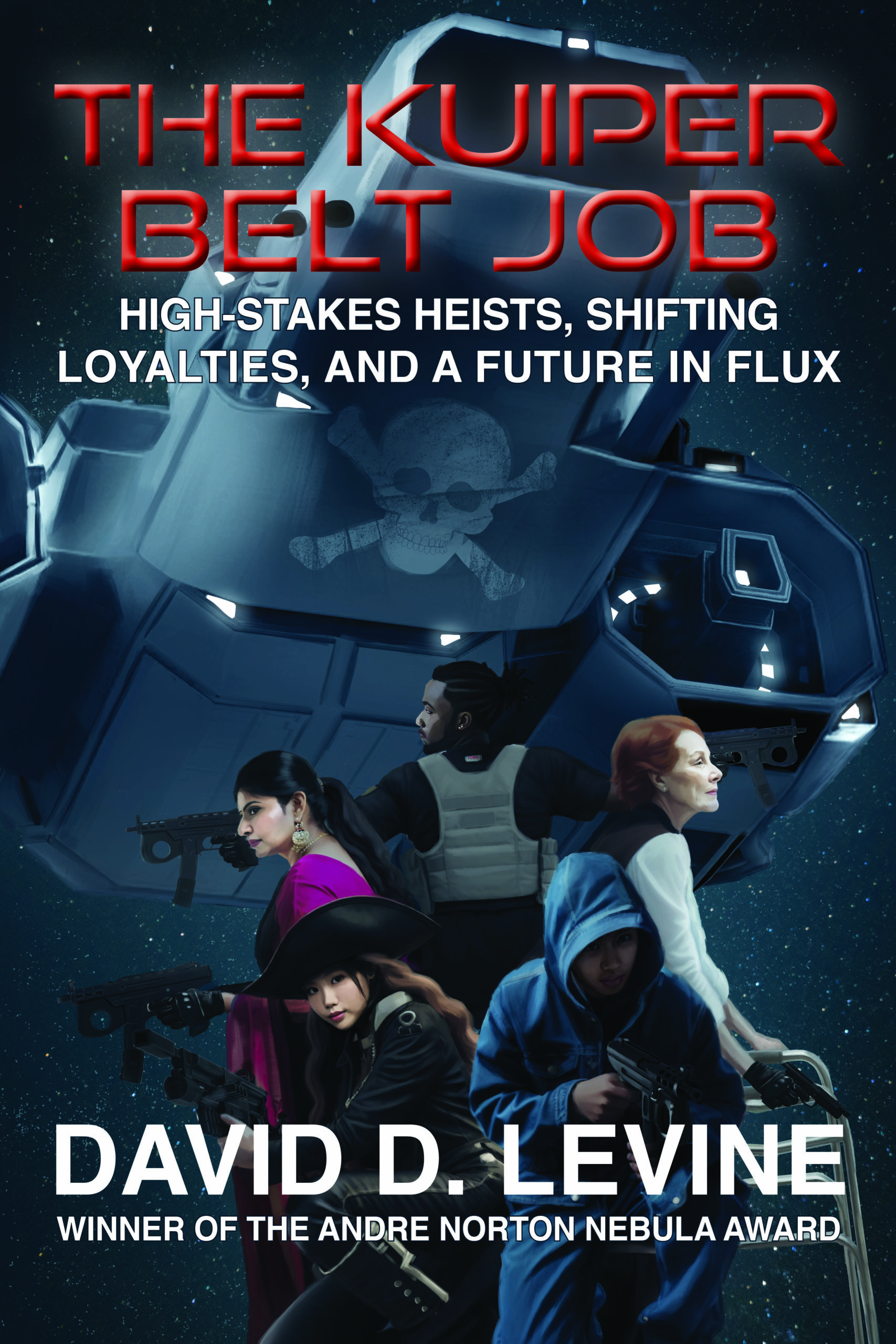 About the Book
Once upon a time in the Solar System, there was a gang called The Cannibal Club. Strange, the man with the plan; Max, the muscle; Damien, the pilot; Alicia, the thief; Tai, the hacker; Shweta, the grifter; and Kane, the new kid. They would break into banks, hack systems, swindle the rich and powerful, run guns… whatever it took. Then came the Orca Job, the job that would set them all up for life… and it didn't go well. They lost the money, they lost their ship, and some of them lost their lives. The survivors scattered in a storm of recriminations.
Now it's ten years later, and Cayce — Strange's son, whom no one knew even existed — shows up at Kane's door with a story: Strange is being held captive, and Cayce is putting the gang back together to break him out. But after ten years, no one is who they were… and some are not what they seem.
The Kuiper Belt Job is a caper story in space, a mash-up of Ocean's 11 and The Expanse with a dollop of Firefly and Leverage. It's an ensemble piece with complex character relationships and a twisty, compelling plot, but beneath the entertaining surface it raises deep questions about identity and personhood. In a world where minds can be copied, what does it mean to be "me"?
The Kuiper Belt Job is available in most places where you can buy paper books or ebooks, but here are three of the most popular:
Click here for a complete list of "buy here" links. An audiobook edition is very likely, but is in negotiation right now. Watch this space.
I'm doing a bunch of readings and appearances in support of the book. If I'm coming to your town, I'd love to see you there! I can promise an entertaining show.
Advance Praise for The Kuiper Belt Job
"I have proofread more than 250 books, but this one kept me on the edge of my seat more than any other book that I have worked on! The twists and turns were superbly executed, and the foreshadowing is quite subtle."
— Debra Nichols, Editor
"A whirlwind tour of the solar system, a nesting doll of cons and capers, and a hell of a lot of fun."
— M.A. Carrick, author of The Mask of Mirrors
"The deliciously complex characters wrestle with tough questions without sacrificing pacing, making this an absorbing read — with plenty of room for follow-ups."
— Sherwood Smith, writer of fantasy, historical romance, and science fiction
"The characters are rich and multidimensional, they wrestle with moral and existential questions without bogging down the pace, and the plot is complex and twisty. Recommended."
— Mike Reeves-McMillan, The Review Curmudgeon
"I couldn't put The Kuiper Belt Job down! David D. Levine's imaginative series of heists is made all the more fun by the rich space setting, and brought to life by a cast of delightfully complicated characters you can't help but root for. And like any epic heist story, nothing is ever as it seems. You'll be kept guessing as the narrative petals of The Kuiper Belt Job peel back one by one to reveal the startling secret nestled at the heart of the story. This book was a total blast. I can't wait to go on more jobs with the Cannibal Club!"
— Jessie Kwak, author of Ghost Pirate Gambit
"It's got long cons and short cons, big fights and narrow escapes, tons of loot and plenty of double-dealing. The thing is, though—this book is soooo much more than that. Behind the flash, it's a found family story with a deep dive into personhood, lack thereof, and the vital question of who gets to decide which category we fall into. You're going to want to read this book. Do it. Do it now."
— Edward Ashton, author of Mickey7
"Levine converts the Kuiper Belt to the Caper Belt in this fast-moving tale, in which a lovable band of rogues, racketeers and miscreants reunite for that one last grand robbery in deep space. Complications, switcheroos and gotchas abound, and multiply as the ending approaches and the question of whether they can really succeed against the odds remains open. The characters are a fascinating gallery, and are displayed to advantage in a plot which has more twists and twirls than a spherette ball. Thoroughly recommended."
— Sandra Bond, author of The Psychopath Club
"An inventive and fast-moving space-age-tech heist/caper novel like you've never seen before, but with some surprisingly moving character development going on behind and amidst all the action. Recommended."
— Alan Smale, author of Hot Moon