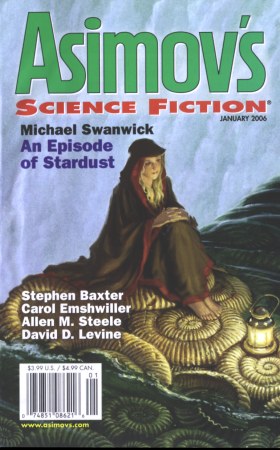 About the Story
The basic idea behind this story was this: eventually even the omnipresent fast-food franchises that seem so ubiquitous in today's world will come to an end, and at some point there will be a very last remaining one. How could this happen, and what sorts of things might happen at that last fast-food restaurant?
This led to the idea of an old man, a remnant of today's world, taking a cross-country trip in a society beyond fast food. To create contrast with him, I came up with his granddaughter, whose bioengineered horns were a natural extension of today's trends in body modification.
This story is really about the process of becoming old, of coping with the sense of obsolescence that often accompanies technological change. How do you retain your identity when the culture that defines you is constantly slipping away?
Another thing to note about this story is that it takes place in a utopia. This is a world in which most of today's problems of population, pollution, energy, and unrest have been solved, yet it comes with its own problems and the characters still manage to find a way to be miserable in it.
I went back and forth about whether to call the restaurant in the story by its real name or not. In the end, the editor asked me not to use the actual name just to be on the safe side, but I'm sure you can tell which corporation I was thinking of when I wrote it.
Excerpt
The teenaged girl's horns were grandiose and ornate, twin tornadoes of bone spiraling down the sides of her face. The color of old ivory, they darkened toward the tip with the patina of frequent handling. In fact, she was rubbing the point of the right horn between her grimy thumb and forefinger as she entered, the old man holding the door open for her like a courtier. She ignored him, glowering at the floor. Watching her from behind the counter, Garth wondered again why someone who could afford a set of horns like that would wear such grubby, tattered clothing. It was the look these days, but it made no sense to him.
As the old man came in, letting the door close gently behind him, an expression came over his face that Garth had seen many times before: a compound of misty nostalgia and appalled astonishment. His gaze swept across the yellow and orange fiberglass chairs, their cracks and dings lovingly but visibly repaired; the plastic-topped tables with the white half-moons rubbed by millions of elbows; the light softly shining from the satiny steel of the napkin and catsup dispensers. Finally the old man's eyes stopped dead on the smiling face of the six-foot-tall fiberglass cow that stood at the end of the counter, wearing an apron and a chef's hat. "My God," he said, "it's Moogle McDougal."
"It certainly is," said Garth. "Welcome to McDougal's. May I take your order?"
Honors
Honorable Mention in Gardner Dozois's Year's Best Science Fiction.
Publications
Asimov's Science Fiction, magazine, January 2006
edited by Sheila Williams