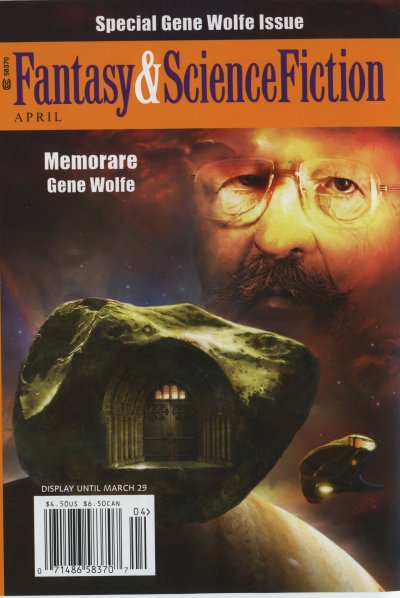 About the Story
"Titanium Mike" was inspired by the true story behind Paul Bunyan, a now-beloved mythic figure who was, in fact, popularized by a logging company's advertising campaign. And yet, although inauthentic, he does indeed strike a chord in most Americans. I wanted to play with the tug-of-war between reality and unreality and examine the power of story. That this play takes place in a fictional story is part of the fun.
I knew very early on that the story would be told as a series of vignettes going backward in time, each connecting with the next, with the stories of Titanium Mike becoming less and less outlandish until we meet his real origin as an advertising character. I began the writing process by spinning a bunch of Titanium Mike stories, then built the rest of the story around them.
As submitted to F&SF, this story had just four scenes and ended with the advertising copywriter's invention of the character Titanium Mike out of whole cloth. Gordon Van Gelder sent me a contract but asked me to write one more scene, showing the real-life Titanium Mike. I wasn't completely convinced, but I wrote it as requested. We went back and forth about whether or not to include that scene but I finally agreed to leave it in.
It was the right choice. The story went on to be nominated for the Nebula and picked up for numerous translations.
Excerpt
"Sweetie, do you know about Titanium Mike?"
Sophie didn't reply, just shook her head slowly inside her helmet.
"Well then, looks like I need to fill in a few holes in your education."  She drew Sophie to herself, chestplate against chestplate, so the girl could feel her voice in her bones, not just hear it filtered through radio.  "Titanium Mike is… well, he's more a force of nature than a man, really.  They say his father was Gravity and his mother was Vacuum."
"Is he going to come and help us?"
Helen considered the question for a moment.  "Well, he might — you never can tell where old Mike might show up.  When Cassandra Station was coming apart, he stuck the two halves back together with spit.  And he's the one who stopped Ceres from spinning."
"Ceres doesn't spin.  Everyone knows that."
"Not any more!  But back in the old days she rolled like a stuck gyro and it wasn't safe to get near.  Mike lassoed her with a bungee cord and straightened her out."
Sophie looked mighty dubious at that.  But dubious didn't use nearly as much oxy as panicked.
"No, really, it's true.  If you don't believe me, you can ask Mike yourself the next time you see him.  He's done all sorts of things.  Why, when he was just a kid, he put rockets in his pockets and scrubbers in his rubbers and walked all the way around the Sun just to see where he'd come from."
At that, Sophie actually managed a weak little smile. 
Helen smiled back at her.  As she warmed to her subject, she found her own mood changing — the stories took her back to the early days of the Aurora Mining Company, when a certain amount of privation and danger was just a part of the job.
"Mike was born on Earth, but he never fit in there.  He was a big man and always kept hitting his head on things, or tripping over his own big feet.  One day he said to himself 'Why can't I just float around and avoid all this bother?'  So he decided to go to space, where he could do just that. 
"But he realized he'd need something to breathe when he got there, so he took an old pickle jar, stuck some seaweed on the bottom, and screwed it onto the neck of his suit, and that was the beginning of hydroponics.  Then he found some old thrusters that were lying around, but he was too big for just one thruster to lift so he stacked up a few of them on top of each other, and that was the beginning of the multi-stage lifter.  
"When he got to space all the people were just drifting around with nothing to do.  So he took some old foil food wrappers and spun them together into a big shiny dish to concentrate the sunlight, and then he went down to Luna and started throwing rocks into the hot spot, and that was the beginning of solar smelting. 
"Mike took the smelted ore and started making cans and spikes and bubbles and donkeys and all kinds of other things that no one had ever seen before, but they didn't know how to use them.  So Mike started to teach them…"
Honors
Honorable Mention in Gardner Dozois's Year's Best Science Fiction.
Publications
The Magazine of Fantasy and Science Fiction, magazine, April 2007
edited by Gordon Van Gelder

Hebrew translation: The Tenth Dimension, magazine, Spring 2007

French translation: Fiction, magazine, Spring 2008

Nebula Awards Showcase 2009, anthology, April 2009
edited by Ellen Datlow
Penguin Putnam