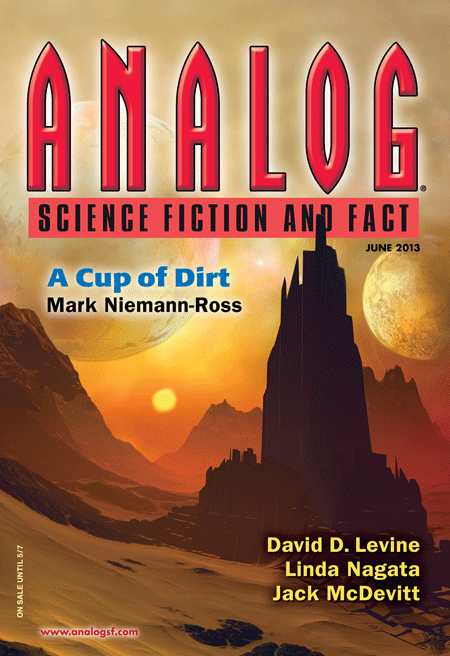 About the Story
The speed of light is an important concept in science and in science fiction. Whenever you look into the night sky, you are seeing light that has traveled for hundreds, thousands, or millions of years to reach your eye. If you had a sufficiently powerful telescope, you could theoretically observe what aliens were doing on their planets all those years ago.
There have been a lot of stories that take place in science-fictional universes in which faster-than-light travel is possible. In these universes, you could travel to meet those aliens as they are today, even though your view of them from Earth would only show you their history.
Putting these two ideas together… suppose you were an archaeologist, interested in the history of Earth, and you were equipped with a faster-than-light spacecraft and a sufficiently powerful telescope. You wouldn't have to dig for artifacts; you'd merely need to travel to a place from which you could look back at Earth and observe whatever segment of history you desired.
Of course, it's never as simple as that…
Reviews
"Readers might suspect the story to culminate with a shocking historical revelation. But Levine is more subtle. As the revelation hovers silently in readers' minds, he employs its ghostly presence to reflect a more personal revelation about self-knowledge."
— Lois Tilton, Locus Online
Excerpt
There is a coldness at my heart, colder even than the airless space around me: a ball of laser-cooled cesium gas mere billionths of a degree above absolute.  Surrounded by layers and shells of vacuum and ceramic though it may be, still I feel the tendrils of cold creeping like threads of ice through my chest.  I shudder at the necessity.  But the promise…
In one facet of my mind a jewel-toned transparent sphere clicks open to reveal a profusion of layers: Paleoelectromagnetic Era, Broadcast Age, Late Encrypted Period.  The vertical scale absurdly exaggerated, of course.  The surface of the sphere divided into sectors whose names predate even the Eoradio Age: Centaurus, Pisces, Canopus.  And here, in Aries sector at the lower edge of the Second Global War period, where the earliest dawning fragments of the later technophilian empires can just barely be detected, a pulsing point of blue-white light.  Me.
I have emerged from Keene space into Einstein space exactly where I meant to be.
Where I want to be? 
Perhaps not.  But here I am.
I have not revisited this sector in eight years, despite its rich promise, because of memories of Aleá… the hope of what I might find here outweighed by the dread of what I know I will recall.  But when the Institute extended this cold bright promise to me, a signal honor indeed, I knew immediately where I must put it to use.
Oh, sweet Aleá, my lost love, the source of so much pain… will the treasure be worth the hazard?
I extend my antennae, fingers and toes stretching outward — atom-thin wires shooting from my ship-body — tiny impellers drawing my substance out into a cobweb a quarter-year wide.  I turn the great ear toward the rubble of Earth.  I listen.  I feel for the shredded, attenuated signal.
And yes.  Yes, oh yes, oh there it is.
Crisper than I'd ever before felt; clearer even than I'd dared to hope.  Forms and shapes and… yes, artifacts, emerging from the noise and dust under my mental fingers' touch…
Honors
Honorable Mention in Gardner Dozois's Year's Best Science Fiction.
Publications
Analog, magazine, June 2013
edited by Trevor Quachri