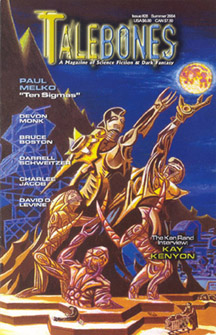 About the Story
This story means a lot to me. It was written at a time of great personal stress, and it incorporates some actual incidents and experiences that I don't think I would be willing to share with anyone except in fictionalized form. I will leave it to you to determine which aspects of the story are fact and which are fiction, except to note that the "art house" stands right between my house and Mt. Tabor (the only volcano within city limits in the continental US) and its exterior is pretty much as described… except that the real house has three delightful little chickens roosting in the side yard, and no matter how hard I tried I couldn't get the chickens into the description without it seeming precious.
Reviews
"…a magical tale about allowing yourself to accept help in restoring your energy and attitude when you have no reason to believe it can be done. I can honestly say that this story had me wondering when and where I'll find more stories by this author."
— Summer Brooks, Fantastica Daily
"A generally good issue also closes strongly with David D. Levine's 'Where is the Line,' in which a somewhat bitter unemployed man encounters a mysterious neighbor and learns something from her via a massage. It's involving and subtly erotic, and the main character rings true…"
— Rich Horton, Locus
"The small-press magazine Talebones had a good year, with its especially strong Summer issue featuring work by Paul Melko, David D. Levine, and Devon Monk."
— Gardner Dozois, Locus
Excerpt
The house itself was an ordinary Portland bungalow, but in the grass strip between the sidewalk and the street stood a series of sculptures, or assemblages… great curving shapes of rusty iron, adorned with bits of glass and crockery, broken mirrors, and old doorknobs. Not pretty, but intriguing.
On this particular day I saw something at the house I had never noticed before. Nailed to a telephone pole on the corner was a camera — an old box brownie, its lens cracked and cataracted. A spiral of bottle caps, Nehi and Fanta and Squirt, surrounded it, fastened to the pole with rusted waffle-patterned nail heads.
I stopped and stared at the pole, wondering how it had escaped my notice for so long. The more I looked, the more I saw: fragments of amber and red bicycle reflectors; shiny metal ashtrays with the logos of bars long closed; a line of tiny pink plastic babies. And I had a strange feeling the pole was staring right back at me.
After a time I realized the stare was, in fact, coming from behind me. I turned around.
She stood on the porch of the house, leaning against a pillar with her arms folded and a cryptic smile on her face. She wore a dark blue woolen pea coat and a cream-colored knit cap; from under the cap spilled shoulder-length dreadlocks, black with highlights of bright artificial red. A slim ring in one wide nostril was her only jewelry. Her skin was the color of mahogany.
"You've stumbled into my early warning system, you know." Her deep voice had the precision and warmth of the Caribbean, the flavor of cinnamon and honey. She looked to be about my age, early thirties, but something in her voice sounded much older.
"I don't understand."
"You noticed the camera, so it noticed you."
I looked again at the camera. Big sixteen-penny nails punctured its sides and bled trails of rust down the pole.
"I don't think that camera's noticed anything for years."
"It's art. It sees everything."
"People look at art, not the other way around."
"Where is the line between art and magic?" She grinned, showing white, white teeth, then stepped down from the porch and extended a hand. "Yasmin Haley. And yourself?"
"Jacob Weiss."
Her hand was strong and warm and callused. "Would you mind giving me a little help, Jacob Weiss?"
Honors
Honorable Mention in Gardner Dozois's Year's Best Science Fiction.
Publications
Talebones 28, magazine, Summer 2004
edited by Patrick and Honna Swenson