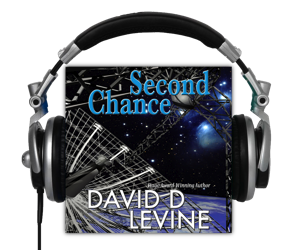 As you may know, I'm a member of Book View Café, an author-owned publishing cooperative. BVC is the publisher of the Space Magic and Second Chance ebooks.
I'm very pleased to announce that BVC has just entered into a deal with Audible.com to publish audiobooks of over 100 BVC titles, with more titles to be acquired in the future. The press release about the deal is here.
What this means for me is that my novella Second Chance will be coming out, some time in the next year, as an audiobook narrated by James Patrick Cronin. This makes me very happy.
This deal does not include the Space Magic audiobook (which is available from BVC, Audible, Amazon, and iTunes). I started work on my own Space Magic audiobook before the Audible deal was negotiated, so I left it out of the deal.
My feelings about this are mixed. If Space Magic had been included in the deal, I would have gotten a nice advance check rather than paying out the expenses of studio and engineering time. But by doing it myself I did get to narrate my own book, which I would not have if it had been part of this deal. And although I did not get any money up front, my royalty rate is (somewhat) higher — if my Space Magic sells as well as the average BVC audiobook over the term of the contract, I'll wind up with more total money in the end. Time, as they say, will tell.
In related news, I have recently narrated stories for two podcasts! I'll tell you more about those when I can.