Tuesday 10/29: Breakfast in B&B again, with same couple as yesterday. After a few morning errands, we hit the Cutty Sark, where the exhibits and signage were sometimes kind of awkward but we got excellent info from the volunteers, such as the difference between a windlass and a capstan. However, even after many tall ship visits and all the research I've done, I have to confess that I still don't quite understand exactly how it is that they make the ship go by pulling on all those strings.
Lunch at Heap's, a very fine local sausage with mash & veg. After lunch I left Kate in Greenwich and went to the British Museum (via Docklands Light Rail, changing at Bank to the Jubilee Central line). I did NOT go straight to the Assyrians and Egypt, having seen them many times, but instead headed to Europe 18th-19th centuries for research. Unlike the massive objects in the Assyria, Egypt, Greece, and Rome collection, most of the objects on display for Europe were small decorative items (many based on styles of earlier eras). I spent a lot of time in the clock exhibit: two large rooms of clocks, watches, and small automata. I also looked at the India collection, but it was small by comparison, mostly Hindu and Buddhist religious icons. Okay, then I went and looked at the Assyrians and Egypt because I couldn't not.
Heading back to Greenwich, at the Tottenham Court Road tube station I saw a small door for Circle Central Line and decided to take it rather than the escalator. It turned out to be a narrow spiral stair, filthy and crammed with pipes and wires, very much a backstage space, visually interesting. Took the Circle Central line to DLR to Greenwich, where we had dinner at the Rivington again. My veg masala was just okay, Kate's pork chop much better, I should have stuck with local standards. A quiet evening of reading and TV (David Tennant in The Escape Artist, god how bleak); to sleep by 11:00.
Wednesday 10/30: Last breakfast at B&B; packed up; paid up. Considered calling a cab to the train station, but the Hailo app has a £10 minimum so we just schlepped it. For the tube we have various apps to help with routing but the national rail is more complex; fortunately there was a human ticket seller at this station, who sold us a a "split ticket" for Greenwich-Croydon + Croydon-Brighton, though the only place we actually changed trains was London Bridge. Whatever, it was inexpensive and the system really works; wish we had the like in our neck of the woods. I also noticed on the way out of town many office and apartment buildings with dramatic curves etc. which would be architectural marvels in Portland but in London are just another building (because London, duh).
Arrived Brighton, cab to hotel (Motel Schmotel — yes, that is its actual name), checked in. We took a smaller room on the ground floor rather than the larger room we'd booked (before Kate's surgery) on the third floor. This room is even tinier than the one in Greenwich, I think, also kind of shabby, and the two-block walk in the tearing wind isn't pleasant. I really wish we'd been able to book in the con hotel, but for some reason the hotel sold out before the con announced that rooms could be booked. Lunch at Mad Crush (steak & onion pie), nap, walked to the Metropole (the con hotel, also headquarters hotel from the 1987 Worldcon), had tea in bar with Colleen Cahill and Peggy Rae Sapienza. Several others passed through including the Jeters and Ellen Klages.
Registered for the con and got the bag of free books. Not very many by comparison with previous WFCs, but that's okay, as we're being extremely selective about what we bring home. Tried to assemble a dinner party but found little interest (Australians keen on the welcome reception at 7) so had dinner by ourselves at the Regency Restaurant (not to be confused with the Regency Tavern). A nice low-key place, prices not unreasonable, excellent grilled scallops, rapid service, friendly Albanian waiter. Then back to the Metropole for the welcome reception, where I chatted with Chris Garcia (who was constantly surprised by the rice crackers), a couple of friendly Canadians, an ex-Portlander now living in Ireland (we lived less than a mile apart for over 5 years, have friends in common, but never met), Charlie Stross (planning an expedition to the Apple Store tomorrow for the latest shiny), and James Bacon (keeping everyone's wine glasses full and not quite understanding the concept "no wine for me "). Kate was not mingling much, because she couldn't stand up much, so she left at 9:30. Shortly thereafter I got a text: her hotel front door key did not work, and our hotel has no front desk. I walked over and we found that the 2nd keyring they'd found for our room had two copies of the room key and no front door key. As long as I was home, decided to make a night of it.
Thursday 10/31: Breakfast in hotel: hot porridge with fresh fruit, quite nummy. Visited Brighton Pavilion, which was quite extraordinary: "Indian" outside, "Chinese" inside, but not authentically either, an English vision of a fantasy Orient. Kate thought the Green Vault in Dresden left it in the dust as far as over-the-top luxury but it was definitely quite something. Alas, no photos were allowed inside. Had a very nice lunch at the tea shop inside the pavilion, then walked back to the hotel for a nap. The weather was pretty nasty — clouds, drizzle, rain, continuing high winds — and Brighton is generally kind of shabby. We're both hoping our mood will improve once the con really gets going.
After our nap we hit the con for the afternoon panels. The place is really hopping now, three times as many people as last night. Program rooms are more than large enough for the crowds even with Neil Gaiman on panels, but the bar is a real scrum (not quite as packed as the typical Tor party, but pretty darn crowded). We met up with almost all of the Book View Cafe members present for an extremely delicious and surprisingly inexpensive Indonesian dinner at Warung Tujuh. We ordered seconds on the lamb and chicken dishes, they were that good. Then we skipped the David Gemell Awards and took a cab back to our hotel for an early night (9:30), getting to sleep by 11:00.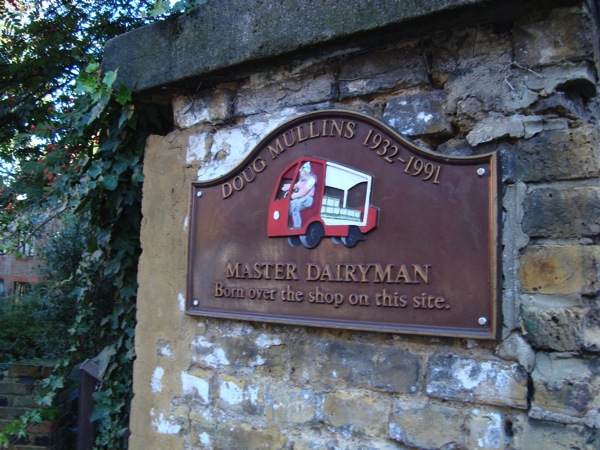 I found this sign on the corner near our B&B in Greenwich charming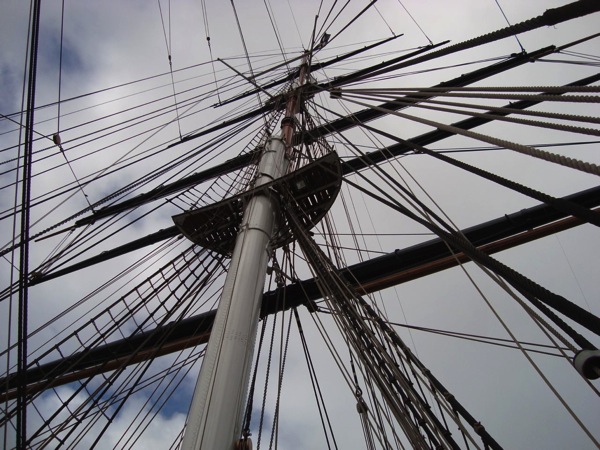 Rigging of the Cutty Sark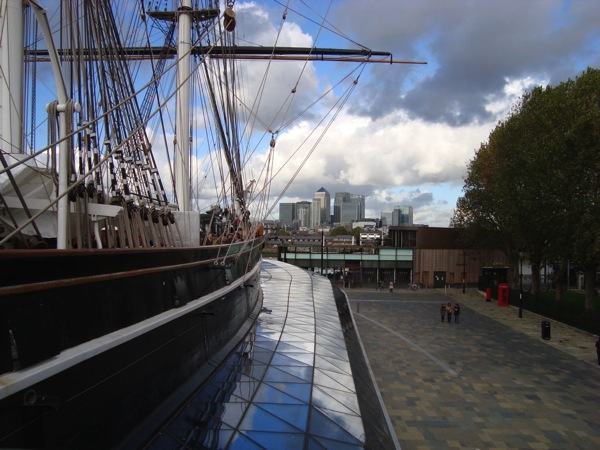 View down the length of the dry-docked Cutty Sark toward London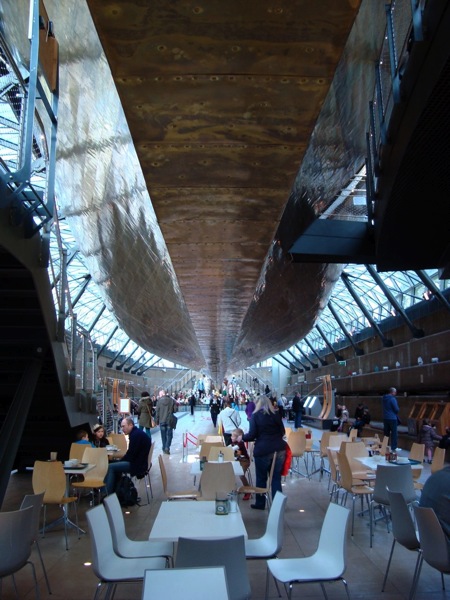 View down the length of the keel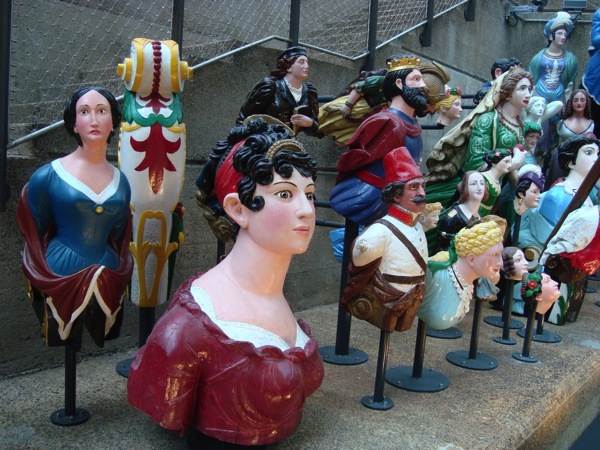 A collection of figureheads. The name of the one on the far left is unknown but to me she is the S.S. Jane Austen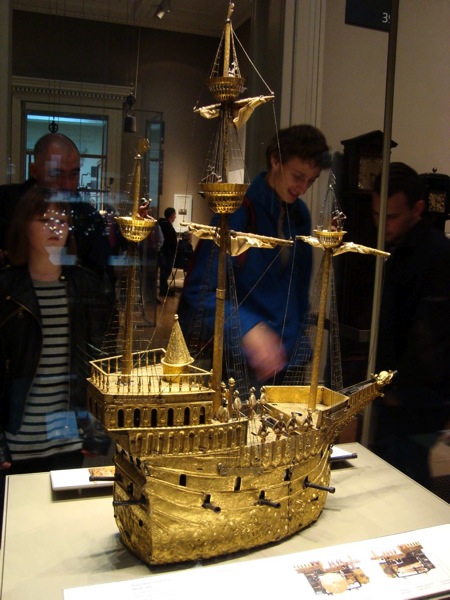 An automaton centerpiece at the British Museum. At a certain time it would roll down the table, ring bells, and fire its cannon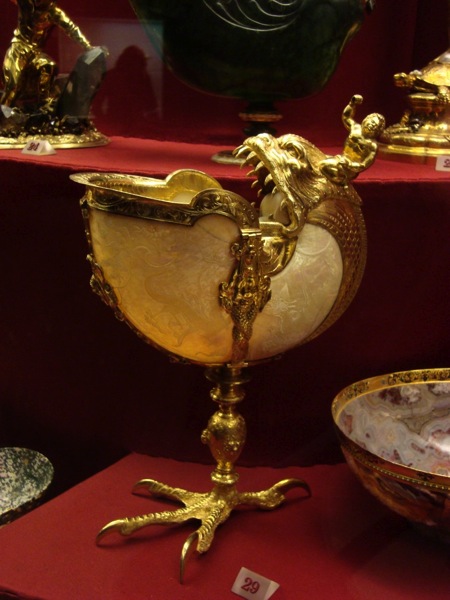 They don't make 'em like that anymore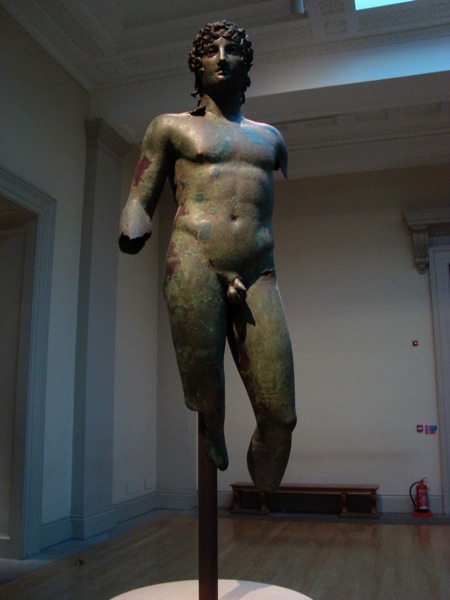 One of a very few surviving bronze sculptures from Greece. Most were melted down

"Secret" stairs at Tottenham Court Road tube station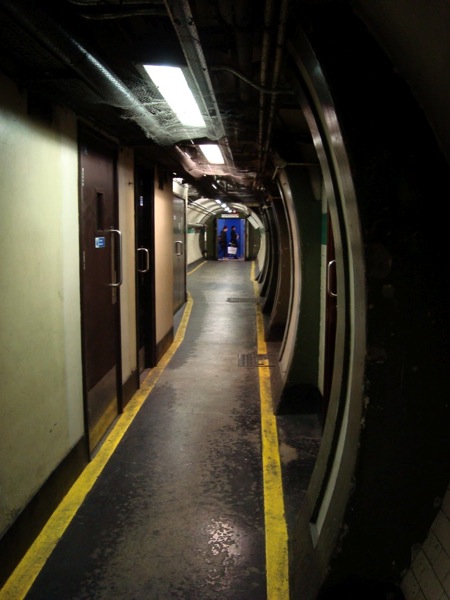 "Secret" tunnel to Circle Central Line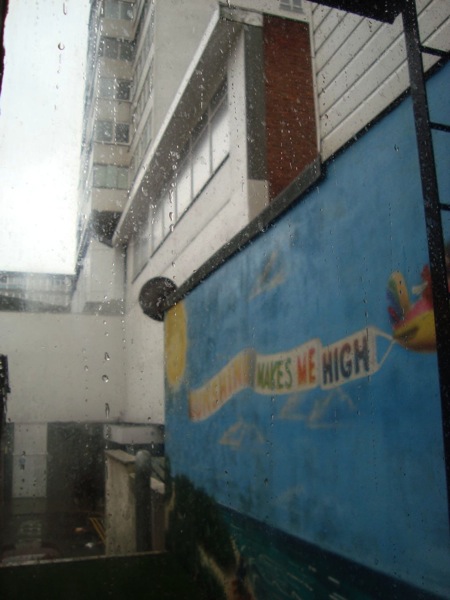 View from our hotel room in Brighton. "Sunshine makes me high"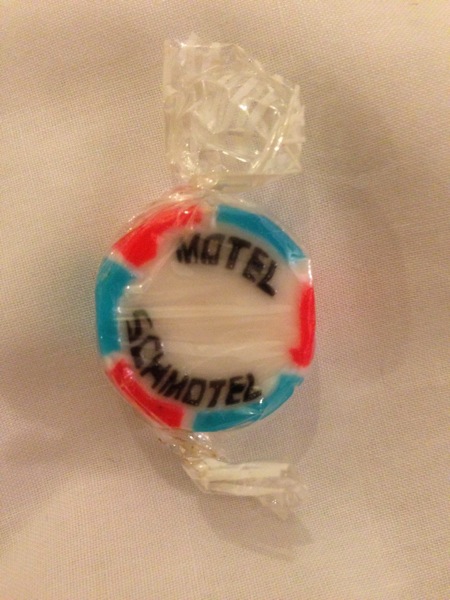 Our hotel, Motel Schmotel, offers Schmotel Rock instead of a mint on the pillow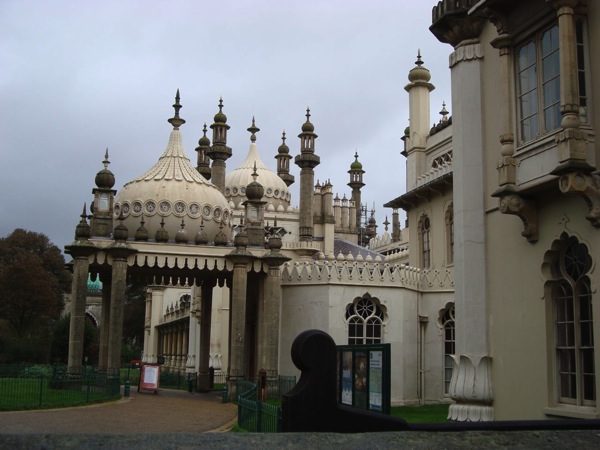 The Brighton Pavilion. Sadly, no photos allowed inside