Fri 7/25 – Paris
Step count: 8,022
Awake 8:00, found that Kate had already gone out for pastries. Croissant, pain au chocolat, half a kouign amann, and yogurt for breakfast… delicious, but half my calorie budget for the day and I didn't even touch the "incredible thing with the figs." We will walk off some of those calories but we aren't walking THAT much.
Walked to Notre Dame with a stop for cappuccino. Took a while to buy our museum passes at the nearby kiosk because of incredibly chatty Spanish tourists ahead of us, oblivious to the growing line behind them. Our first museum, "Crypt Archaeologique du Parvis du Notre Dame," was built around the Roman (etc.) ruins under the plaza in front of the church, and gave us a lot of info about the history of Paris including several interactive 3-D computer graphics. Fun & informative. Went to nearby Le Navigator for lunch at Janna's recommendation (after a stop for orangina at a nearby cafe to kill 10 minutes until it opened for lunch). My grilled duck breast came with fabulous morels (morilles) rather than the noodles (nouilles) I'd expected. This was the fault of the menu, written in cursive on the chalkboard, in a handwriting in which M and N were absolutely identical. Dessert menu included "abnicors au naison" (abricots au maison). My €29 menu also included kir royal, an appetizer of ham & melon, half a jug of wine (I got water) and a simple dessert of raspberries with whipped cream, yum.
After lunch, headed toward the Maritime Museum but got distracted on the way by a BD (comic books etc.) shop called Album, where we spent a happy half-hour before continuing to the bus stop. The Maritime Museum was right by the Eiffel Tower, so we spent some time admiring the landmark and the crowds of happy tourists. Museum itself very impressive. Tons of sailing ship models (some of them huge, like five meters long huge, with completely functional sheets and sails). Many paintings of ships, battles, and suchlike. Fine collection of figureheads (some of them amazingly huge!) and stern pieces. All these ships are run by string, there's string everywhere, the trick is knowing which string to pull to make the ship go the way you want it to. There was also a considerable section of 20th century ships, including submarines, and a little bit of marine aviation, plus some early ironclads.
Back to the apartment by Metro, with a surprise stop at the steampunk Arts & Metiers station. Brief trip to Franprix for yogurt, milk, and a few other necessities plus a bag of frozen peas for Kate's knee. Sadly the freezer in our little fridge is too small for the bag of peas, but I happened to see a tip online about freezing a saturated sponge in a plastic bag as an ice bag so we'll give that a try. Sat around the apartment until after 8. Not very hungry, and according to my calorie-tracking app I'm already way over for the day even with the walking we've done, so might just skip dinner (sacrilege, I know).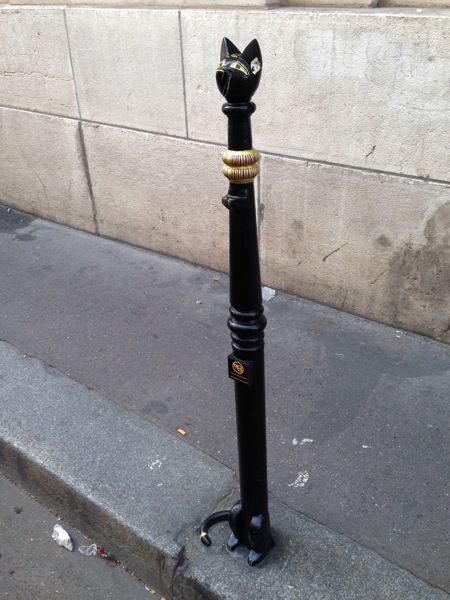 A stretch of street in our neighborhood has tall skinny sculptures, such as this cat, instead of the usual please-don't-park-on-the-sidewalk bollards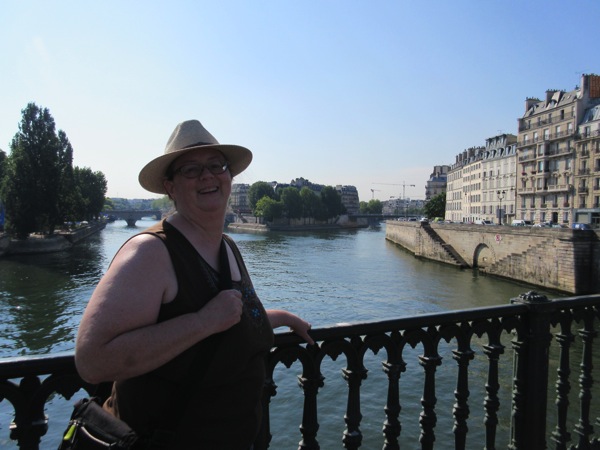 Au Seine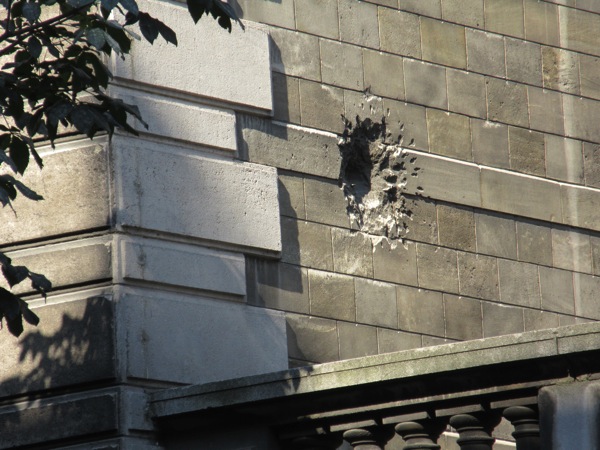 Not sure whether this was left over from the Occupation, the Revolution, or some other conflict. Lots of history here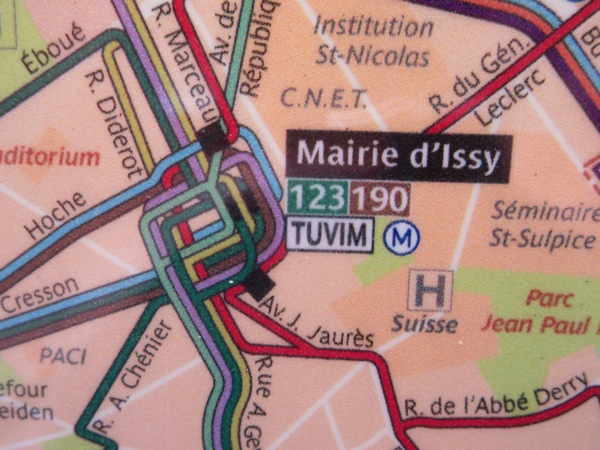 Easy to get around with the simple, well-thought-out public transit system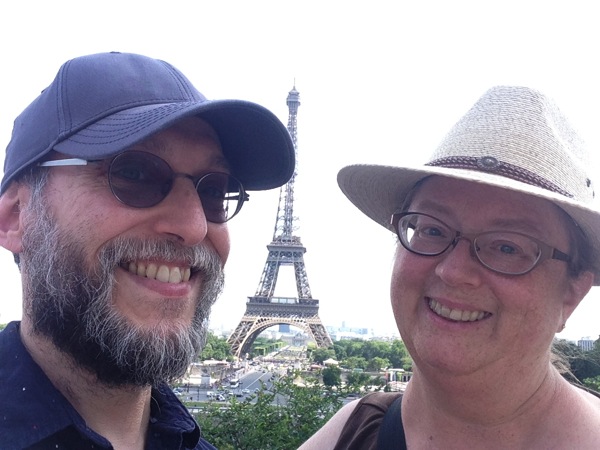 Gotta have a selfie with the Eiffel Tower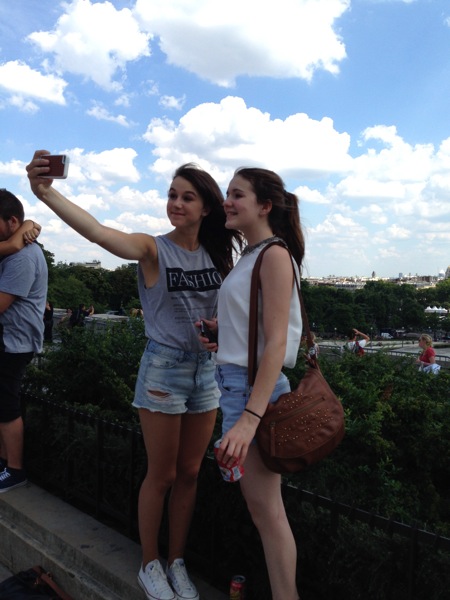 They thought so too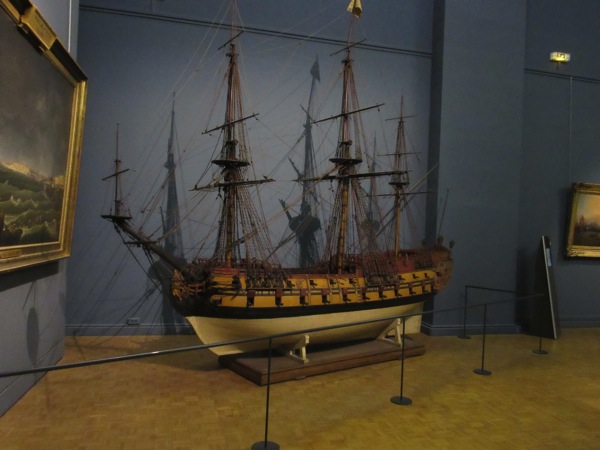 Just one of the many fabulous ship models on display at the Maritime Museum. I took TONS of research photos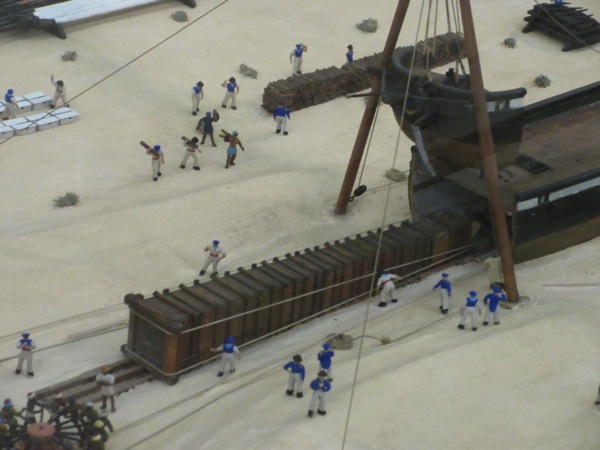 Model showing how the obelisk of Luxor was put on the ship for transport to Paris in 1831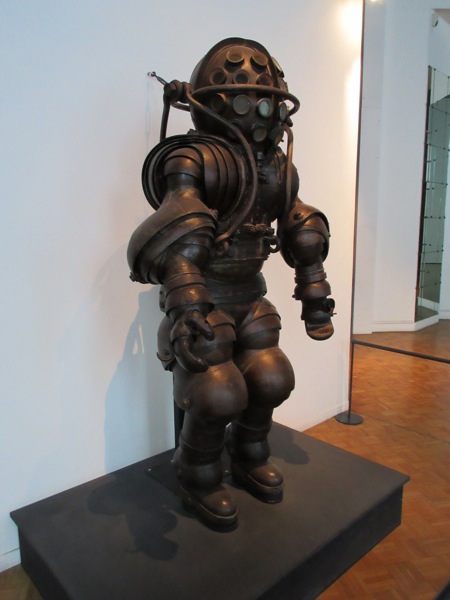 This isn't from a video game, this is an actual prototype diving suit (though probably never used) from 1882!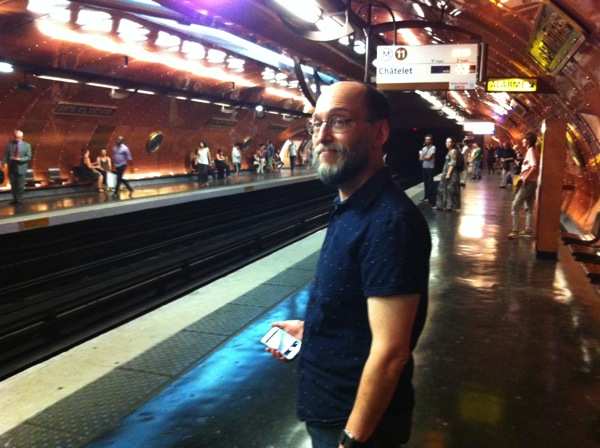 At the steampunk Arts & Metiers metro station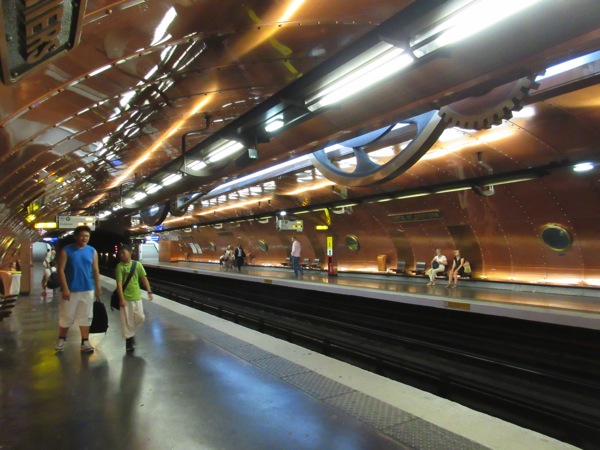 Another view