Archive for June 15th, 2015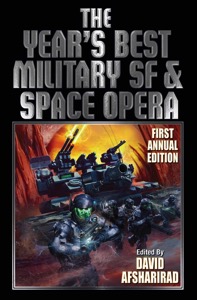 As you may recall, my "Venus noir" story "The End of the Silk Road," set in the same universe as "The Wreck of the Mars Adventure" and my forthcoming novel Arabella of Mars, was selected for The Year's Best Military SF and Space Opera. Well, the anthology is now available! You can get it from Powell's, Amazon.com, and everywhere else books and ebooks are sold.
With an introduction by best-selling military science fiction author David Drake and selected by editor David Afsharirad from the top short story markets in the field, here are the most thrilling, pulse-pounding, and thought-provoking stories of the past year. Stories of future military men and women, space opera on a grand scale, and edge-of-your-seat adventure tales in the pulp tradition, from giants of the genre to brilliant up-and-comers.
To celebrate the release, the Baen Free Radio Hour podcast is offering an interview with the editor of the anthology and several of the contributors, including Matthew Johnson, Derek Kunsken, Linda Nagata, and Michael Z. Williams as well as myself. You can listen to the episode here, or download the MP3 here.
Been is also trying something new with this first annual Year's Best Military SF and Space Opera — it is not only an anthology but also the shortlist for the first annual Year's Best Military Science Fiction and Space Opera Award, which comes with a plaque and a $500 prize. And the winner will be selected by you, the readers! You can vote online here (or, if you prefer, you can send your vote by mail to an address found on that same page). Voting closes August 31, 2015; the winner will be announced at DragonCon.