So here it is awards season, and I suppose I ought to summarize what I published in 2016. By comparison with previous years it is a very short list, only two items, but I'm exceptionally proud of both of them.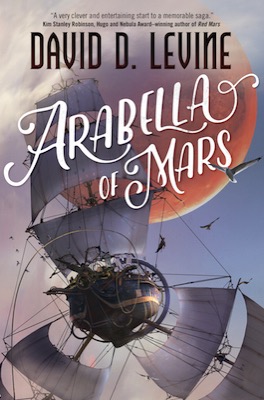 My first novel, Arabella of Mars, was published in 2016 to considerable acclaim:
"Embedded in the chaos of clockwork and space adventure, Arabella is a delightful heroine with more than enough fortitude to traverse the solar system. A fanciful romp through a cosmic 1812, Hugo Award-winning Levine's first novel is a treat for steampunk fantasy fans. Debut of the Month." — Library Journal, starred review
"Arabella is a fully realized character, daring and willing to risk everything to protect the brother she loves and the legacy that her father has left them. Her wits and cleverness save the ship and crew more than once in this rousing swashbuckler." —Publishers Weekly, starred review
"Excellent, entertaining, humorous scenarios make up Levine's latest. His storytelling will keep readers turning the pages with its slight edginess, light-hearted tone and clear, crisp dialogue. Arabella is strong, sassy and clever, and her journey, as she makes her way back to Mars on an airship, makes this story an engaging read." — RT Book Reviews, four-star review
Arabella of Mars is available in hardcover, ebook, and audio formats at Amazon, Powell's, and everywhere else books are sold.
My only other publication in 2016 was novelette "Discards" at tor.com, a standalone story in George R. R. Martin's Wild Cards universe. You can read the whole thing for free at tor.com.
If you are a SFWA member and believe these works are award-worthy, you can recommend Arabella for the Nebula or Norton Award or "Discards" for the Nebula Award (login required).
Thank you for your consideration.