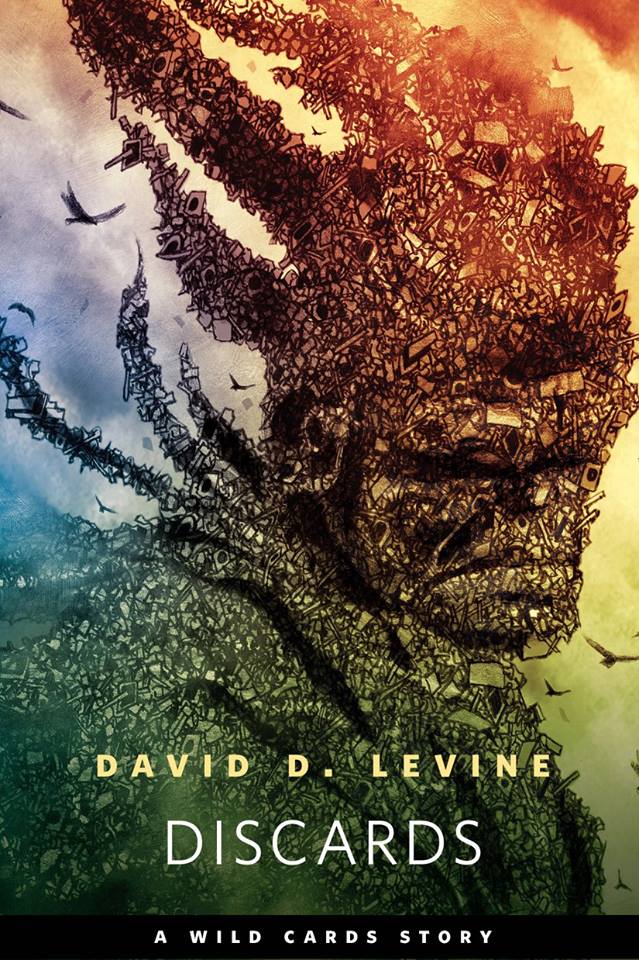 About the Story
The roots of this story go back a long way.
It starts in 1987, when the first Wild Cards book came out. I bought it and devoured it immediately, along with its sequels. I thought it was amazing. I drifted away from the series over the following years, as it published irregularly, changed publishers, and didn't receive wide distribution, but always kept it in mind as my single favorite shared-world series.
Fast forward to 2007, when I learned that the series was returning to life, with a whole "next generation" of characters, published by Tor. I wrote to series editor George R. R. Martin wondering if there might possibly be room for another writer in the Wild Cards Consortium. "I know you must get a lot of queries like this," I wrote, "but I figure the Hugo has to count for something :-)" He responded that the first three "next generation" volumes were already in process but that he'd keep me in mind for the following books, if any.
According to my notes, it was a year later (I remember it seeming much longer than that) when I met George at the Worldcon and he pulled me aside to say that they were now accepting new members into the consortium and that, if I were interested in applying, I should submit some ideas for new Wild Cards characters. I did so, and after considerable back-and-forthing (much of which was him, with his encyclopedic knowledge of the series, informing me that this power or that character name was too similar to an existing one) we settled on and fleshed out a single character, The Recycler, who was accepted into the Wild Cards pantheon. I came along as well.
As it happened, The Recycler was not well suited to the direction the series was taking at that time. (He was written to fit into the globe-spanning "Committee triad," but the next few books took place at the "Fort Freak" police precinct in New York City and were more suited to characters with smaller-scale powers.) I wound up creating and using two other characters, Stopwatch and The Cartoonist, but The Recycler, although still an official part of the Wild Cards universe, did not appear in any stories.
The next step in The Recycler's development came in 2013, when George offered me the opportunity to revamp him so that he could be used as a member of the international Committee of aces called in to help with a major world event in the forthcoming mosaic novel High Stakes. He also suggested that "a dashing Brazilian ace would be great, a nice tip of the hat to our legions of Brazilian readers." So I revamped my character from The Recycler, a New Yorker, into O Reciclador, a Brazilian from the slums of Rio, and he will be appearing in High Stakes (as a secondary character, written by someone else).
Then came 2015, when George asked if I would be interested in writing a Wild Cards standalone novelette to appear on tor.com, perhaps an origin story for the rebooted Recycler. Heck yes, I said, and immediately set to.
I did a ton of research on Brazil, including watching the movie Waste Land, about the catadores (pickers of recycled materials) at Jardim Gramacho, the biggest landfill in the world. They follow the trucks and pick through the garbage looking for recyclable materials (scrap metal, paper, plastic bags, aluminium cans, bottles) which they then sell for pennies a pound to recyclers who clean, shred, and process them. I realized that I had to use this setting, as it tied in so tightly with the character's powers and the story's theme of building up a worthwhile life from garbage.
I slammed out a 10,000-word first draft in about two weeks (that's fast for me), then sent it off to George. I also asked him "Do you have any Brazilian contacts you can run the story past to check for errors in setting, tone, or language? I hate to get things like that wrong when writing about real cultures, but I don't know any Brazilians." George forwarded the story to his Brazilian editor and copy editor, who responded "We really liked it! It is as if it was written by a Brazilian author. The use of the Portuguese is great and the scenario is very well described. It is very real." Research for the win!
So that is the story of how the character Tiago Gonçalves came into existence. To find out how Tiago became the ace O Reciclador, you'll have to read the story.
Reviews
"At the highest level, this story is about Tiago's struggle to find a place for himself in society. Secondarily, it's about his struggle to understand his power and how to use it. ★★★★★ Award‑Worthy"
— Greg Hullender, Rocket Stack Rank
"David D. Levine writes a very good adventure story from George R. R. Martin's long-running Wild Card Universe in 'Discards.' This is an origin story so you need not have read anything in the series before. All you need to know is that a virus was released into the world which turns some people into superheroes, others into jokers, and leaves others completely alone. Tiago, a 15 year-old orphan in Rio catches the virus and becomes something else. 'Discards' tells us how he stays alive and learns who he has become. Light and adventurous with some dark implications — a very good combination."
— Bob Blough, Tangent Online
"Levine's description of the grim life of a street kid in the slums of Rio hits home, with the desperation and the lawlessness underscored by the careless, wealthy tourists who flit in and out of the area. Tiago tries to live an honorable life as best he can, driven to theft but avoiding the greater evil of drug running. His superpower, as he begins to more fully develop it, has a poignant connection to his life as a catadore, a collector of recycled materials, as well as to his status as a person discarded by society, but Tiago learns to make the most of the hand he's been dealt."
— Tadiana Jones, Fantasy Literature
Excerpt
In a dark, stinking room on the outskirts of Rio de Janeiro, its discolored cinderblock walls scarred with generations of graffiti, Tiago Gonçalves lay sweating and thrashing, delirious with fever.
For a bed, Tiago had the box spring from a child's crib, stained and torn, over which was thrown a threadbare sheet that had perhaps once been pink. A battered plastic milk crate nearby held one pair of jelly shoes, three shirts too big for his skinny frame, two pair of shorts, some underwear, a plastic mug and spoon, a toothbrush, and half a cake of soap. That was all. But his most treasured possessions sat proudly atop the crate: an oil lamp assembled from discarded cans and bottles, using braided electrical insulation as a wick; a Swiss Army knife, its long-vanished plastic side panels replaced with scraps of teak painstakingly shaped to fit the hand and polished to silky smoothness; and a bouquet of flowers he had made by twisting together bits of colorful plastic bags.
All of these things Tiago had rescued from the landfill. But there was no one to rescue Tiago. He had lain here for… he didn't know how long, days maybe, without anyone to care for him. The other three catadores — "collectors" of recycled materials — who shared this twenty-reais-a-week room had lives and problems of their own. At least João had shared some of his water and fried manioc cakes.
Tiago shivered in his sweat-soaked sheet, which clung to him like it was his own skin. He ached all over; he could barely raise his head. He wondered if he might be dying.
He knew death. He had seen death far too often in his fifteen years. Every time there was a war between the gangs of drug traficantes that ruled the favelas, bodies turned up in the dump. Sometimes they were headless and handless, oozing black blood from the severed stumps. Once Tiago had unearthed a tiny newborn baby, the umbilical cord still attached, from a bag of rotten food scraps. Rats had eaten its ears. At seven he had seen his father gunned down by the police while stepping from his own shower, during a drug raid based on mistaken information.
His mother, too, was dead, or at least that was what he assumed. Two years ago she had gone off to look for work and never come back. Most likely she had been unlucky enough to catch a stray bullet from some traficantes' battle, never identified, and buried anonymously in a public cemetery. But deep inside he harbored the fear that she had tired of him, of the strain of caring for a hungry, curious boy as an unemployed single mother, and had run away, back to the countryside from which she had come before he'd been born.
He should never have been born. Just by existing, Tiago made things worse…
Publications
Full House, anthology, August 2022
edited by George R. R. Martin