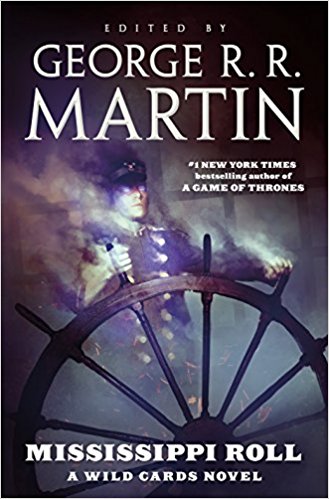 About the Story
Mississippi Roll, the twenty-fourth novel in the Wild Cards shared world series and the first in the America Triad, follows the Lovecraftian horror of High Stakes, the previous book, with a more lighthearted and down-home vibe, and I really wanted to write a story for it. Unfortunately, none of my existing characters fit into the milieu of a Mississippi riverboat… The Recycler's powers were too big, The Cartoonist too much of a New York City boy, and Stopwatch long dead by the time of this story. So I asked George R. R. Martin if there were any existing characters who might fit into this book. He had a few suggestions, and one of them immediately leapt to the forefront…
In this story it was my privilege to write a new adventure of Sewer Jack, the gay were-alligator created by Ed Bryant way back in Wild Cards book 1, who has always been a favorite character of mine. Ed passed away not long after I completed the story, and I don't know if he ever read it, but I was very pleased to have his permission to use his character. I've done my best to respect Ed's legacy and I hope that Sewer Jack's many other fans will enjoy reading my story as much as I did writing it.
Excerpt
Jack clung to the pipe, panicked and uncertain, looking for an opportunity to act — to grab a flailing arm or leg and haul Timur to safety, or to kick Erzhan in the head. But the battling jokers were too far away, the light too poor, the action too chaotic.
Or was it just fear that kept him from acting? Fear that he, too — a weak, skinny, none-too-buoyant old man — would be pulled under the water, pointlessly raising the evening's death toll from three to four?
It was not an unreasonable fear.
But he had an alternative. It was not one he welcomed, but it was the best one he had.
He concentrated on his anger — the fierce, burning, unreasoning rage — at Erzhan, at the terrible situation, at all the obstacles and disappointments and prejudice he'd faced in his seventy-nine years. He focused it into the deep, primal force which had shaped his life ever since the wild card virus had infected his body.
And then he let the gator go.
Jack struggled to retain his human consciousness, even as his face lengthened and his tail stretched out and his hands and feet warped into scaly, webbed claws. But it was fading quickly, drowned beneath the dark, hot awareness of his giant-alligator alter ego.
Sewer Jack had come to St. Louis.
#
The alligator thrashed in black, stinking water, struggling against imprisoning bonds. Rolling over and over in frustration and rage, he tore free of the fabric and leather that wrapped him, shreds of cloth drifting away in the churning current.
He was in an enclosed space, all hard surfaces and strange angles; the current pushed him every which way, threatening to drive him into a wall or pillar at any moment. The turbid water was vile, rank with chemicals and gasoline, and nothing lived in it. No, wait… there were other living things here. Two forms struggled nearby, with two others paddling clumsily away beyond them. Food? Perhaps. Their scent was blocked by the foulness of the water.
With smooth strokes of his webbed feet he thrust himself toward the nearer pair.
Food they were, indeed; the scent of fresh hot blood was rich in the water, and growing richer as the larger of the pair tore at the smaller with fierce claws. Either one would make a satisfying meal. With unerring instinct he drove for the smaller, injured one, great jaws agape…