We are in Paris! We'll be in Europe for a month all told, a week each in Paris, Normandy, Belgium, and London, returning home after the Worldcon.
Tue-Wed 7/22-23. PDX-SEA-FRA-CDG-Paris
Step count: 12,002
Our trip began with a cab to the airport, rather than the train as planned, because raining. Despite some question as to whether Kate's rollie bag would qualify under United's new rules, it fit in the sizer so we carried it aboard — mine too — though we had to a-la-carte them on the puddle-jumper to SEA. Both of us got TSA Pre-Check; it was like going back in time 20 years to the days when all you had to do was run your baggage through the X-ray and yourself through the metal detector. At SEA we spent our brief wait in the International Lounge, shared between Lufthansa, ANA, and a few other airlines' business classes. (We flew business class, using United miles saved over years of domestic travel, because it's ever so much nicer on a long trip like this.)
Our Lufthansa jumbo jet had surprisingly little room for carryon bags, even in business class. We had to put our rollie bags into the overhead bins sideways for them to fit, and the foot space for the seat had to be completely empty for it to fully extend, meaning I had to give my backpack to Kate in order to lie down. Even with that the seat didn't lie completely flat; the seat and its remote control were kind of strange. Still much better than economy class, of course — I'm not complaining. The food was the real highlight; I had a beef and quinoa salad appetizer and Wagyu beef brisket main course that would not have been disappointing in a fine restaurant. Also the flight attendants kept the fizzy water, hot bread, and other amenities coming. Breakfast omelet was not quite so good but still more than acceptable. Got about 2 hours of sleep, spent most of the rest of the time revising a short story that's due at the end of this month. Did most of the major and minor edits but didn't get to the emotional stuff and I'm not 100% certain the ending works. Also read Mark Helprin's Winter's Tale on my iPad. I was kind of put off by the florid Literary language at first but pretty soon I started getting into it. It is remarkably funny. Might not finish it before it has to go back to the library though. Also noted: the United in-flight magazine had "3 days in Portland," International Wall Street Journal had a long article on the Portland Zoobombers, and L'Express had one on George R.R. Martin.
Arrived Frankfurt and found almost no signage, no maps, no people to help. Walked for miles in vain search of "terminal 1, gate A" for our Paris flight. There were at least two things labeled "A" on the signs and I'm not really sure what either of them was. Fortunately we had 3 hours to find our plane. How can such a popular connecting terminal have such miserable signage? After passing through passport control twice (almost three times) and security once we finally were directed to the Lufthansa business class lounge, where I had a second breakfast of yogurt, banana, and cappuccino from the machine and dealt with email before our short flight to Paris. Even on a 45-minute flight, Lufthansa gave us a very nice warm meal: cajun poulard (chicken breast, I think) with citrus fruit and a mango pico de gallo.
At CDG we traveled through the cover of the Alan Parsons Project's album I, Robot before managing to locate a bathroom and the train to Paris. No passport control here, just a large green gateway saying "nothing to declare" (no staff visible). At the airport, got a text from "Miss Keys," the freelance concierge employed by our VRBO apartment to deal with their guests, saying there was a "Big Problem" with the apartment we'd booked and that they were giving us another. Well all right then.
Arrived at Chatelet des Halles and, after wending our way to the surface (the train arrives on level -4 of this enormous underground shopping mall) walked to the new apartment, supposedly 12 minutes walk vs. 5 for the original one. The long slog over cobbles with rolling luggage nearly did us in, but we made it about 20 minutes before our scheduled rendezvous. Miss Keys let us in, showed us around, explained about the cute little mini-washer/dryer, combination dishwasher/oven/gas-electric stovetop, wifi, etc. This was tout en francais, avec pas de problemes; the 20 days of study I did with the Duolingo app on my phone before he trip were a HUGE help in spinning back up on French. The Big Problem with the other apartment was a sudden infestation of "insects" (bedbugs, I think) brought by the previous guest, only discovered this morning and requiring 3 weeks to fumigate. The apartment we got instead is adequate, pretty small and a 3rd floor walk-up, but character-filled and still in a great neighborhood. After a brief nap, walked around the neighborhood and beyond. Bakery, Pompidou Centre, the Seine, Notre Dame, etc. — we're here!!!
Right around Notre Dame I realized I was all out of cope. Still perfectly happy, but I recognized that I was no longer competent. We decided crepes were just about our speed and headed for what sounded like a good one between there and our apartment. On the way we passed a hopping corner cafe called Les Philosophes. "Are we being stupid to not just go in there and eat?" (long pause) "I don't think so. But that could be Dunning-Kruger Effect talking." After passing a place whose crepes were highly recommended but lacked seating, we wound up at Creperie Suzette, with delicious crepes; a huge, simple and very fresh salad; and a bottle of delicious apple cider. Went home, unpacked, did wash, wrote up these notes. To bed 9:30 local time.
Thu 7/24 – Paris
Step count: 8,951
Awake 5:30. Bleared around the apartment until 8; much frustration trying to create an account on thefork.com, French equivalent of OpenTable, which refused to accept a US postal code. Couldn't get shower door to close all the way and soaked the bath mat. Hung it out to dry on the clothesline outside the window, using a binder clip (glad I brought some) as a clothespin. Ate a spiral chocolate thing we'd bought yesterday, then walked out to nearby mini-grocery Franprix for the makings of breakfast — but found it closed until 9. Adequate coffee and croissant at Le Pick-Clops, got transit pass from machine at Hotel de Ville station, then back to Franprix for yogurt etc. Surprising lack of Greek yogurt. Dropped off groceries at home then went to Carnavalet Museum.
The Carnavelet is the museum of the city of Paris, and not quite what we expected. There was one hall of signs from businesses over the centuries, and quite a few artifacts, but most of the collection was paintings of historical Paris, painted at the time they depicted and arranged chronologically. Many really fine paintings, and an interesting way of viewing the history of the city as the people of each time understood it. Lots of weird history here, the Directorate and the Commune and the Restoration and all the Napoleons. Huge painting of a balloon launch during the Siege of Paris, 1870, and a smaller painting of a room of secretaries examining a projection of a microfilm sent by carrier pigeon during the same conflict. Also on display was a feather from one of those pigeons. Another notable display was several cabinets of delightful caricature sculptures of famous Parisians of the 1830s by Jean-Pierre Dantan.
Had a delightful lunch of steack frites at restaurant Camille, which turned out to be right next door to Creperie Suzette from yesterday's dinner, then back to the museum for the special exhibition of photos from the 1944 Occupation. It turned out to be the 70th anniversary of not just the Liberation but of the exhibit of photos of the Liberation which was displayed in this very museum before the war was even over. The new exhibit talked a lot about the differences between how history was perceived then, right after it happened, and now — e.g. erasure of women Resistance fighters and black American GIs from the coverage. By 3:00 we were just about ready to fall over and went back to the room for a nap.
Slept until 4:30 or so, too late to hit the Marie Curie museum as we'd planned. Tried to set the PIN on my Barclay credit card so as to use it in machines, which took wads of time trying to authenticate to the Barclay website and finally wound up at the apparent conclusion that I should expect to be asked for a signature in any circumstance where it is possible, using a PIN only on an unattended machine (which I had been avoiding). Will try that next time and see if it works. Then out into the neighborhood for bread, cheese, dessert, and, as it turned out, sandwiches, which we dragged back to the apartment and ate for dinner, still being full from lunch and lacking in energy to seek out anything more ambitious. After dinner, we had intended vaguely to visit the Eiffel Tower by night but found ourselves both too tired to do any such thing. Stayed home and read instead. Tomorrow is another day.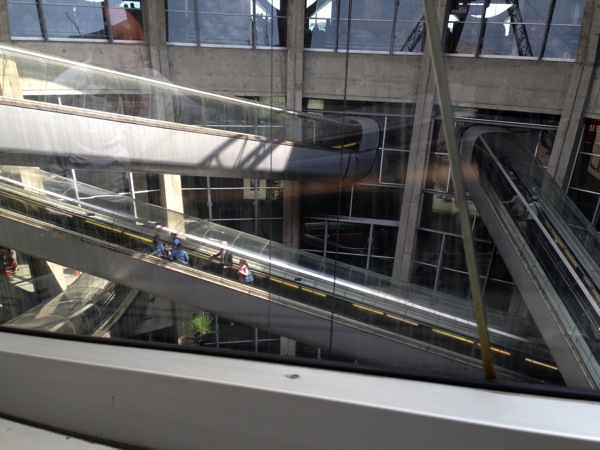 Greetings from the cover of The Alan Parsons Project's I Robot (Charles DeGaulle Airport)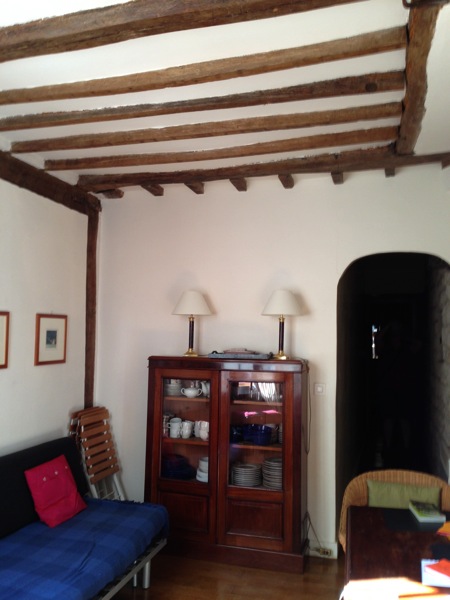 Living room ceiling of our apartment, which dates from the 1800s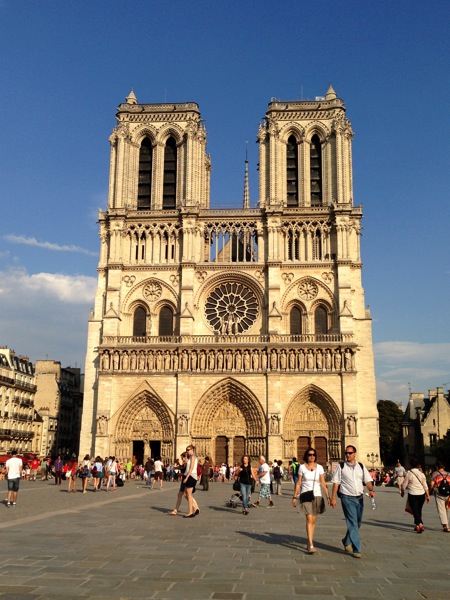 Notre Dame! We are here!!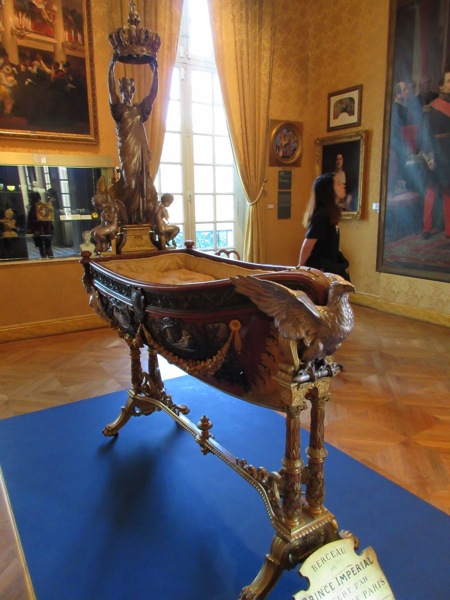 This tasteful little cradle was a birthday gift to the newborn son of one of the Napoleons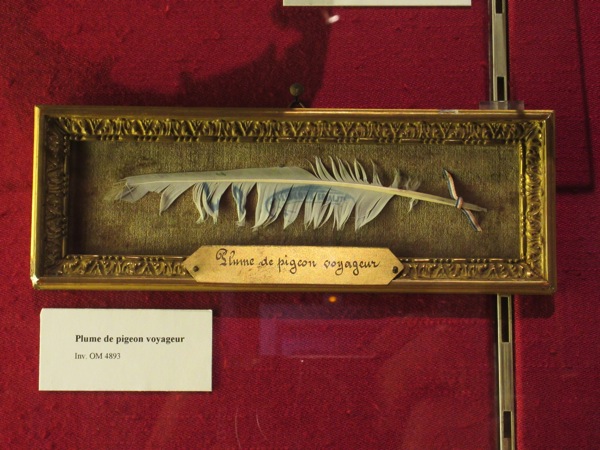 Plume du pigeon voyageur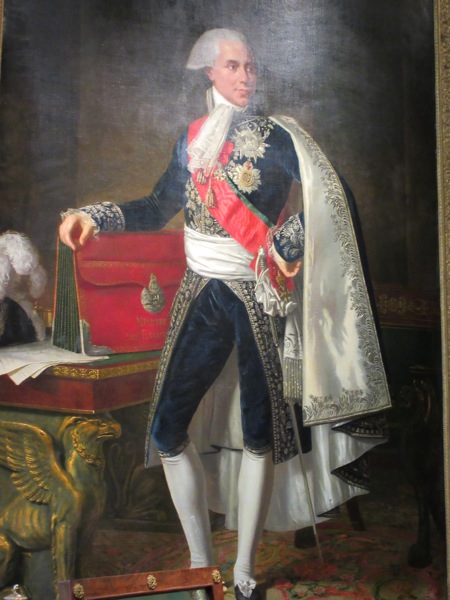 Now that's what I call a minister with portfolio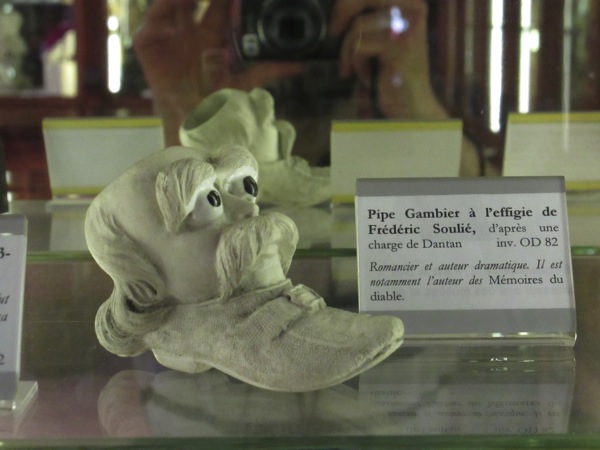 One of dozens of delightful little caricature sculptures