Sat 8/9 – Mechelen
Step count: 12,749
Awake 9ish, I think; breakfast of Greek yogurt with fresh local blueberries and muesli. Today was our day to explore Mechelen. Started with the Saturday morning market in Grote Markt: the whole town square and several subsidiary squares all filled with stands selling vegetables, fruits, meat, fish, bread, pastries, clothing, and cheap consumer goods of all types. Roelof said it was a little underpopulated because of the summer holidays, but it seemed to be hopping to me. Picked up some herring and a few other things, hit the post office, then we went off in separate directions. I went back to the house, where I saw one of the cats (Skip, I think; she hissed at me) and I picked up a Mechelen walking tour booklet Roelof had offered. Followed the booklet (Streetwise Mechelen, very well written and full of interesting tidbits) from the Grote Markt to picturesque streets, several churches, and palatial buildings. Took plenty of pictures. Passed at least one and possibly two wedding parties, including the celebrants coming up the aisle at St Rumbold's Cathedral as I was heading down (I beat a hasty retreat as soon as I realized what was happening). Managed to buy a hartenwafel (little heart-shaped waffle) for a snack and some chocolates for a gift, using a horrific mishmosh of German, English, and a little mangled Dutch.
Back to house for lunch: herring for everyone else, ham sandwich for me. After lunch Roelof, Kate, and I went back to a couple of churches I'd spotted in the morning that weren't open to visitors yet, including the interesting informative sign that replaces the taken-away-for-renovations statue of "Jesus at the Mount of Olives" at Klapgat ("here, let me show you something that isn't there"), then walked along the boardwalk by the river. We spotted an exhibit about the Cavalcade procession held here once every 25 years (the last one was in 2013). The Cavalcade costumes were hung up on racks in such a way that it looked more like a shop as an exhibit — kind of strange.
Back home for dinner with Lynne Ann and Roelof and their friends Freddy and Mies. Full spread of language skills: me with almost no Dutch, Kate with some Dutch, American-born Lynne Ann with very strong Dutch, Netherlands-born Roelof with very strong English, Flemish Mies with good English, Flemish Freddy with very little English (and a nearly impenetrable Flemish accent). Nonetheless, we managed to have good conversation over a tasty dinner, prepared by Lynne Ann and Roelof, of teriyaki chicken skewers, chirashi sushi, and a seaweed salad. After dinner we all went across the street for ice cream and more conversation. To bed around 11:00, I think.
Sun 8/10 – Mechelen
Step count: 10,473
Awake around 8:00. With Kate still asleep, read Facebook on my phone for a bit until Lynne Ann posted a comment: "Hey, Mister Awake-Enough-to-Like-This-Post! Loving spouse has just gone to the bakery for breakfast". I took the hint and got up.
Yogurt and blueberries for breakfast, plus fresh pastries from the bakery. Today we decided to go to Brussels and meet up with Lynne Ann there after her aikido. Roelof walked with us to the station and made sure we got on the right train.
Took the tram to Atomium from the Brussels train station (wanting to hit it in the morning, as rain was forecast for the afternoon). Extremely cool! I've wanted to see it since I don't know when. Found a huge line for tickets, but decided to stand in it anyway, even though the rain started while we were waiting. The first thing we encountered after the turnstile was a photographer and some poor sap dressed as Spirou. Unlike the usual "stand in front of this green screen so we can photoshop you into a picture of the thing you just visited in real life" that's so common these days, this photographer was active and engaged as he snapped us with Spirou and separately.
The first part of the Atomium visit (first two spheres) is an exhibit about the Atomium itself and the 1958 World's Fair, pretty intriguing. Next (three spheres) was an art installation of sound and light, also cool. The final sphere is where the Amazing Racers slept, usually only open to children. The remaining spheres are not open to the public, except for the panoramic view and schmantzy restaurant in the top sphere. On the way back down to ground level the escalator suddenly stopped and we had to hoof it the rest of the way. Once back down to ground level we found an hour-long line for the elevator to the top, so decided not to bother, especially as it was raining. But the photo of me and Kate turned out great so we bought a print and a keychain (sadly, the two shots with Spirou didn't turn out as well). Bought a few postcards and other souvenirs.
Lynne Ann texted from the central station and we decided to rendezvous with her there for lunch. She took us to her favorite coffee shop near the station, called Arcadi. My tart of soybeans, leeks, and chicken was absolutely delish, Kate's sandwich less so. Most everyone we encountered in Brussels speaks French, I'm able to communicate again!
Not enough spoons or time for a museum, and it was raining hard, so we decided to walk to Galerie St. Hubert right next door. This was a long, bright, glass-enclosed shopping street (one of several connected galleries) full of high-end chocolatiers, bookstores, art galleries, knickknack shops, etc. We ended up at Brussels's Grote Markt (like Mechelen's on gold-plated steroids) and had a drink at Lynne Ann's favorite brasserie on the market square, Le Roy d'Espagne (The King of Spain). Interior somewhat reminiscent of The Leaky Cauldron at Universal Studios, amusingly cheeky waiter. Back to Mechelen by train, picked up Roelof at home, went to Turkish restaurant De Hete Patat (The Hot Potato) for dinner. Back home by 8, sync'd photos, sat and wrote up my notes. Had hoped to do more in Brussels today, maybe we will go back there another day rather than Ghent or Antwerp as planned. Or maybe not; life's full of choices. To bed about 11.
Mon 8/11 – Mechelen
Step count: 11,323
Awake 7:30. Breakfast of yogurt and pain au chocolat; out the door by 9, determined to get an earlier start on the day than yesterday. Train to Antwerp. Antwerp Central station pretty amazing, though we learned later it had been built with the proceeds from slave labor. The zoo next door had some great mosaics at the entrance.
Went back into station for transit tickets, caught tram to St. Carolus church, then got off that tram and back on the one in the right direction. Church very very Baroque, with intriguing open confessionals with life-sized carved angels. Also a saint holding his own de-headed head in his hands (the actual saint's skull, I think — definitely a sacred relic of some sort). He was St. Justus, patron saint of headaches, I shit you not. Outside the church, enjoyed the peace and quiet of Conscienceplein (named for author Hendrik Conscience, whose statue overlooks the square from the old main library which is also named after him).
Walked to cathedral, but decided not to stand in line and pay admission to see the paintings within, as it was nearly lunch time. Admired buildings in Grote Markt and several other squares. Every town we've visited in Belgium seems to be trying to out-Grote the others' Grote Markts. Rejected several lunch options before settling on bar 7 Schraken. Touristy, spendy, multilingual menu, but plenty of locals as well, and the food looked good and was. I had stoemp, a traditional Flemish dish of mashed potatoes, sausage, bacon, and gravy. Not healthy and I shouldn't have eaten it all, but I was sorry to see the end of it. Kate had moules frites, also very good.
Visited Het Steen ("dinky but photogenic castle" near the river). Popped into several book shops and other such. Then I noted cafe "De Kleine Tunnel" and wondered… what tunnel? Google Maps showed a tunnel under the river nearby, but only visible at high magnification. Pedestrian tunnel? I walked to a nearby building that looked a bit like the Brooklyn-Battery Tunnel building seen in Men in Black. It was indeed the entrance to a pedestrian tunnel, with interesting tile work and neat old wooden escalators inside. Score!
Did a bit more shopping, and was amenable for more, but we both realized we were running low on spoons and decided to head home before hitting the wall for a change. Tram to train to bus to home. (De Lign (tram) and SNCB (train) iPhone apps extremely helpful in getting around.) Got home, fell over. Woke to a delicious dinner of rabbit simmered in cherry beer, mashed potatoes, and green beans, again prepared by Roelof. After dinner and conversation (largely about the history of Japan), wrote postcards and blogged.
And now… more photos!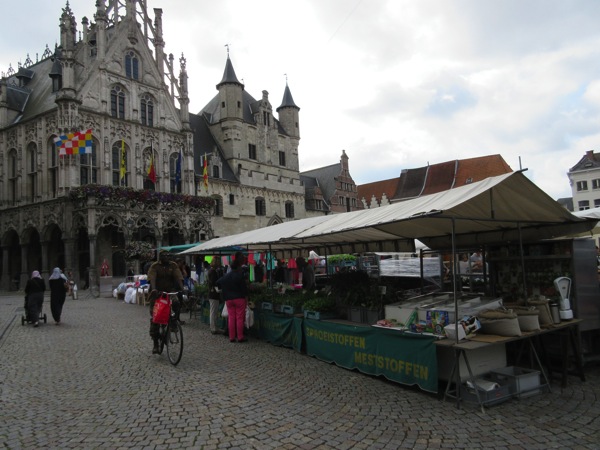 Saturday morning market in Mechelen's Grote Markt square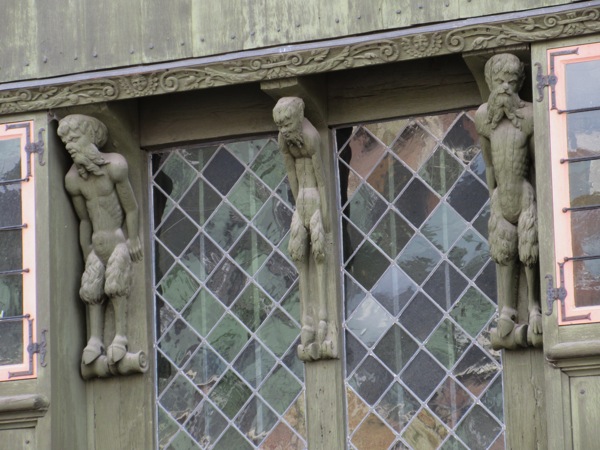 These guys are on a house in Mechelen called, for some strange reason, the House of the Three Devils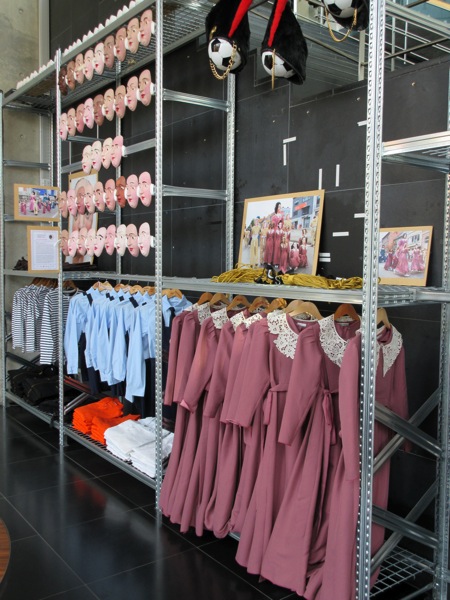 Cavalcade costume exhibit (or possibly sale)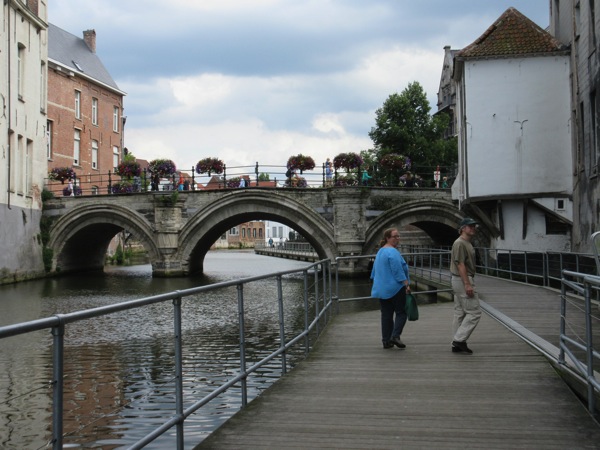 Kate and Roelof on the Dijle River boardwalk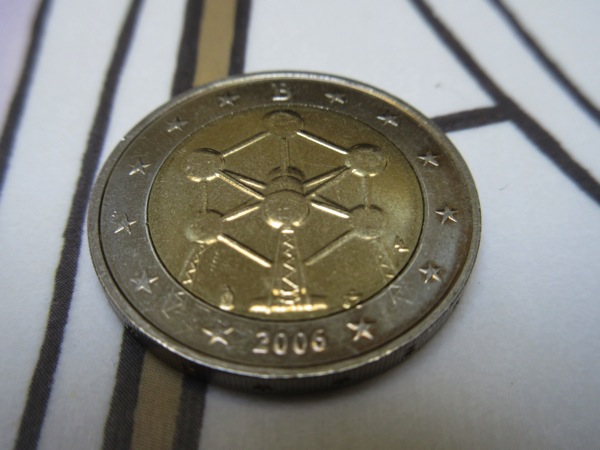 My first view of the Atomium!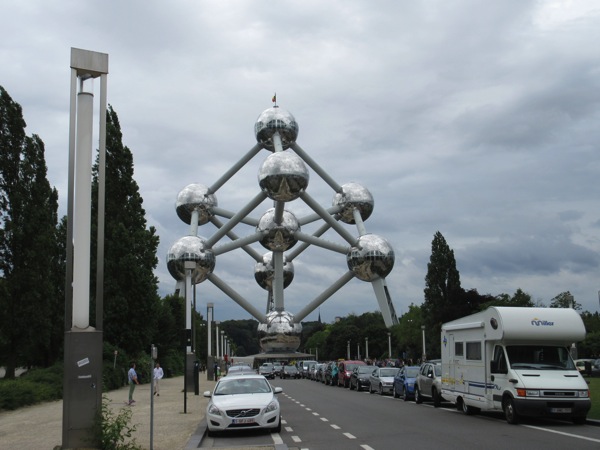 And then I got to see it for real!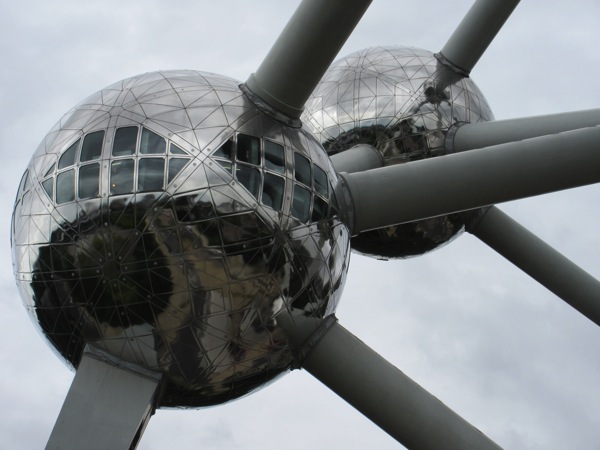 Dramatic close-up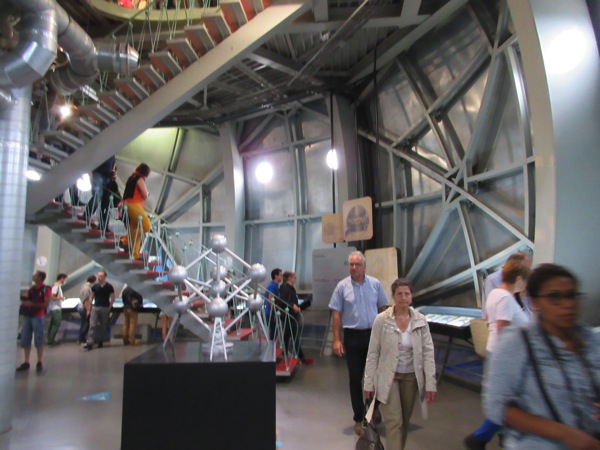 Inside the atom!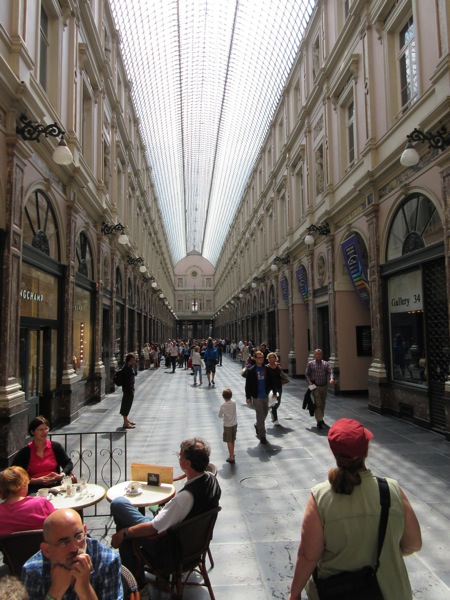 Galerie St. Hubert (Kate in red hat)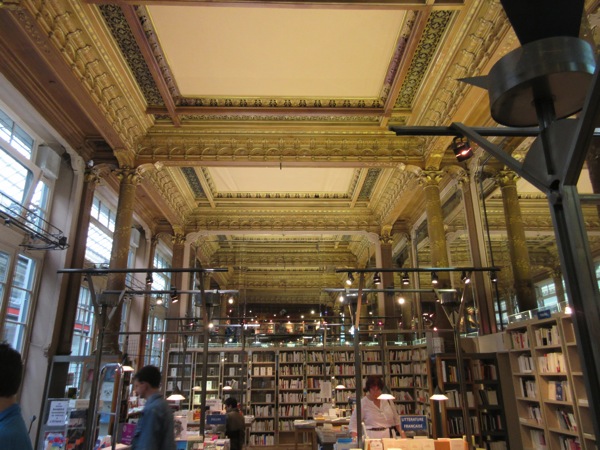 Charming French bookstore inside Galerie St. Hubert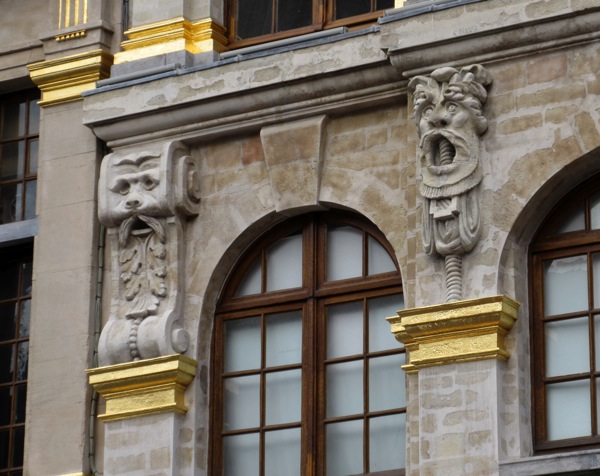 These guys were on a building in the Grote Markt in Brussels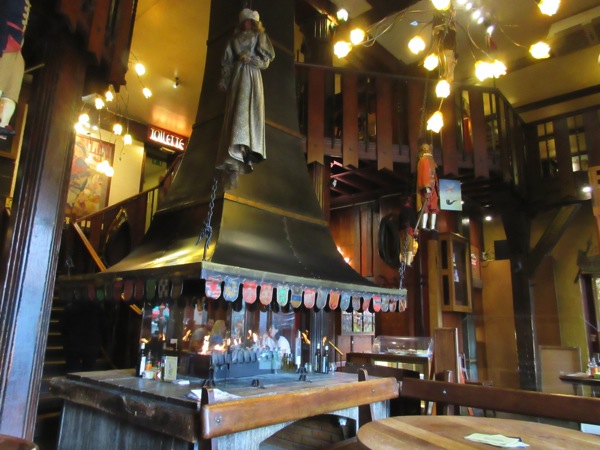 Inside Le Roy d'Espagne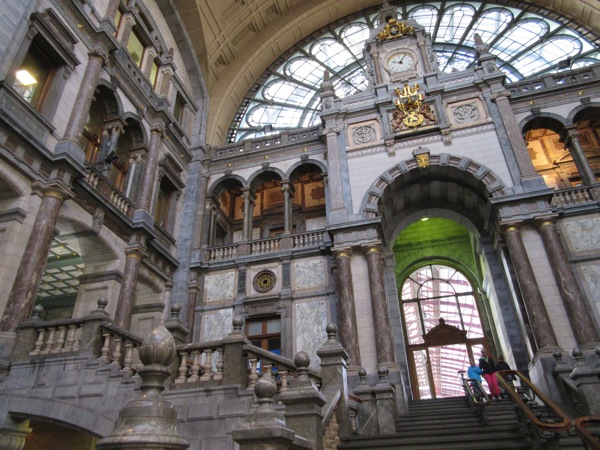 Antwerp train station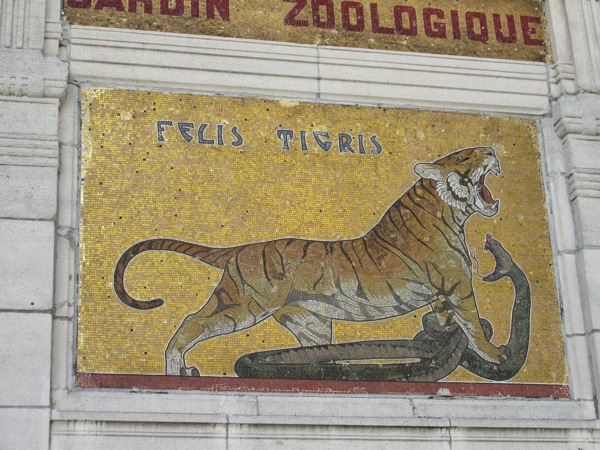 Mosaic at the entrance of the Antwerp zoo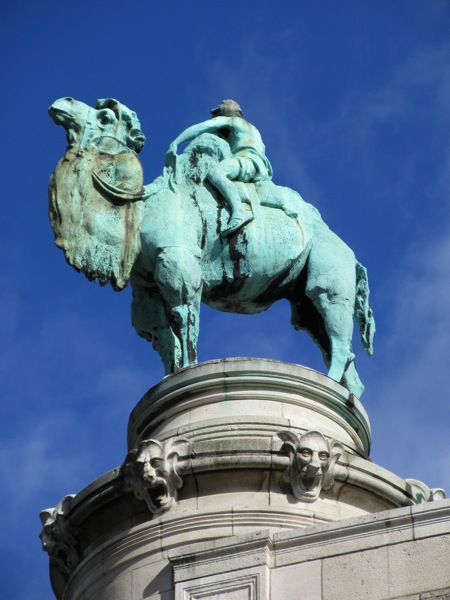 Equestrian statues are usually more, um, equestrian, and not so much camel (also: note the faces on the base)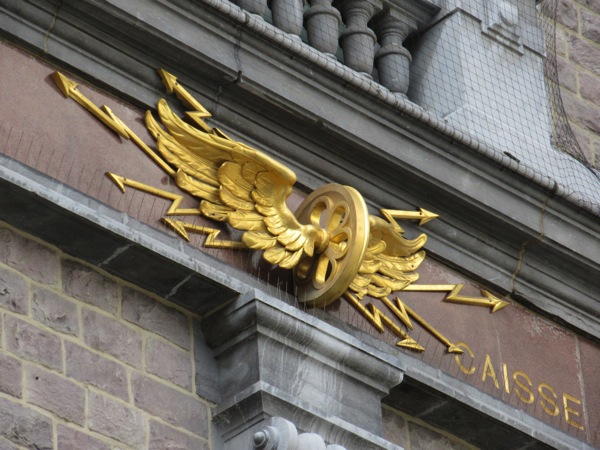 The Antwerp train station also houses the post/telephone office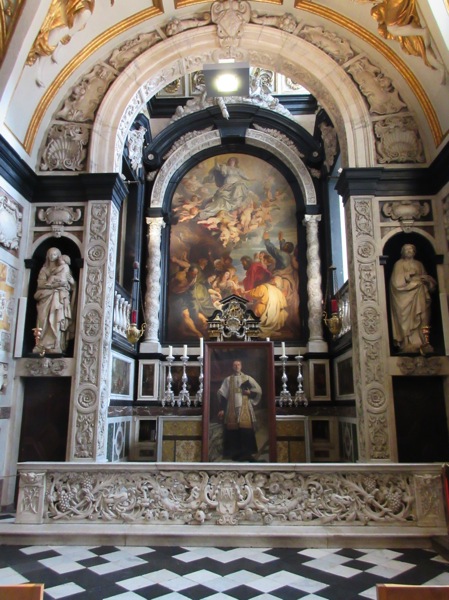 This is one of the little side chapels of St. Carolus; the main church is even more baroque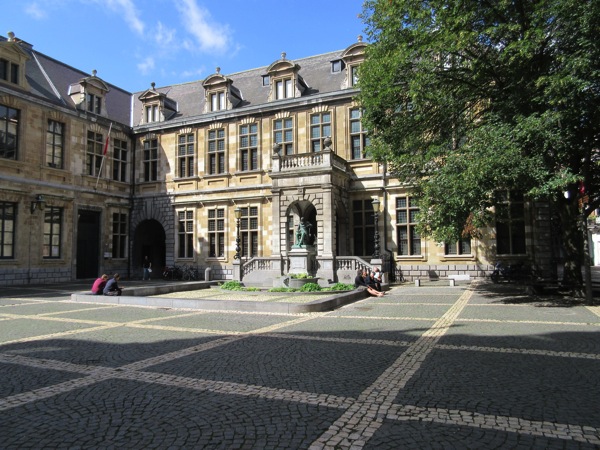 Conscienceplein, right outside St. Carolus

The peak of Antwerp city hall, just visible over other roofs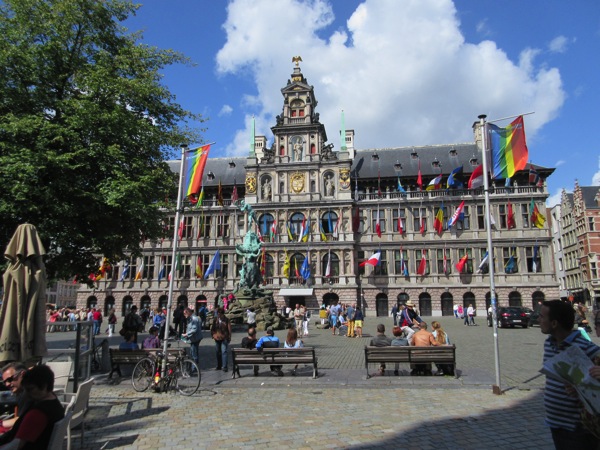 Antwerp city hall, with the flags of all nations. Pride was either last weekend or next weekend, we think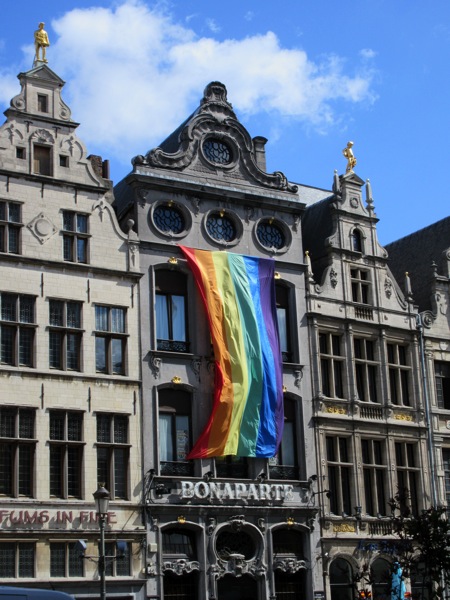 This picture just makes me smile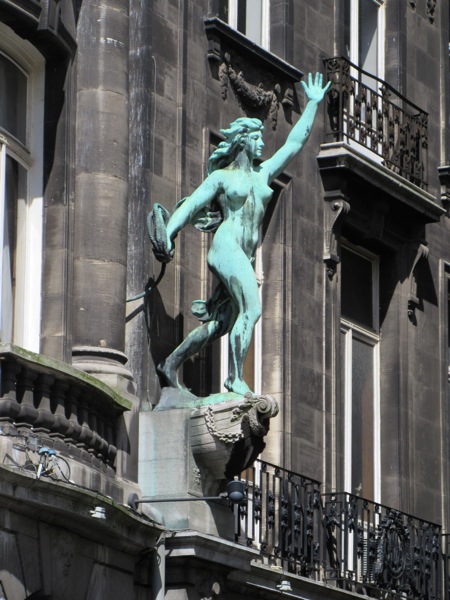 "Hey! You forgot your rope!"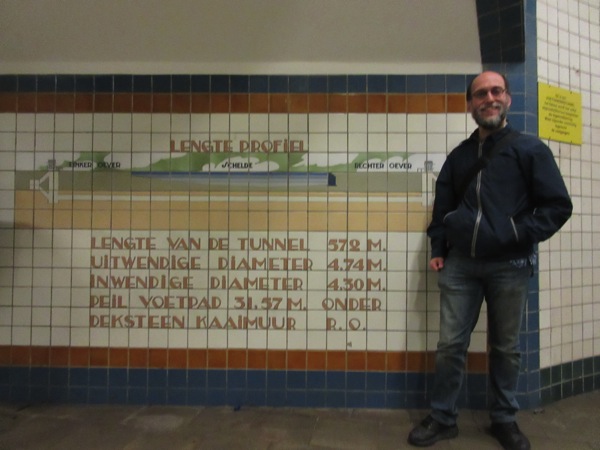 31.57 meters below ground, at St. Anna Pedestrian Tunnel