Wed 7/30 – Paris–St. Martin-de-Landelles
Step count: 8,379
Awake 6:30. Sync'd photos, blogged (but didn't post any photos, ran out of time), finished packing, cleared out the fridge, did the dishes, took out the trash. Cleaning lady (speaking French with what sounded to me like a Spanish accent) arrived before Miss Keys, who was somewhat delayed. Did manage to get all checked out and get our security deposit back before the cab arrived at 10:05 as requested. Cabbie didn't know where Europcar was, per se, but when we arrived at the Air France "aerogare" at Les Invalides (which was all the address we had for the rental agency) he spotted the Europcar desk through the door. No issues at all getting the car, but we did have to lug our bags three blocks from the rental counter to a nearby parking lot and down the elevator to level -5.
Our car is a lovely black Audi A1 with four doors and a trunk just barely big enough for our two suitcases. A nice car, comfortable, quite a bit of hop, handles well, and has an interesting habit of stopping the engine completely when not actually moving. Hit the road around 11am. Thanks to Kate spending an hour or more last night researching the route out of Paris in detail via Google Maps satellite view, the process of getting out of town, in traffic, was straightforward instead of the panicked thrash it could easily have been.
Pleasant drive across country, through little towns, past fields of corn and many cows. Stopped at an aire (rest area) around noon to eat the sandwiches Kate obtained this AM. Flagging and headachey in the late afternoon, stopped in Domfront for coffee and found it to be a delightful medieval town. Got a nice cup of coffee, many photos, also shampoo and Q-tips at the local pharmacy.
Found the house, La Cahudiere near Saint-Martin-de-Landelles, with only one minor backtrack. Welcomed by our host Ellen Klages, Ellen's sister Mary, Elizabeth Bear and Scott Lynch, and several others not as well known to me. Dragged our stuff up to our room, visited the chickens and pig, then fell over for a nap. Didn't actually sleep much because of hilarity from the pool but it was a reasonable rest. There was only one outlet in our bedroom, and the lamp was plugged into it, but I managed to combine a French/UK plug adapter, a UK extension cord, and some UK/US plug adapters to allow charging devices and having a lamp at the same time. Win!
Dinner, prepared by Bear and served on the terrace, was salad and a delicious ham-and-bean soup served over croutons made from Bread of Other Days. Sat around talking after dinner. Much hilarity; no wine actually came out of Ellen's nose but it wasn't for lack of trying. Went for a walk down to the bridge and back as the sun set, with a beautiful sliver of moon. More conversation in the living room after that, largely about SF awards. Finally went to bed nearly 1am.
Thu 7/31. St. Martin-de-Landelles
Step count: 2,835
Awake about 7am. Easy morning of email, sorting through photos, light conversation, and noshing. Invited along to Mont St. Michel but decided to spend the day at home decompressing instead. Scrounged lunch of bread, cheese, salami. Talk on the pool deck, largely about brassieres, segued into sitting companionably and reading, then moved indoors for Russian Bank (a card game known only to Ellen and Mary) and more reading. Various parties went various places for dinner; Kate and I headed for L'Auberge du Lac, recommended by Ellen. Got rather lost on the way there. Many protest signs on the road leading up to the lake (lac) in question, protesting the apparently planned removal of the dam that created it. Restaurant turned out to be run by Brits, and all of the other customers we saw were also Brits, and much of the menu was British — Kate had a beefburger, I had steak pie and mushy peas. Best mushy peas I've ever had, but still… musy peas. Back home at 9:30, we had the whole place to ourselves for an hour. Then everyone came back from their various dinners, including freshly-arrived Elise and Juan!
And now… pictures from the last six days!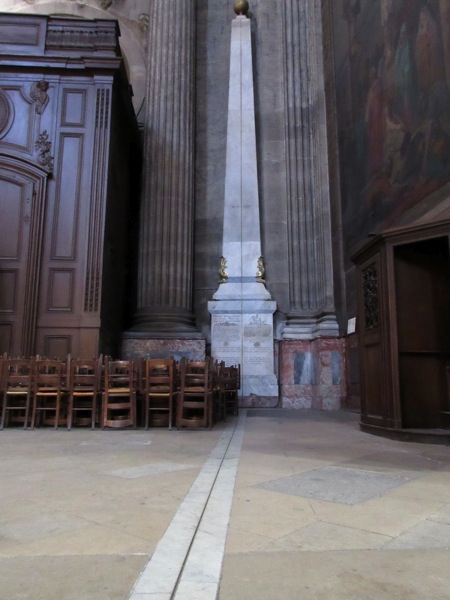 The gnomon of the church of St. Sulpice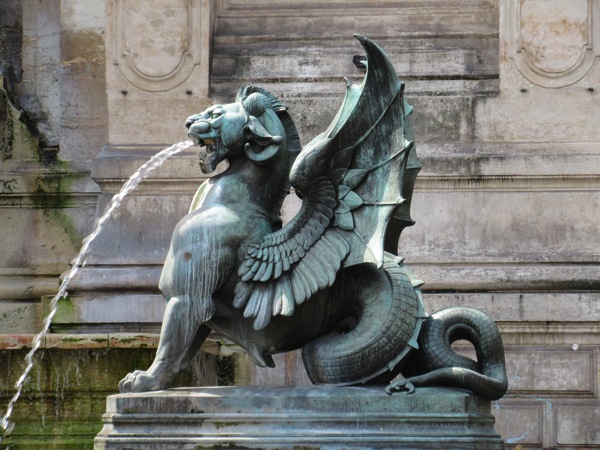 Bat-winged lion-snake-thingy at St. Michael's fountain on Boulevard St. Michel ("Boul Mich")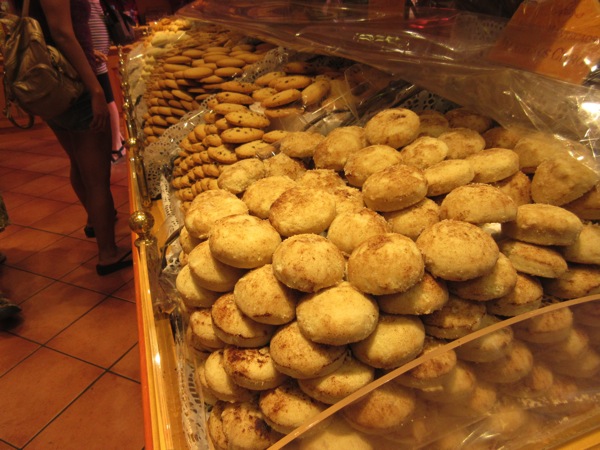 Mouthwatering display of French cookies in Montmartre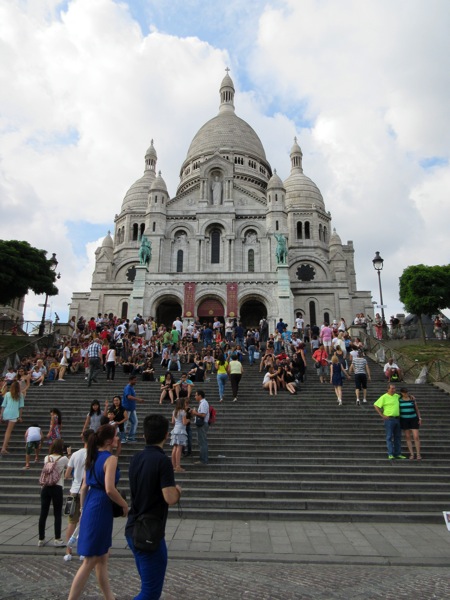 Sacre Cour, home of continuous prayer, a jazz band, and a little tourist train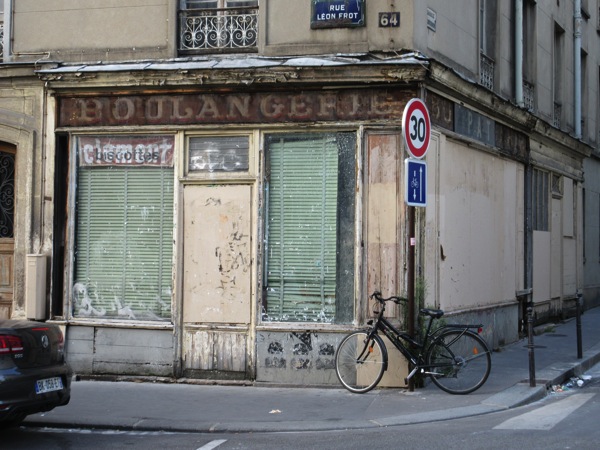 I just loved this little old (abandoned?) boulangerie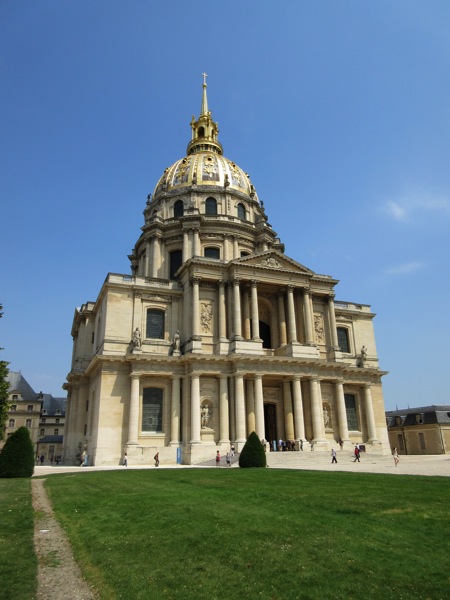 Napoleon's Tomb, a humble little stone hut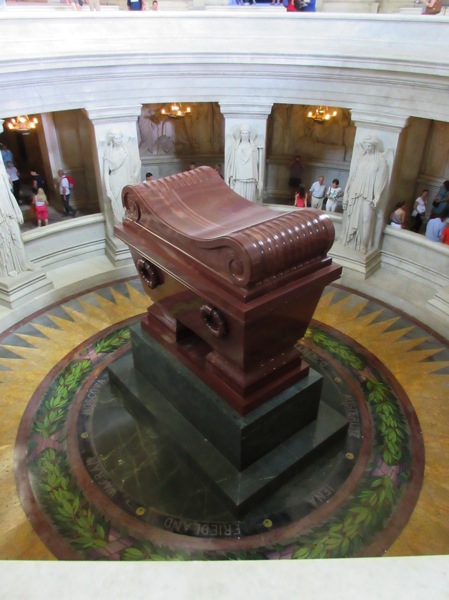 The actual sarcophagus of the actual Napoleon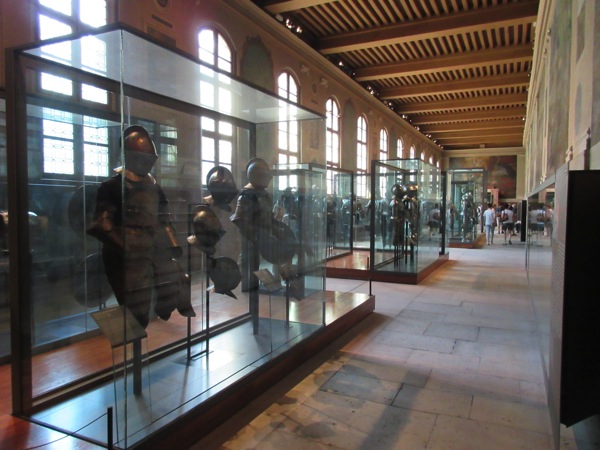 Just one room of the medieval arms and armor museum, which is only part of the Museum of the Army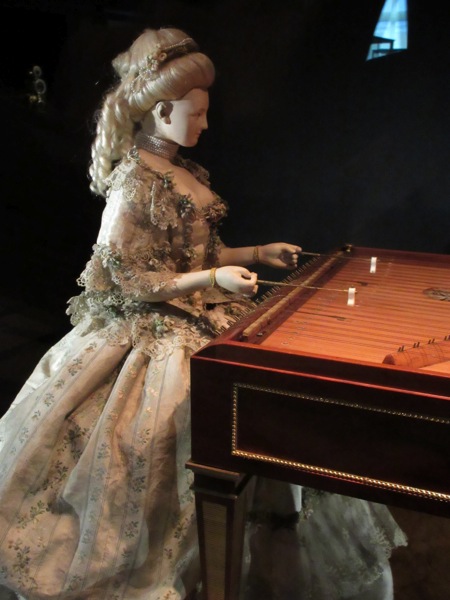 This delightful little automaton dulcimer player stands about two feet tall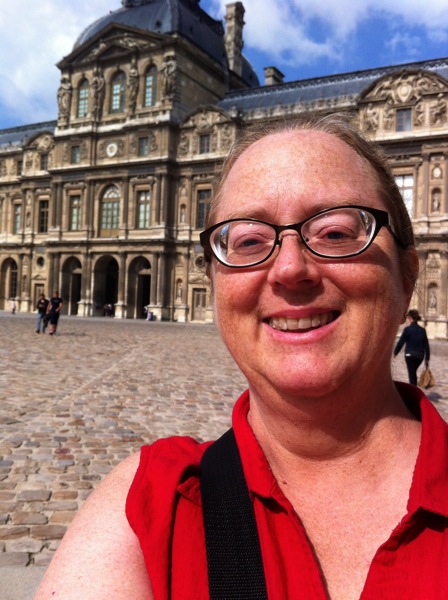 We're at the Louvre!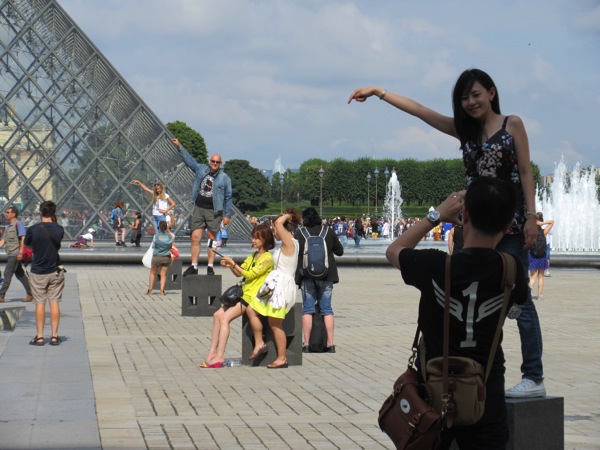 Three of these people are posing for the de-rigeur "holding the top of the Louvre pyramid" shot. The other two are taking a selfie with a camera on an extension stick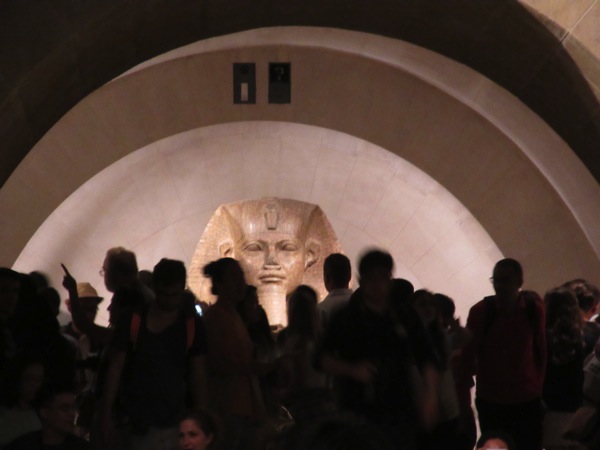 Typical Louvre crowds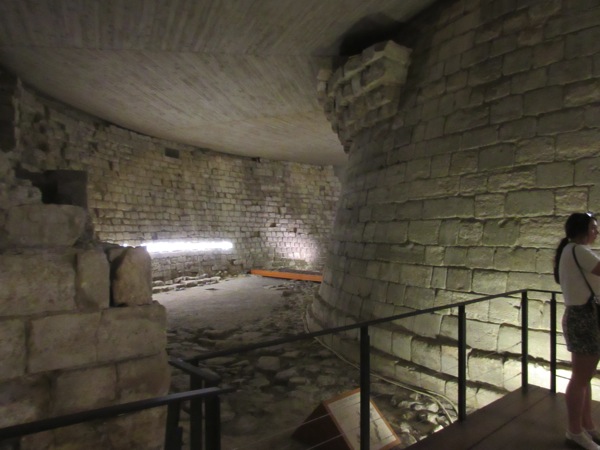 The footings of the medieval Louvre castle, which can be visited beneath the current museum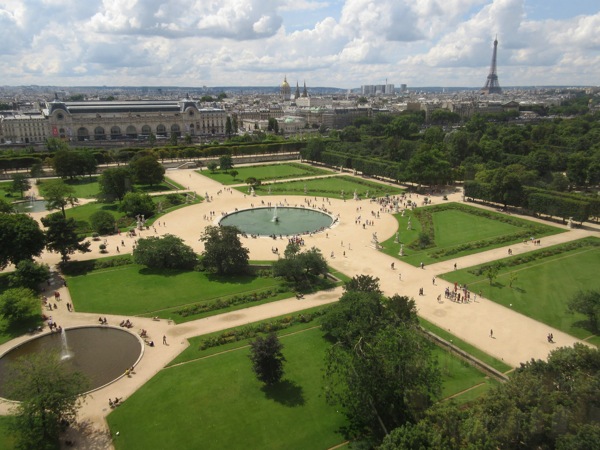 Shot of the Tuilleries gardens and Eiffel tower, taken from the giant Ferris wheel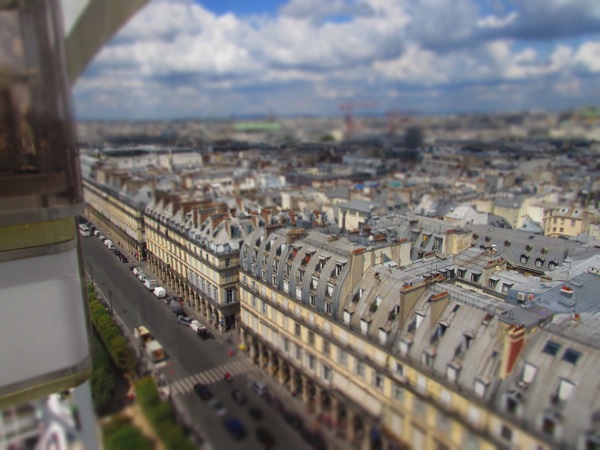 Another shot from the Ferris wheel, this one with miniature effect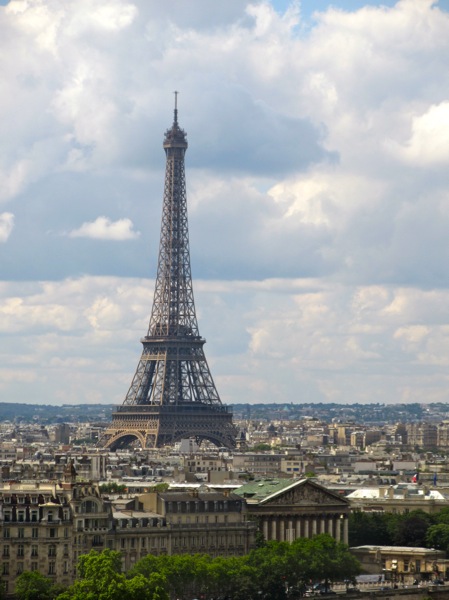 Gotta have a shot of the Eiffel tower or it's not really a trip to Paris

Space Mountain Mission 2 (riders are shot from the cannon up to the top of the mountain) and the Nautilus at Disneyland Paris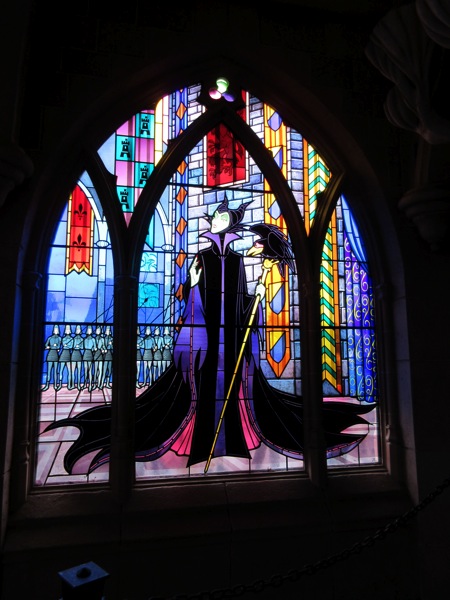 Malificent stained glass window inside Sleeping Beauty's castle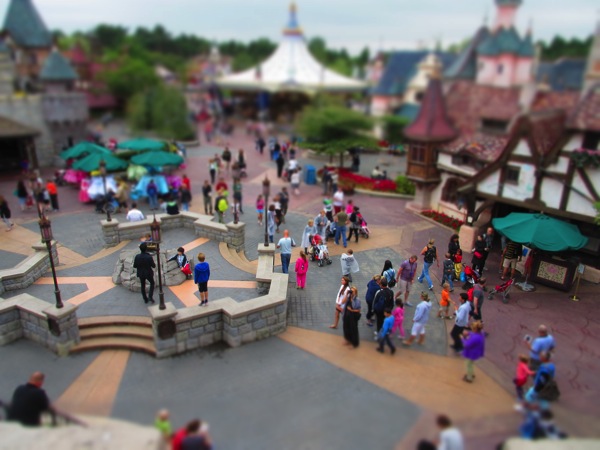 Shot from the castle balcony with miniature effect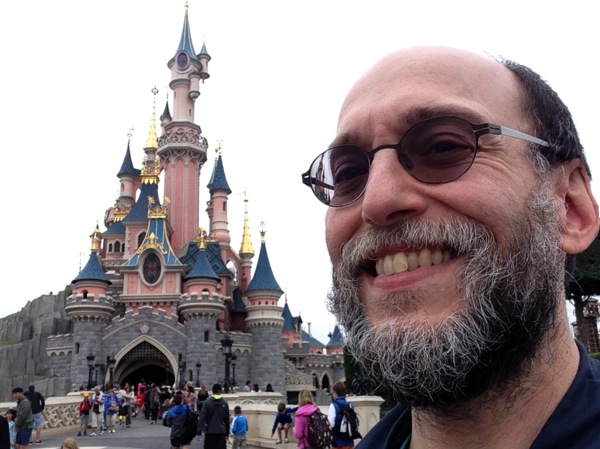 Hey mom, I'm at Disneyland Paris!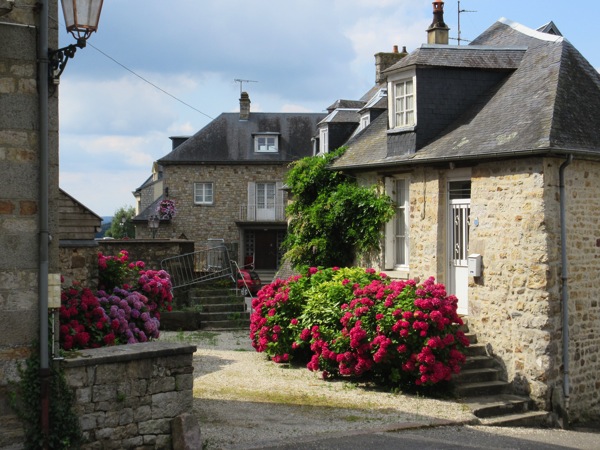 Beautiful flowers in the medieval town of Domfront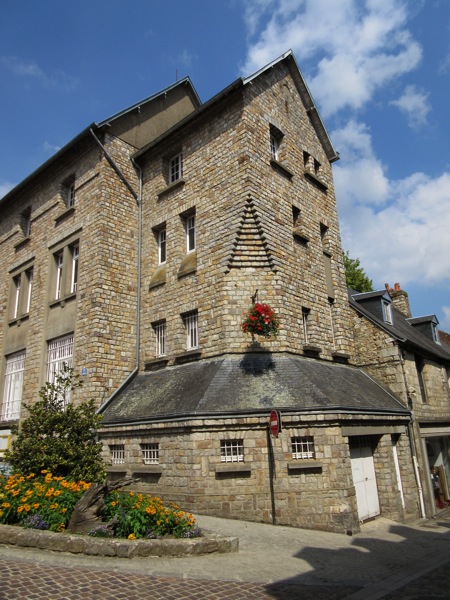 Another view of beautiful Domfront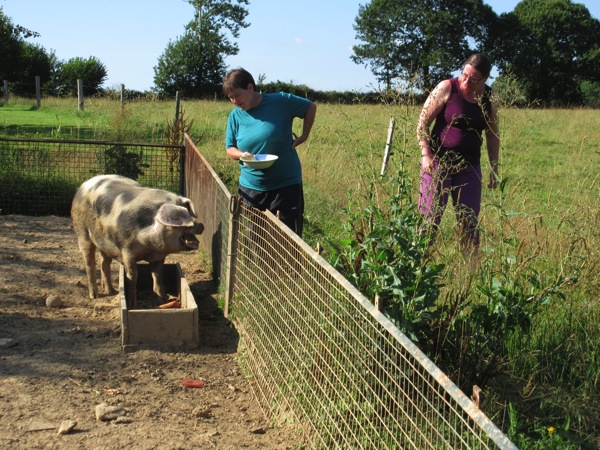 L to R: pig, Ellen, Bear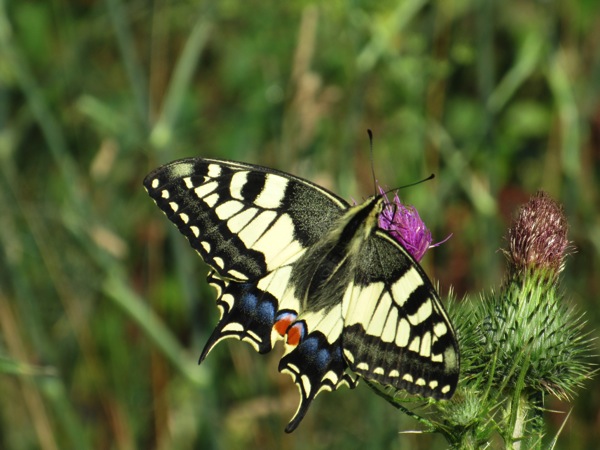 This place has plenty of butterflies of various types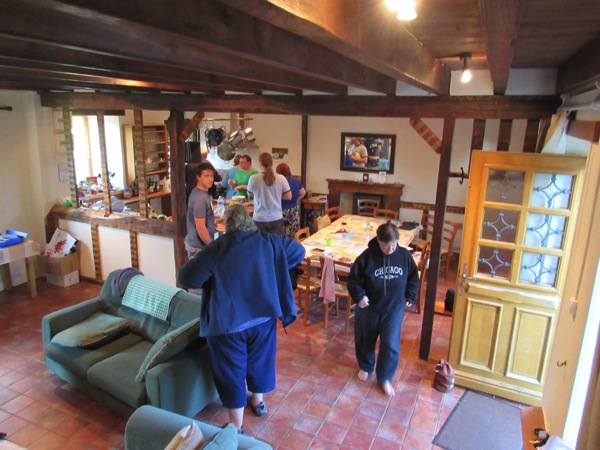 View of the living/dining room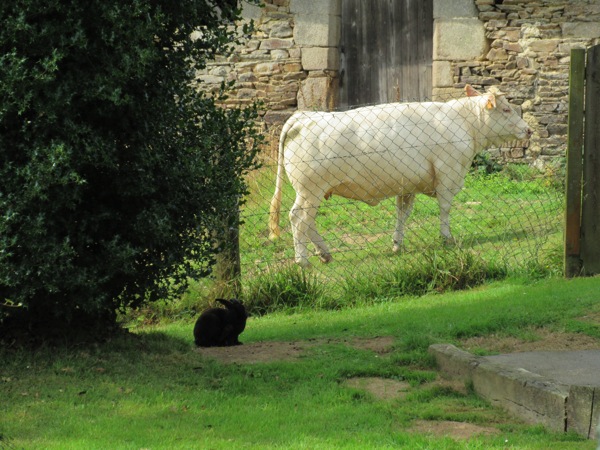 Black rabbit, white cow