What with everything else that has been happening, I have been absolutely terrible at posting my writing news lately.
A new hard SF story of mine, "River of Ice," was published at the Chinese website SF Comet in Chinese and English.
My Bigfoot story "Primates," which originally appeared in Asimov's, was podcast at The Overcast, read by me!
My dog story "I Hold My Father's Paws," which originally appeared in Albedo One, has been reprinted in the furry anthology ROAR 6.
My Venus Noir story "The End of the Silk Road" was requested by the StarShipSofa podcast, also to be read by me, and will appear there some time soon… once I finish editing it.
I suppose the good news here is that things that would have had me over the moon when I was starting out as a writer now happen so frequently that I can forget about them for weeks at a time. I'll try to be better about posting writing news when it happens.
Speaking of which… did I mention that I have a publication date for Arabella of Mars? I do, and it is June 2016. This is a much longer lead time than usual, to accommodate my life circumstances, and because we have so much time until publication Tor printed up some bound manuscripts to send to writers when requesting blurbs. (And the blurbs are coming in now, and they are fabulous, and I can't wait to share them with you.) These are even earlier and cruder than Advance Reading Copies (ARCs); they are just my own un-edited words, printed and bound in plain paper covers. But still… real books! And I got five of them!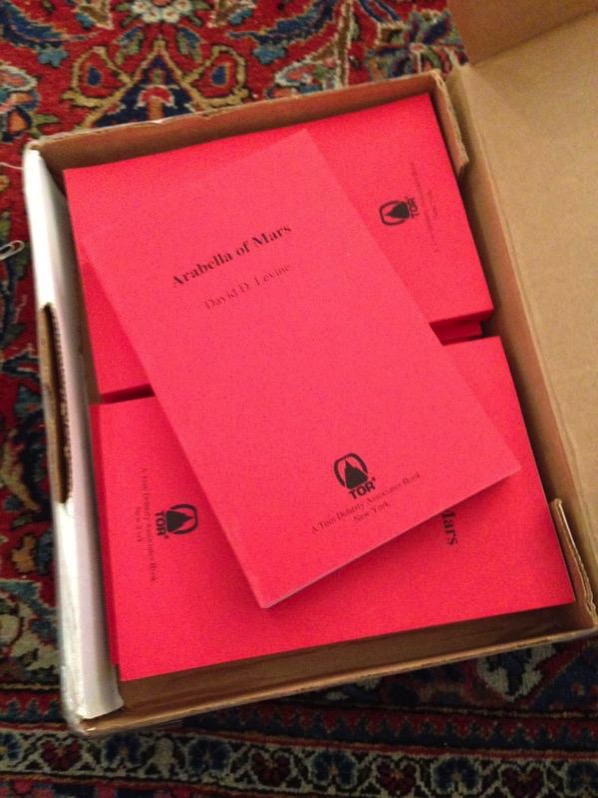 Given that the book doesn't come out for an entire year, I'm not sure how to use these bound manuscripts to publicize it effectively. Any ideas?