Coming November 7 from Caezik SF & Fantasy: The Kuiper Belt Job by Hugo and Nebula winner David D. Levine!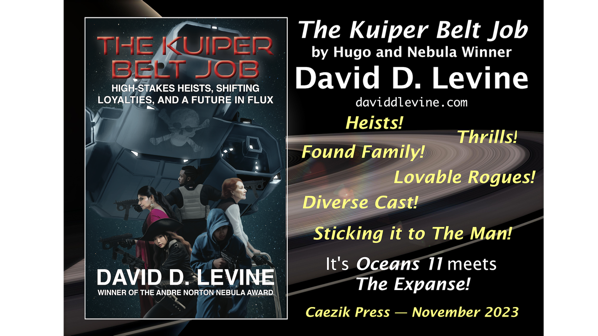 In a Solar System well inhabited by humanity but far from settled, a gang of grifters and thieves — the scattered survivors of a big job gone very wrong ten years ago — must reunite to break the gang's erstwhile leader out of captivity. But after ten years, no one is who they were… and some are not what they seem.
The Kuiper Belt Job is a caper story in space, a mash-up of Firefly, Leverage, and The Expanse. It's an ensemble piece with complex character relationships and a twisty, compelling plot, but beneath the entertaining surface it raises deep questions about identity and personhood. In a world where minds can be copied, what does it mean to be "me"?
Preorder here!
Ebook and audio preorders are not yet available.