Tue 8/12 – Mechelen
Step count: 13,658
Awake 7:15 ahead of 7:30 alarm. We were joined for breakfast today by Lynne Ann and Roelof's friends Irina and Sara, then got out the door by 9:30. Caught a bus to the train station (even I can recognize "you can't miss it" in Dutch), then a train to Brussels.
In Brussels we got rather lost coming out of the station, but did eventually manage to find the Beaux Arts museum. It's actually 4 museums: Magritte, Old Masters, Fin de Siecle, and Modern. We bought a combo ticket and started with the Magritte, which provided an excellent overview of the man and his work, with many well-known paintings. I did have trouble following the text, which tended to the poetic (not too surprising given Magritte's surrealism and fascination with the relationship between art and language).
After Magritte it was time for lunch. The museum restaurant was too expensive, the museum cafe seemed understaffed (long line of people awaiting service) so we headed for the nearby Comics Cafe, but ended up at Sushi Shop next door to that. Not the best sushi ever, but it was grab-and-go convenient.
Back to the museum after lunch for the Old Masters (Breugels, Rembrandt, et al were cool, but all in all rather dark and brown and featured far too many dreary Crucifixions) and Fin de Siecle (much more to my taste than the Old Masters, including paintings full of life, some dynamite Art Noveau furniture, and at last I've met James Ensor, Belgium's famous painter). Also in the Old Masters gallery for some reason: a series of modern bronze self-portrait busts with added horns, delightfully whimsical. After that we were very low on spoons. Had hoped to hit comics museum but simply didn't have the energy, so headed home. Did stop in a little shop near the station in hopes of some 1958 World's Fair memorabilia but came up dry.
Took the train back to Mechelen. Stopped at a couple of book shops on the way home from the station, finding a few items, then took Lynne Ann and Roelof to a nice dinner at restaurant Puro. I had carrot soup to start, then "Mechelse koekoek" (translated into English as "Malines cuckoo," it's a local bird which, well, tastes like chicken, but was deliciously prepared with an onion cream sauce, broad beans, and potatoes au gratin) and ice cream with advocaat for dessert. After dinner, came home and the cats actually deigned to show themselves, even to be petted a bit. Had hoped to do more than one museum today but, in effect, we did do three. Hope to have enough time tomorrow to see the comics museum before the train to London. To bed about 11:00, after a glimpse of the near-perigee near-full moon.
Wed 8/13 – Mechelen-Brussels-London
Step count: 7,888
Awake 8:30 or so, though Kate slept poorly and didn't wake up until nearly 9:30. Breakfast, wrapped up St. Michael for travel, gathered divots, packed, checked around for any left-behind stuff, said goodbye to Roelof; Lynne Ann accompanied us to Brussels. By the time we got our bags squared away in a locker it was 12:45. We had about 2 hours until we wanted to check in, not really enough time for the comics museum, alas. Lunch of panini at Cafe Antonio near the station, not bad (it was down the street from the place we were heading for, which was closed for vacation). Nothing much in the vicinity of the station, so went back inside. Bought chocolates and a waffle, retrieved bags, went to check in — sorry, too early, come back at 3. Sat on a bench in the plaza for half an hour, then came back. Some American arguing with some Brit in the line, also screaming babies. Lynne Ann stuck around until we got through the first passport check. Half an hour to get through passport control and security, then 15 minutes in the waiting room before boarding at 3:45 for a 4:00 train — "Welcome aboard the Snowpiercer, I mean Eurostar." Weird not to have seatbelts and safety lecture after all that.
Swift, smooth 2-hour journey to St. Pancras station. Massive rush-hour crowds and an unanticipated change of trains meant that getting from there to our hotel (Aloft) took 3 trains and an hour and a half. Then Kate had to bail from the front desk due to a scent cannon nearby, leaving me to cope with checkin and all the luggage. I kind of lost it.
Room is nice, close to elevator, very modern, plenty of outlets, on the small side (but much bigger than the last 2 weeks!). After checking in, wandered over to convention center and registered; program ops was closed for the night, though. Ran into some fans but didn't have the brain for conversation. Went back to the room to put our feet up for a bit. After perusing program book for a short time (did not fall asleep, I swear) looked up and realized it was already 7:50, or 8:50 Paris time. No wonder we were hungry and brainless. Decided on hotel restaurant for dinner, but they couldn't seat us until 8:30. Checked out bar and other options nearby and realized that was our best option. When 8:30 came it took a while to be seated. I had a very bad feeling about this, but the food didn't actually take all that long to arrive and was actually really good: Irish stew for me, chicken curry for Kate. Can't believe how wiped I was after a day whose main activity was just a 2-hour train ride. Fell over hard 10:00.
Thu 8/14 – London
Step count: 7,400
Awake 6:00 with a hard bar of sunlight shining into my eyes, as I didn't get the blackout curtain quite closed. Also: room has not a single drawer, no shelves to speak of, only a short closet with 6 hangers (on a bar with slots for 5). Out of bed 7:30 to beat the crowd at breakfast. Very nice breakfast spread, full range of options including yogurt, fruit, cereals, breads and pastries, and the usual cooked options. Had egg, sausage, hash browns, and mushrooms ("will there be mushrooms at breakfast?") just to remind myself where I am. Still very weary; maybe doing a Worldcon after three weeks of European travel was a mistake. Back to room, sync'd photos, blogged schedule, etc. Tried to put money on Oyster card via website but this proved unworkable due to credit card hassles. Off to con!
No one knew where program participant packet pickup was, but I did find it eventually (it was on the far side of the blocks-long line for registration — sure am glad we registered Wednesday night!). No program participant ribbons, though; they were held up at Customs and didn't arrive until the second day of the con. Two-sided badges were a great idea (name is visible even if badge flips around) but the back-of-badge program sticker obscured it, so I stuck that on my name tent instead. Talked in green room with Todd McCaffrey, Bud Sparhawk, et al before my 11:00 panel "Reimagining Families." Surprisingly, we had a packed house. Turns out there were only 6 panels at that hour, all in small rooms, so all were packed, but it was still a nice surprise. Panel was pretty low-energy — I tried to engage the other panelists in actual conversation but the bait was not taken — but all in all a success I think. Talked with Jed and a couple of audience members for a while afterward.
Lunch in "Boulevard" (convention center food court) of adequate lamb rogan josh with Tom Becker and several Brits slightly known to me. Hung out in Fan Village for a while, had a very nice talk with some local physicist in the Exhibits Hall about dark energy. Attended first half-hour of a panel on "The Joy of Sex" (for which GoH Chris Foss did the illustrations) but got a tweet from CE Murphy — whom I had not met before but a mutual friend had suggested via Twitter "you're both at the convention, you should meet" and she was available now — so I bailed (couldn't hear anyway, why don't people use the damn microphones) and met her in the Fan Village bar. Learned that a TARDIS makes an excellent rendezvous point. Had a nice chat with her and several other Irish fans.
I was feeling very chilly then (I guess they turned the air conditioning on) and the rain had let up, so dashed back to the hotel to put on another layer. Ran into Ellen Kushner, Delia Sherman, Terri Windling, and Mr. Terri Windling. Also Patrick and Teresa, just arrived after being greatly delayed by traffic. Tried to help Teresa get to her panel on time but there was little I could do to help, so I left her in the hands of a member of the Nights Watch (no, really). Met up with members of Book View Cafe for an early dinner, wound up in Boulevard again. Had a baked potato with chili, again adequate, along with cider (which no one else in the party had managed to locate). Back to Fan Village, talked with Cory Doctorow, Lisa Hayes, and others. Corey recently did a year-long Imagineering fellowship; among other things, he said that Paris Disney has problems with different "line cultures" ("the Italians' is more of a scrum") which explains the mess we encountered in the line at Pirates of the Caribbean. Presupported Helsinki in 2017 and got a T-shirt.
Off to Retro Hugos with Kate. Sat with Flick and, briefly, with Farah Mendelsohn. Mary Robinette's outfit and hair were fabulous, but her opening number seemed off for some reason, as though she couldn't hear the orchestra. First Fandom awards were all presented by one deathly dull presenter who went on and on in a monotone without looking up. Some of the recipients weren't much better. Endless, tedious. Realized I didn't care who won the Retro Hugos and bailed.
Back to Fan Village, talked with Alan Baum (Donya, having broken her kneecap in the Tube on the first day, had just gotten out of surgery), Jack Foy, Paul Cornell, and others, met up with Kate for "I'm Sorry I Haven't a Clue." It was fun and much of it was comprehensible to non-Brits. Back to the room by 11, wrote up these notes (remembered more than I thought I would!). To bed before midnight.
And now, a few photos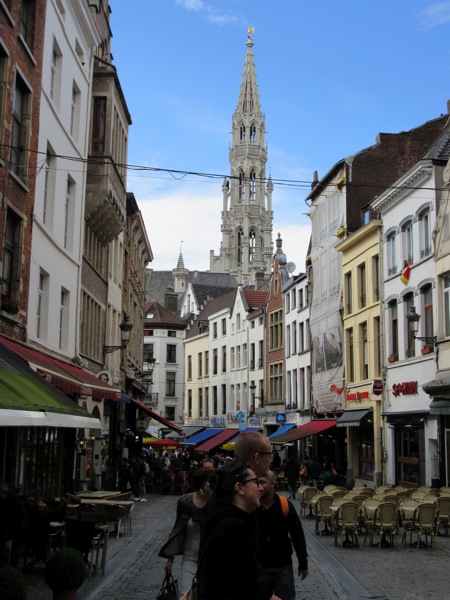 Street scene in Brussels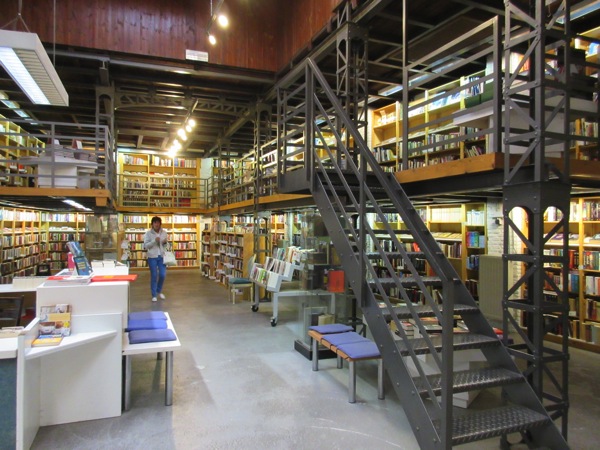 One of Mechelen's selection of fine book shops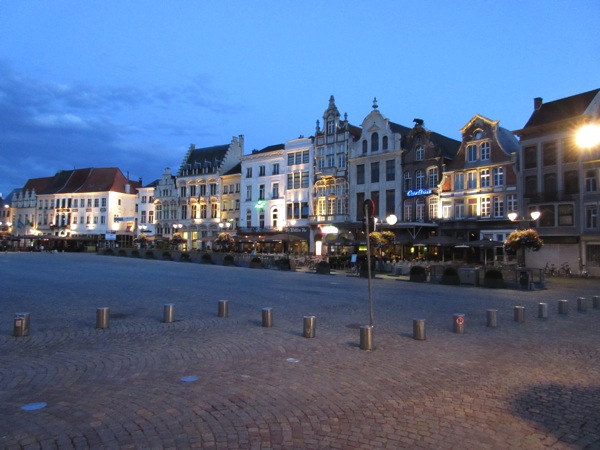 Our last view of Mechelen's Grote Markt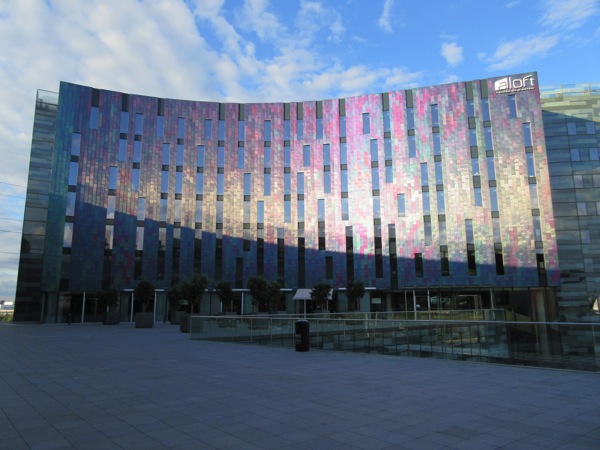 Our first view of the Aloft hotel