Thu 7/31 – St. Martin-de-Landelles (cont'd)
After blogging, identified the regular beeping noise that sounded like a dying smoke alarm as a tiny toad in a crack in the wall outside, and watched the Scary Ham video. To bed about midnight-ish.
Fri 8/1 – St. Martin-de-Landelles
Step count: 4,882
Awake 9-ish. Breakfast of yogurt, muesli, and half a pain au chocolat, then a run to St. Hilaire for groceries. A detour due to construction led us to a little farm market where we got vegetables, chickens, and a rabbit (with eyes, ew). Then we walked through centre ville, stopping at the boulangerie (bread and pastries), epicerie (vegetables), papeterie (3×5 cards, colored pencils, postcards, map), and bank (cash). On the way back to the car, I swerved back to the farm market for a couple of sausage baguettes hot off the grill for our lunch. Then to Carrefour (big commercial supermarket) for everything else on the list. Greeted upon our return as conquering heroes. Ellen: "best lunch ever". Bear: "oh hello, bunny innards".
After lunch, sat around and read for a while. Was going to take a nap when Kate popped up: let's take Juan to town for some cider and wine, and see some menhirs on the way. So we did that. Even a tiny mini-mart in Goron has excellent produce and a good selection of wines and local ciders. We were afraid of being late for dinner, but when we arrived we found the chickens were being very uncooperative and dinner was going to be late. Took a nap. After that, still awaiting the chickens, we had a first course of bread and cheese on the terrace and talked about superheroes, including a discussion of the relative patheticness of Aquaman and J'onn J'onzz. Elise's chair self-destructed, apparently the third to do so, so we moved the table to a flatter spot to try to prevent further such disasters (don't ask me how this is supposed to work). We also tried to figure out what that amazing cheese from last Wednesday's market day was (the person who bought it didn't get the name and it wasn't anything obvious), but not even posting a photo and query to Twitter was able to resolve the question. What this world needs is a "what's that cheese" app ("Cheezam"?). Back inside for more reading, then a second course of artichokes. At last the chickens appeared — they were delicious — along with some amazing roast potatoes. After dinner, we played Anagrams with the Bananagrams tiles, and Anomia with Kate's hand-drawn deck: a silly success. More writerly chat; to bed about 1am.
Sat 8/2 – St. Martin-de-Landelles
Step count: 2,442
Awake 7:45, then back to bed until 9:30. Breakfast of corn flakes and coffee. Quiet morning of practicalities: caught up on email, checked phone messages back home, paid credit cards, etc. Drove out under lowering skies in the vague direction of St. Jacques for lunch, but wound up in Ducey, lured by sight of street fair and smell of grilling. Wandered flea market for a bit, settled on very Breton creperie Ty Breizh.
To explain this next bit I need to haul out an anecdote from a previous trip. On our first trip to France we had some andouille sausages which were incredibly delicious. A few days later we saw "andouillette" on the menu and ordered it, despite the waitress's dubious expression — we assured her that we had eaten and enjoyed it before. Well, this turned out to be a mistake, and it took quite a while with phrasebooks to figure out how to say "you were right, we shouldn't have ordered this, please take it away and bring us something edible." We came away from that incident remembering that, of andouille and andouillette, one was delicious and the other… wasn't… but we could never remember which was which. Both are made from parts of the pig not usually served in the States.
So, anyway, we saw andouille crepes on the menu at Ty Breizh and I decided to order them. We did try asking the waitress (who was definitely Breton, not Normand) and she assured us that andouille and andouillette (shiver and headshake) were very different things. Well, when my andouille crepe came… it was a bit more like pig innards than I'd hoped. So I guess our one delicious andouille was a fluke. I wouldn't order that again, but unlike the andouillette I did finish it.
As we finished our lunch the deluge began, a real duck-drowner. It had slackened somewhat by the time we were ready to leave the restaurant, but was still coming down pretty hard. Fortunately we had brought coats and rain hats. "Bon courage" said one woman to me as we headed out into the downpour. We made it to the car only half-soaked-through and headed back to La Cahudiere. On the way home we passed through a town with a wedding in progress, many horns honking, and one car decorated with hot pink plastic penises. Back home, where it had no more than drizzled, I hung up my pants to dry and talked with Ellen about WWII and whether the USA would really have tried to invade Japan if not for the A-bomb (Ellen says the war was, in effect, already over by then and that the main audience for the bomb was the Russians). We also put up a load of laundry, knowing it might take days to dry.
Lazy afternoon. Elise bought a whole box of medals at some thrift shop and was quietly slipping them to people to present to Ellen on any excuse. Pretty soon everyone was giving medals to anyone for anything. Dinner, prepared by Bear (who received a medal for it): rabbit stroganoff, noodles, green beans, with macarons and other assorted sweets for dessert. Le yum. Much industry gossip over dinner, as all of the non-SF people have departed. A brief skinny dip, in which I did not participate because brrr, and then Elise brought out her ukulele. To bed ~1am to the sound of people drunkenly singing "Alleluia" (the only song Ellen can play on the ukulele, though she owns 5 of them) over and over.
Sun 8/3 – St. Martin-de-Landelles
Step count: 5,901
Awake 9:00. Breakfast of coffee, pain au chocolat, yogurt, then off to Utah Beach. Stopped for lunch at pizzeria Le Union in Villedieu-les-Poeles, where Kate had moules frites and I had a Moroccan pizza (merguez sausage, gyro meat, chickpeas, etc.). Not the best crust ever, but tasty. Also picked up some pastries at the boulangerie in town. Utah Beach had a fine museum of the Normandy invasion, including a B-26 bomber and an excellent introductory film. On the way back we stopped in Coutances to see the cathedral, and also spotted an open Carrefour grocery, where we picked up some cheese as requested and also a few other things. Had enormous difficulty getting out of Coutances, but eventually instinct led me to a place where we could see the sign for "toutes directions" and we escaped. Discovered when we arrived home that Mike & Rachel had failed to find a grocery open on Sunday, so our cheese was very welcome. Dinner was a soup made from leftover chicken and rabbit by Mike and was delicious. Pat Murphy, Madeleine Robins, and Greer Gilman joined us. Light conversation after dinner, while Kate & I cleaned up. To bed around 10:00.
And now, the photos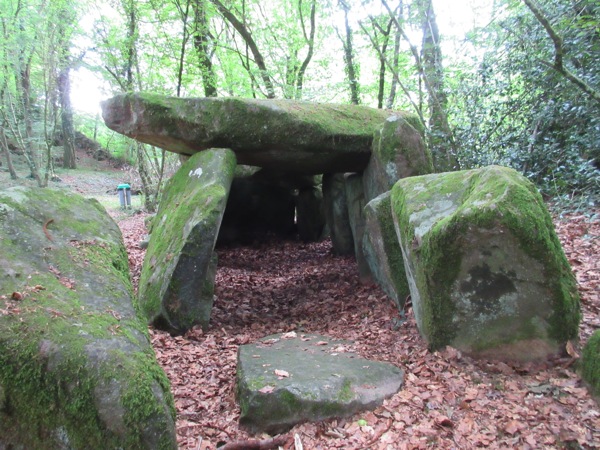 Dolmen de la Contrie, a Neolithic corridor tomb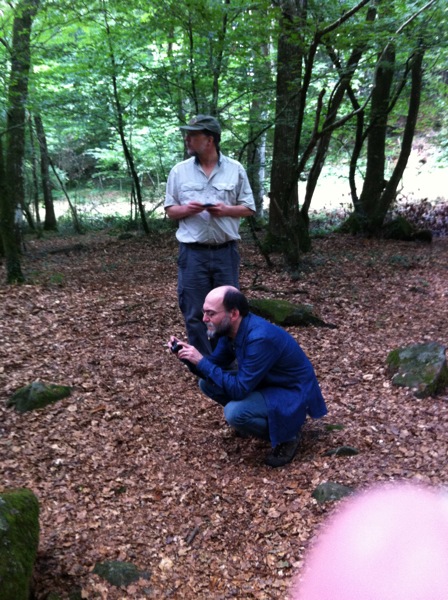 Kate snapped me taking the above picture, while Juan looks on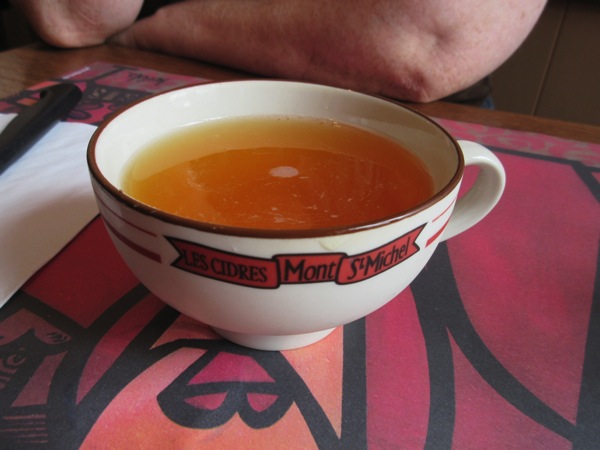 A bowl of cider, the traditional Normand tipple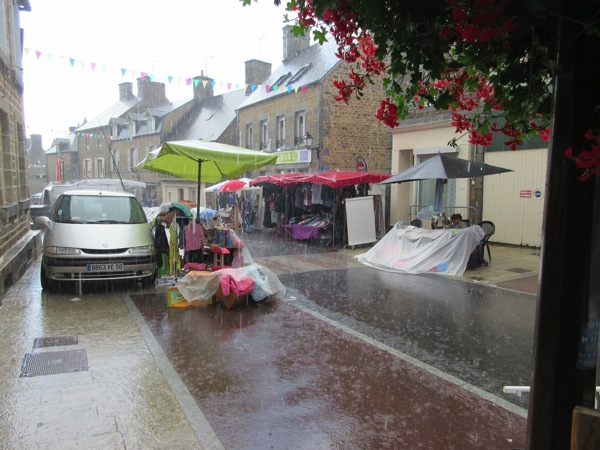 La deluge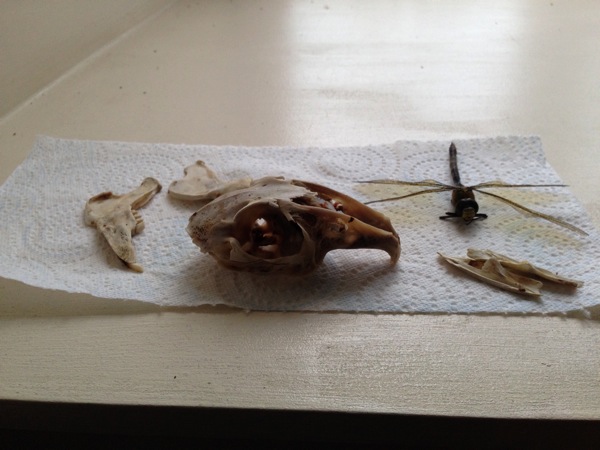 Bunny skull! With bonus dead dragonfly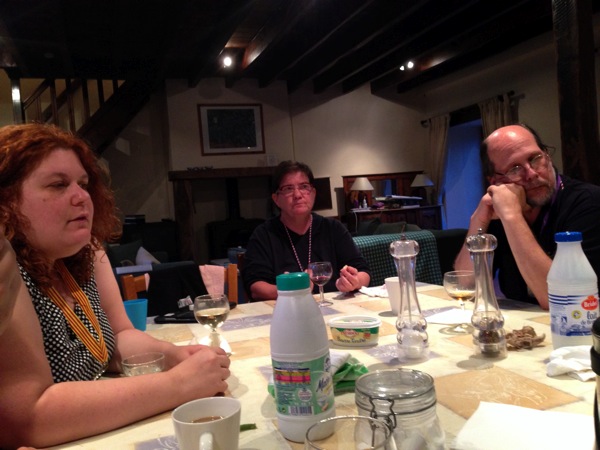 Rachel, Ellen, and Juan at breakfast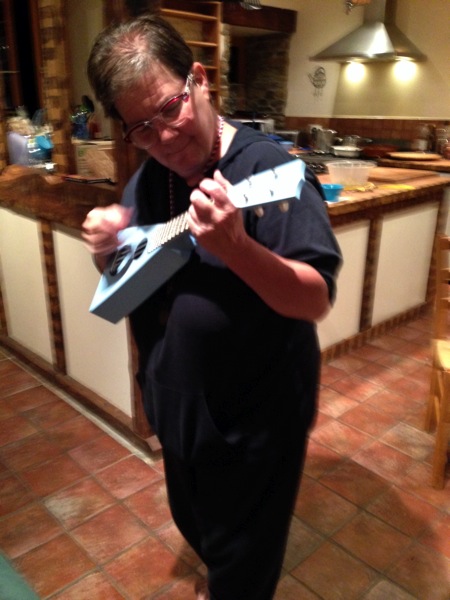 Ellen plays "Allelulia" on Elise's Fluke uke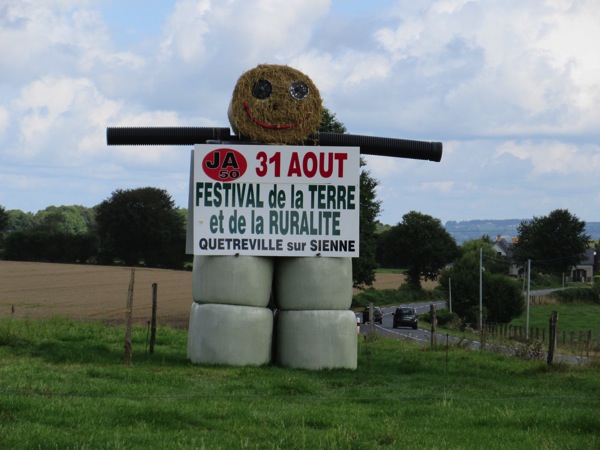 These hay-bale guys are everywhere: "31 August, Festival of the Land and Rurality." I am guessing that "JA 50" means Jeunesse Agricole — young farmers, aka 4-H — of department 50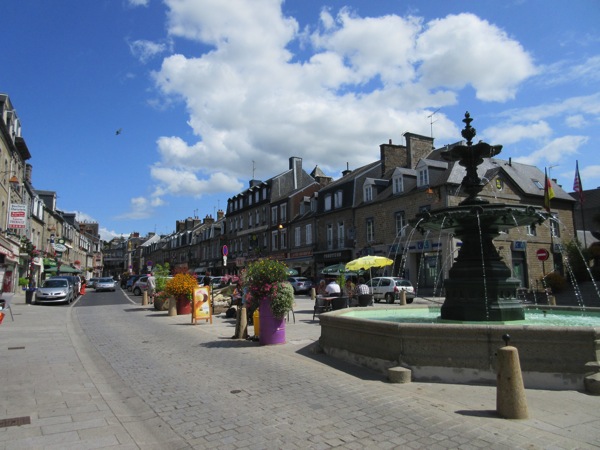 Town square of Villedieu-les-Poeles, where we had lunch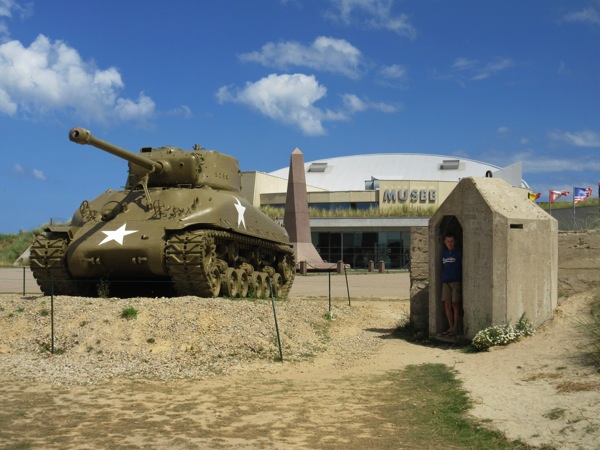 Utah Beach museum. Utah Beach was originally code-named Oregon, but was renamed for unknown reasons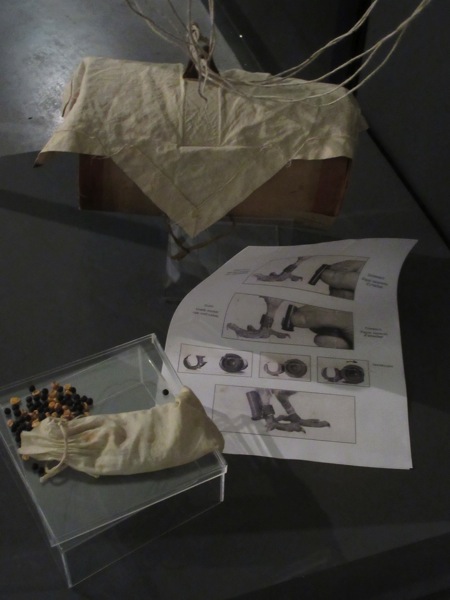 Before the invasion, carrier pigeons were parachuted behind the lines, together with a bag of feed and instructions: 1. Feed pigeon. 2. Fill out questionnaire about what the Germans are doing in your area. Print neatly. 3. Roll questionnaire tightly and insert in cylinder. 4. Attach cylinder to pigeon's leg as shown. 5. Release pigeon. TELL NO ONE.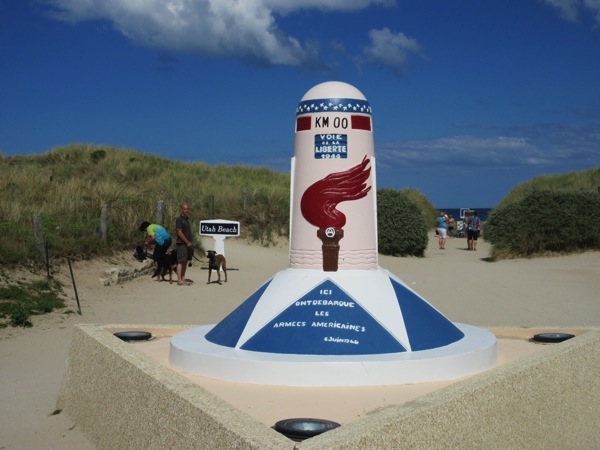 Kilometer zero on the Way of Liberty, commemorating the march of the Americans from the Normandy beaches in 1944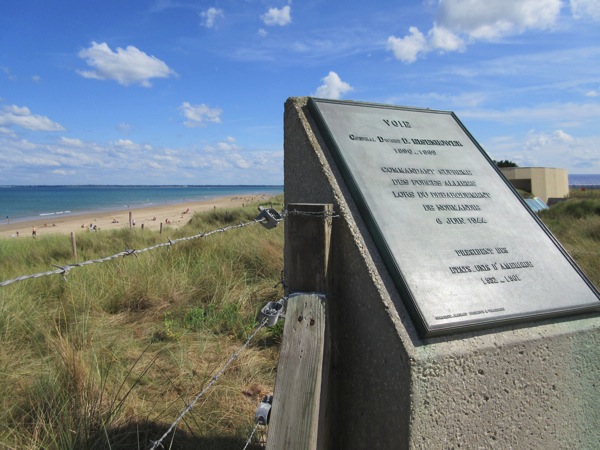 Plaque on Utah Beach memorializing Dwight Eisenhower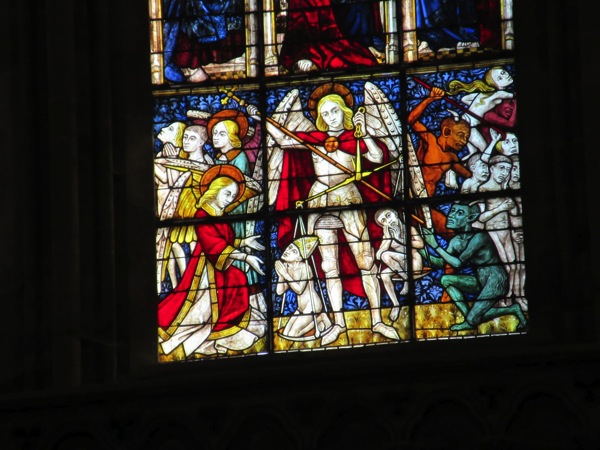 One of the marvelous stained-glass windows at the cathedral in Coutances