Mon 8/4 – St. Martin-de-Landelles
Step count: 3,674
Awake 8:30. Breakfast: half an almond croissant, yogurt, coffee. Talk with Mad, Juan, Greer, Ellen. Jonathan Strahan and daughter Sophie arrived. Off to St. Jacques with Ellen for lunch; after considering several options, had lunch at Hotel St. Jacques. Delicious tender grilled pork chop for me, Kate had a salad with duck gizzards. Ellen's aperitif arrived in a glass labeled "Suze," the name of the protagonist in her novel Green Glass Sea, which she determined she must have. To my amazement, despite her limited French she got the owner to give it to her for free. After lunch, stopped at a magazine shop and a post office before heading home. Had intended to visit a market in the afternoon, but Kate decided she'd rather take a swim. I blogged while she did that, and took care of some writing business (about which more later). Dinner was chicken and sausages, prepared by Mad, with a salad on the side and packaged baba au rhum for dessert. After dinner, a game of anagrams and much hilarity. To bed about midnight.
Tue 8/5 – St. Martin-de-Landelles
Step count: 7,182
Awake 8:00. Breakfast of coffee, yogurt, and half an almond croissant; I'm really getting to like plain yogurt. Off to Mont St. Michel then with Pat and Greer! Stopped in Ducey on the way, for the Tuesday market there. Almost didn't spot it; if we hadn't seen the fair last time (same place) we would most likely have missed it. Wandered the market, picked up some sausages, nectarines, and prunes, and talked with the vendor from whom we'd bought the rabbits and chickens the other day (she didn't remember us at first, but eventually did after Kate reminded her of how she'd passed up on a chicken so that one of her regulars could have it). It became clear to me that the vendors make a circuit of the markets each week.
Continued on toward the Mont, with fabulous views from several stops along the way. Parked in the lot and took the free shuttle along the causeway to a construction zone where the parking lot we parked in 24 years ago (!) used to be — they're renovating extensively. The Mont itself was extremely crowded and touristy but still very, very cool; took tons of photos. Took an early lunch to avoid crowds. Mere Poulard has taken over most of the restaurants on the mont; our lunch wasn't spectacular but perfectly adequate. I had croque monsieur (first time this trip), cider, a cappuccino (didn't order it, exactly, but it was welcome), and a bite of Kate's gaufre au chocolat. The line to get into the abbey itself was too long to bother with, but we did find a glow-in-the-dark St. Michael at a souvenir shop, also some kounig amann and a cider bowl with Alex's prenom (no Isobels, alas). Back home, fell over.
Dinner, prepared by Ellen, was roast pork, bow tie noodles, and leftover green beans. For dessert Scott cut up some pain au chocolat, which was resourceful but reminded me a bit of the moment in The Sparrow when they used the shuttle for a short trip, consuming the fuel they needed to get home: very nice, but what will we have for breakfast?. Much industry gossip of a particularly catty and entertaining stripe; a hilarious game of Anomia; to bed around midnight.
Wed 8/6 – St. Martin-de-Landelles–Rouen
Step count: 2,019
Awake 8ish. Breakfast of yogurt, two half-croissants I found at the bottom of the bag, and coffee. Packed up, stripped beds, said our goodbyes, hit the road by 10. Tried 3 times to buy gas before finding a station whose pump would take my credit card (first one denied the card; second one had no card reader, door was unlocked, but no staff visible; third one finally worked).
Kate had made lunch reservations at restaurant La Petite France in tiny Surdon, and we found it without too much difficulty, arriving just after our 12:30 reservation. Absolutely fabulous entree of coquilles st. jacques on a bed of leeks. Main dish, veal with mushroom sauce, accompanied by frites and vegetables, very nice but not so wow. The entrees have been the stars of the trip, culinarily speaking. The only other people in the restaurant (whose staff appeared to consist of the waitress and the chef, likely husband and wife) were a happy multigenerational party of 12-14 which we think might have been celebrating the very recent birth of the youngest present. Credit card didn't work, paid cash.
After lunch we headed off toward Belgium, planning to take the toll road to Roen and find lodging at some chain hotel on the far side of it. Toll plaza also refused my credit card, and Kate's, but another card of mine did eventually work.
Rouen doesn't have a ring road; the only way past it is to go through town. This proved stressful and confusing. Eventually we found ourselves on the far side of town and pulled off in Isneauville ("is no ville") to find a restaurant and reconnoiter, but the town was too small to sport a restaurant, cafe, or even parking lot. But on the way into town Kate had spotted an Ibis (chain hotel) which claimed to be open despite construction, and as neither Google Maps nor TripAdvisor showed any hotels on our route ahead we doubled back to it. The entrance to the parking lot was restricted by construction to half a lane off a busy traffic circle, but after a couple of nerve-wracking tries we did eventually manage to get inside. The place was sterile and characterless but cheap, clean, and HERE. Free wifi too. We took the bird in the hand and checked in. Credit card did work here, not sure what's up with it. Not the way I'd choose to select a place to stay but all in all it's okay.
After settling into our room, I called the credit card company (using Skype) and after a brief conversation was told my card had been "adjusted" and there'd be no more problems. We did tell them before we left that we'd be traveling….
Looked online, found a nice restaurant nearby, called to make sure they were open; they weren't, but recommended another: Le Cheval Rouge. Called them and made a reservation for 7:00 when they opened. Survived the traffic circle. We were not the first to arrive; there was a small family with a loud baby (it did quiet down eventually). As we ordered and ate the place filled up. Only one server visible, busy but not panicked. Food very good: appetizer of melon with porto, main course of turkey with camembert sauce, side of pureed carrots (very light and fresh), dessert an amazingly light ile flottant (floating island: baked meringue floating in a custard sauce).
Back to the hotel, survived the traffic circle again, one more time and we'll be okay. Looked into visiting Waterloo on the way to Brussels. It is on the way, and the museum, films, and panorama sound like they'd be worth a visit, but the day will be full enough (3.5 solid hours of driving plus returning the car) that it's probably unreasonable to cram it in, so decided not to. To bed around 11:00.
Thu 8/7 – Rouen-Brussels-Mechelen
Step count: 6,059
Awake 8ish. Pretty good spread of breakfast options, actually, though all packaged. After checking out, headed for a boulangerie in nearby Quincampoix for the 3rd-best brioche in France. Alas, it was closed for vacation (one of the hazards of visiting France in August). Sign in window said nearest available bakery was nearby Casino mini-mart, not an acceptable substitute. Alas.
Hit the road at 10, Google said it was a 3.5 hour drive, add an hour for lunch, so texted Lynne Anne (who had very generously volunteered to meet us in Brussels) that we'd be there no earlier than 14:30. On the road many people honked at me; sometimes I even knew why. I'm sure I confused people by being a black Audi doing 20 km/h below the speed limit.
Stopped in Amiens at the "Pole Jules Verne" (that's what it said on the water tower — turns out to be a business park) in hopes of a bookstore and lunch. Took a bit of flailing to find the bookstore, located in a strip mall. Sadly the "librarie" turned out to have no books at all, only trashy magazines. Also in the mall was Paul, a chain bakery, which provided a decent roast beef sandwich and pastries for lunch. Also a Giant Casino grocery store, where we picked up some French beer and wine to take to Lynne Ann and Roelof as a hostess gift. Talked with a man in the wine aisle: what part of France are we in, and are there any local wines he could recommend? Turns out we were in Picardy, which doesn't really produce wine, but we found something from the north of France that sounded good.
Drove on a ways, stopped in Peronne in hopes of a map of Brussels and maybe to see the "Historial de la Grande Guerre," whatever that was. The local papeterie was closed until 3, but the Historial turned out to be a fine museum of WWI, so we stopped in for a brief visit. Just as we left the museum, about 2:00, Lynne Ann texted to say she had just arrived at the station in Brussels. But we were still over 2 hours away! Apparently we had failed to communicate that 14:30 was our earliest possible arrival time. Sent her an apologetic text and resolved to make the best possible time. Naturally we hit a terrible traffic jam around Valencienne. Texted Lynne Ann "stuck in traffic, no ETA, go on home and we'll meet you there" but she said she didn't mind waiting.
Worked around traffic jam on side roads and made our way into Belgium. Stopped at a rest area just past the Belgian border for a bathroom break, Brussels map, stroopwaffels, and a cold drink. Lynne Ann texted that she'd figured out where we would be returning the car. It was like having an advance spy!
Many subtle changes in highway furniture and signage showed that we were no longer in France. Then we passed from French-speaking into Dutch-speaking Belgium and the language changed too — "Bruxelles" changed to "Brusel" and the "don't text and run into the car ahead" billboards changed from "Bip Bip Boom Boom" to "Beep Beep Boum Boum."
Driving through Brussels, even with a map, was a challenge. We didn't know the local rules or customs and couldn't find the street signs. Eventually we did make it to the train station and, thanks to Lynne Ann's hint, the car park where we'd be dropping our car (tiny tiny Europcar logo on the big QPark sign). At the parking entrance, I pushed the green button for a ticket and got only a display with two lines of rapidly-flashing text in French and Dutch that didn't make any sense. Tried inserting a credit card but that didn't do it either. With a line of drivers building up behind me, I pushed the little "i" button on the ticket machine and, eventually, got a voice who spoke English. He said the machine was out of paper and that I should use another lane. Thanks a lot, guys. Kate got out and waved the other drivers off so we could back up and try the other lane.
Finally got into the garage and made our way down to level -5. We wouldn't have known what to do if we hadn't picked the car up in a similar situation. Two bored teenagers there gave the car a quick once-over and directed us up the elevator to the office. At the top of elevator, we found ourselves in the huge Brussels train station, with no sign of any Europcar office. Set Kate down with the bags and ran off to find it. Finally did find it, turned in paperwork, no problems, au revoir.
Back to Kate, who went off to try to find Lynne Ann, meeting with almost immediate success. Lynne Ann then proceeded to help us with our luggage, show us which train to catch, get us tickets with her pass, shepherd us onto the train, show us where to get off, buy us bus passes, get us onto the right bus and off again, and let us into her lovely home (built 1650!). There we found that Roelof had fixed us a delicious Flemish stew. Roelof also went out for frites and provided a green salad. For dessert, fab gelato from the ice creamery across the street.
To bed 11ish, completely exhausted but very happy and grateful to be here.
Fri 8/8 – Mechelen
Step count: 5,439
Awake 6:30; dozed off and on until nearly 9. Breakfast of pastries, sheep and goat yogurt, cheese, bread, coffee, then chatted with Lynne Ann and Roelof and their friend Elina who popped by to pick up some stuff. After that, went out with Roelof in the drizzle to the local farm market (very small today). Lynne Ann joined us as we continued to the grocery store, vegetable market, cheese shop, meat market, bakery, and clothing store, picking up what we needed for breakfast and lunch, seeing the local sights and culture, and getting a bit oriented (though I'm still not very oriented). Back home for a nice lunch of sandwiches, then fell over hard for a long nap.
In the afternoon, dealt with email, caught up on notes, blogged a bit. Then we chatted with our hosts about a variety of topics, including languages and travels, over perry, cheese, and apples. Dinner, again provided by Roelof, was grilled duck breast, red cabbage with apples, and lovely roast potatoes. They are completely spoiling us.
After dinner, I sat with Lynne Ann while she worked on her Japanese calligraphy. I asked her "if you please, draw me a sheep" and she drew the kanji for "sheep."
And now, more photos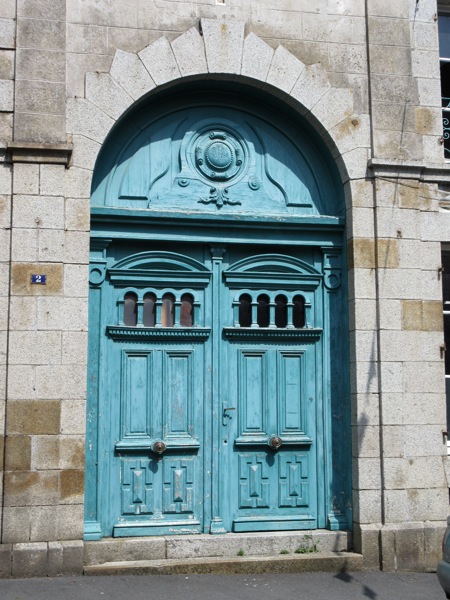 Door of the mairie in St. Jacques, I think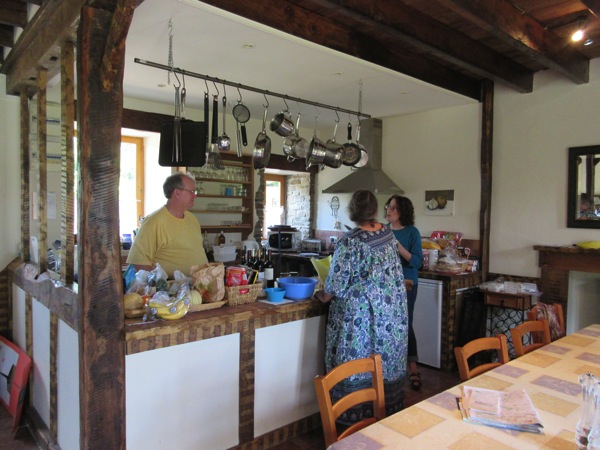 Jonathan, Greer, and Mad in the kitchen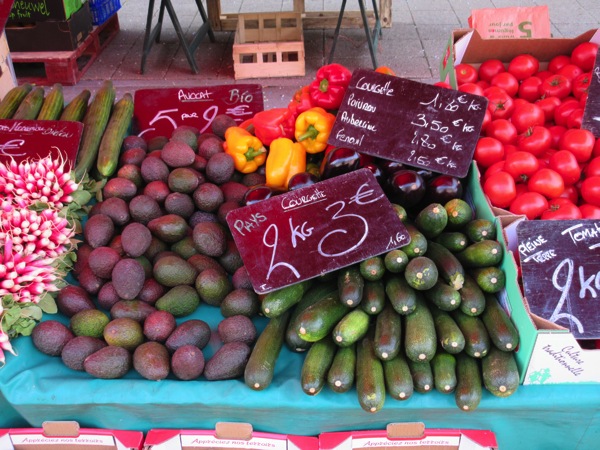 Lovely produce at the market in Doucey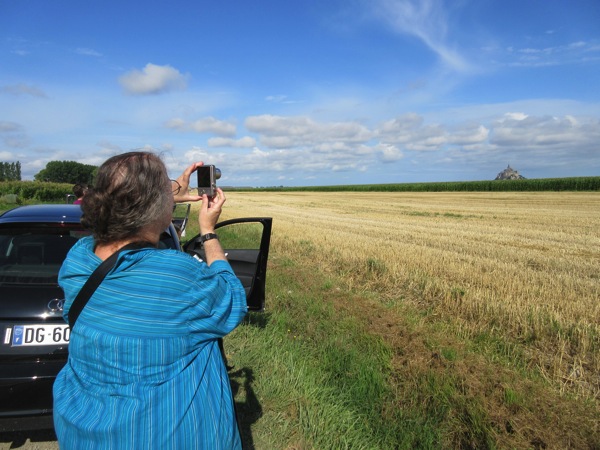 Greer takes a photo of Mont St. Michel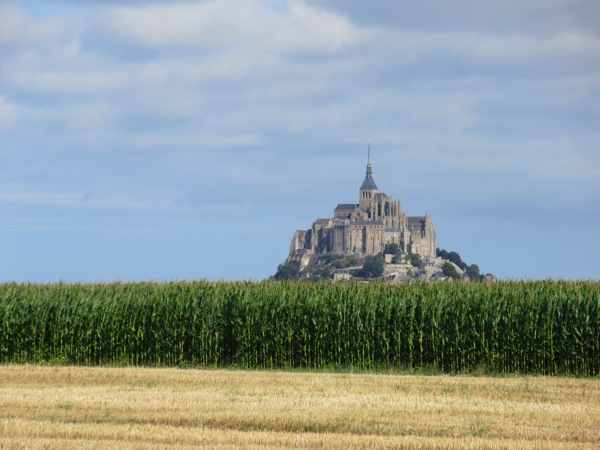 I took one too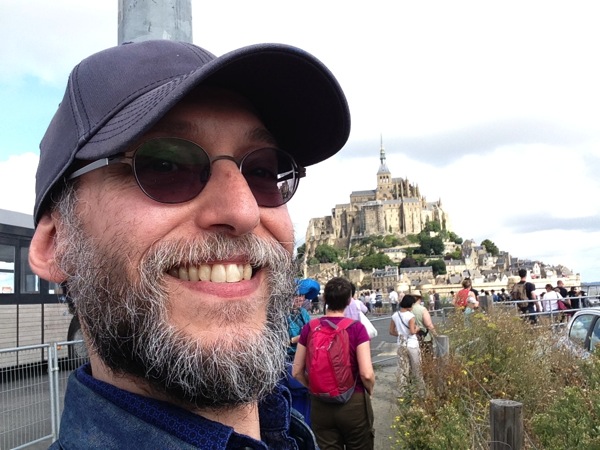 We are here!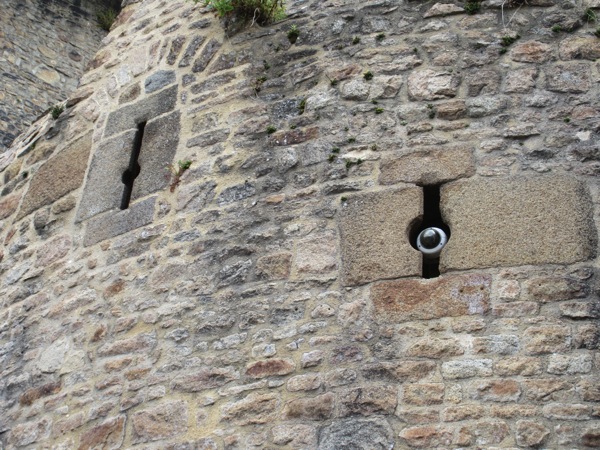 Arrow slits continue to perform effectively the same function today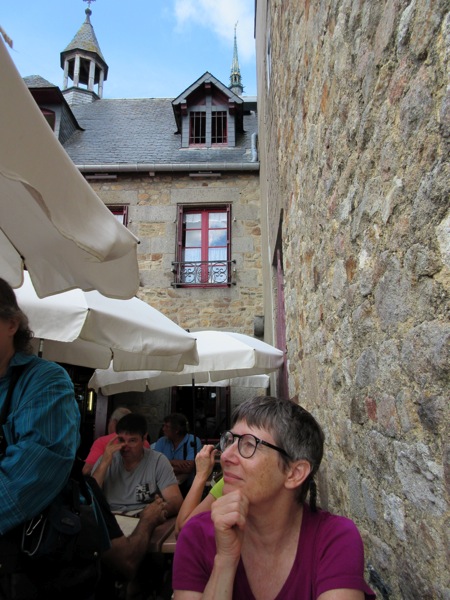 Pat at lunch, with the abbey spire visible above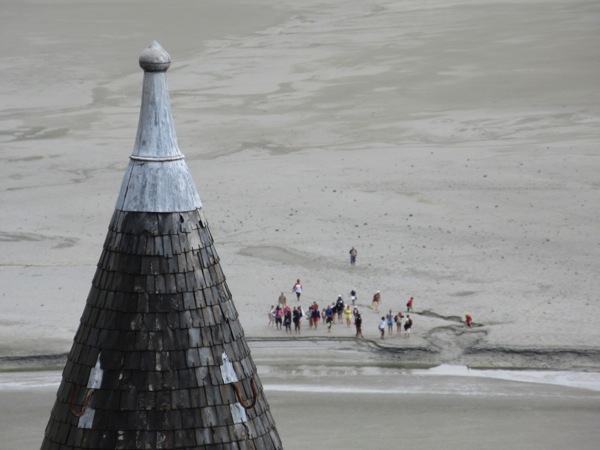 People walking on the tide flats below the Mount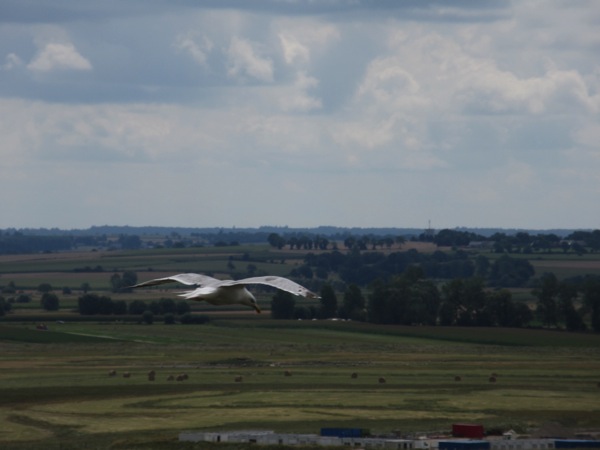 Many a seagull is to be seen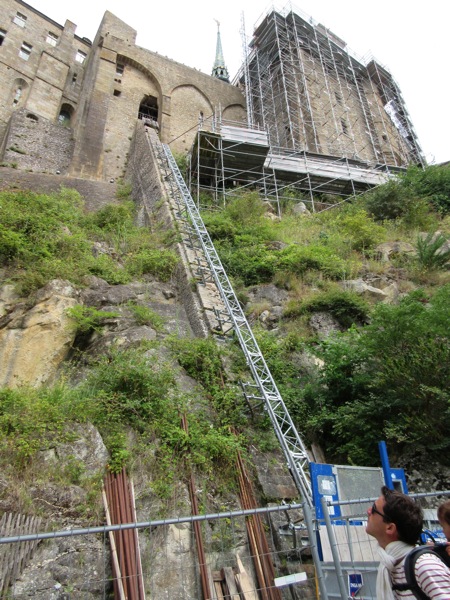 This metal track brings up materials for renovation. It sits atop a stone structure used for a similar purpose in previous centuries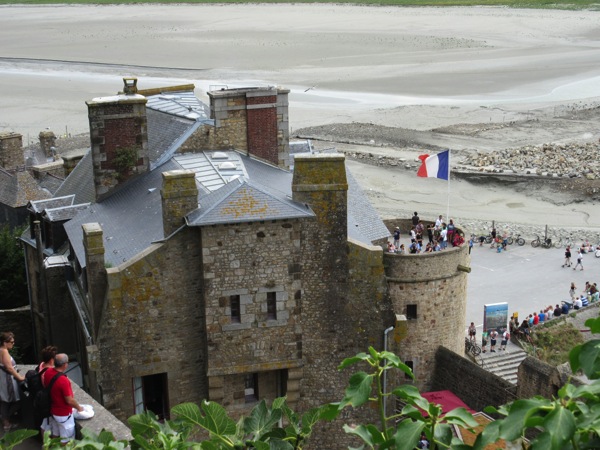 Beautiful old buildings in every direction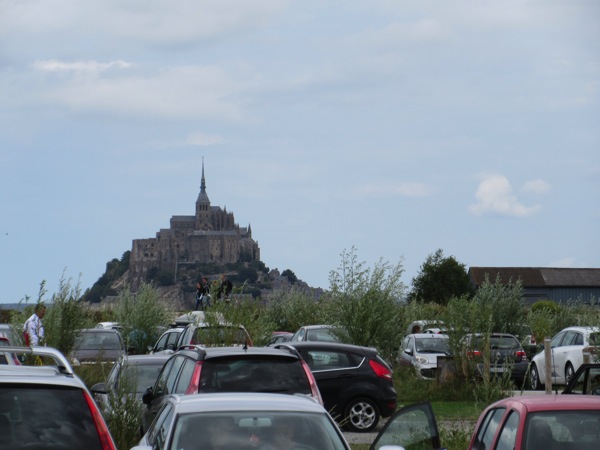 Even from the parking lot, it's amazing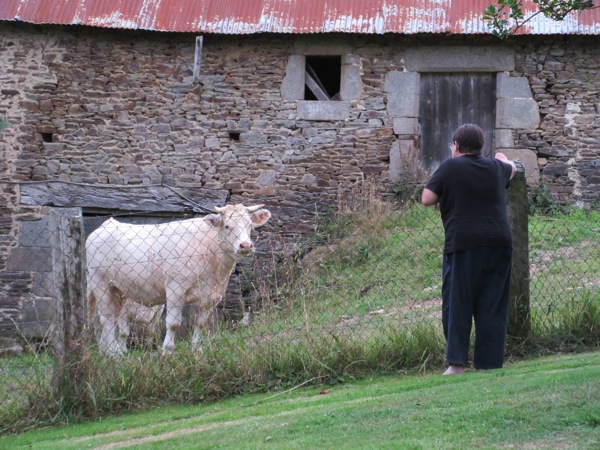 Ellen talks to the cows. Sometimes they answer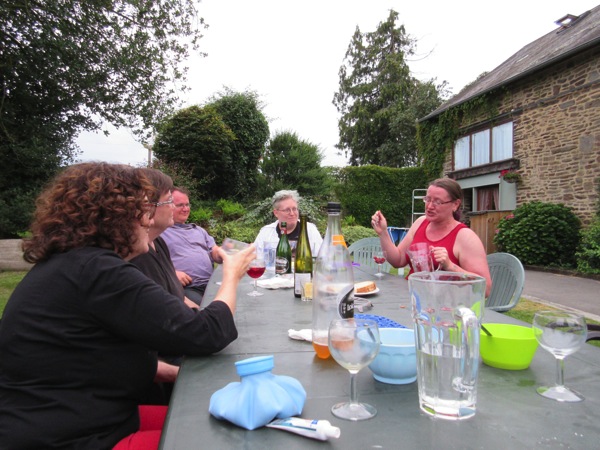 Mad, Ellen, Mike, Elise, Bear…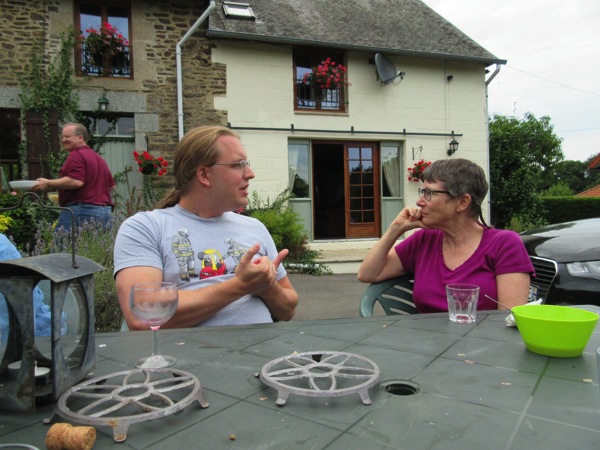 …Scott, Pat…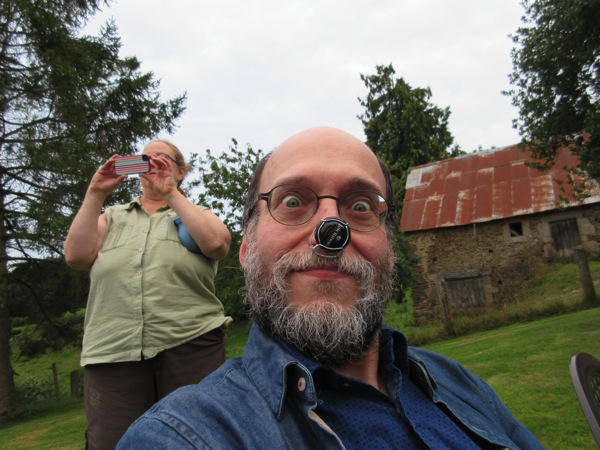 …and us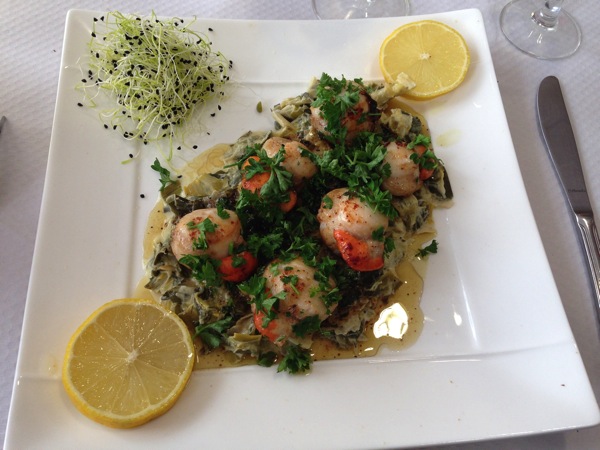 Coquilles St. Jacques, yum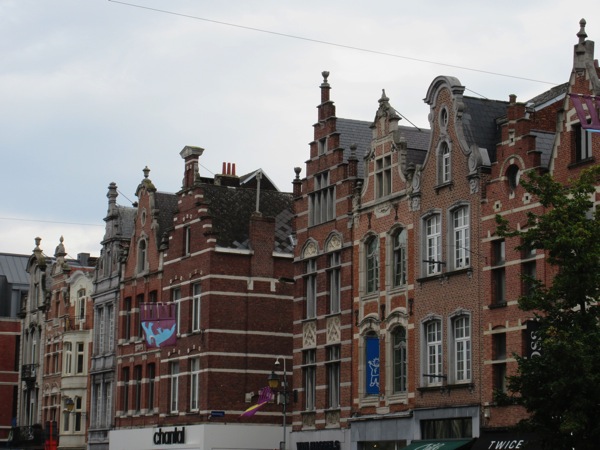 One of the sights of Mechelen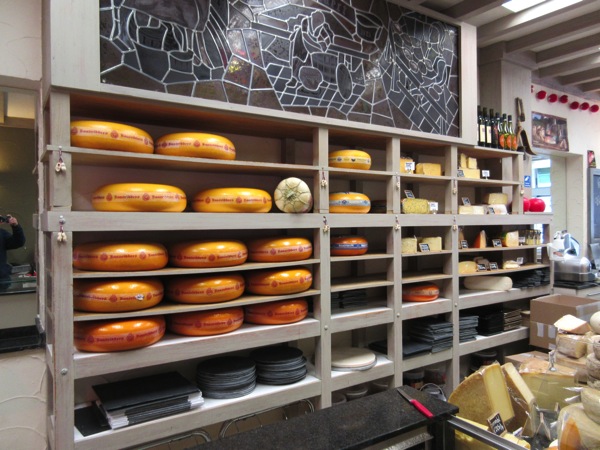 Another of the sights of Mechelen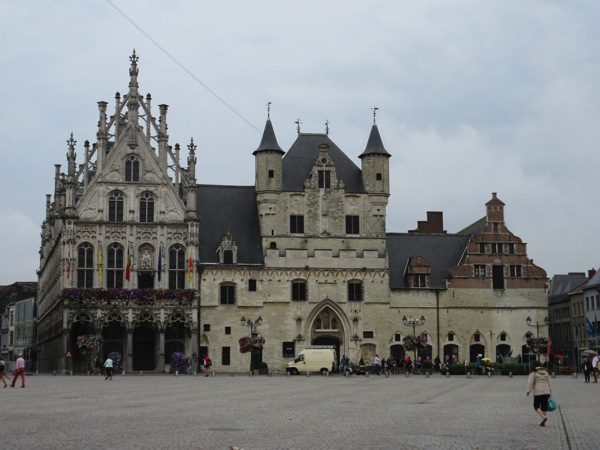 Mechelen city hall, I think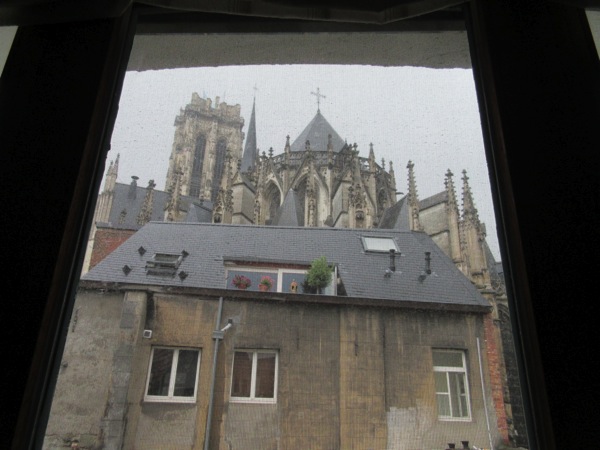 View from our bedroom window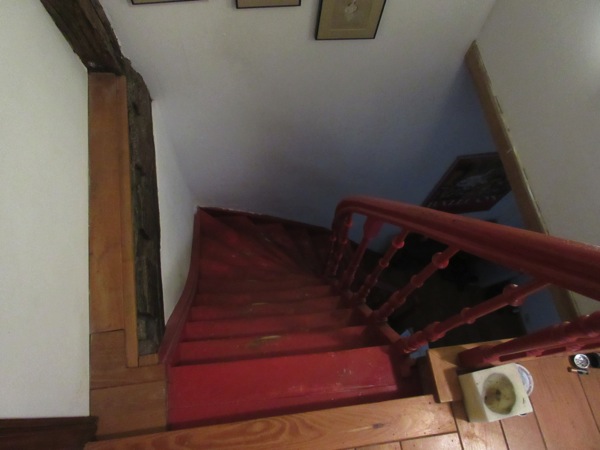 The second-floor staircase is so steep it cannot be descended facing forwards — you must face the stairs and do kind of a grapevine step to get around the corner. This was code in 1650