It was forty years ago today — June 17, 1977 — that I attended my first science fiction convention, X-Con '77 in Milwaukee, Wisconsin. It was Milwaukee's first science fiction convention, put on by the Milwaukee Area Association of Science Fiction and Fantasy Fans (MA2OSF3), and I found out about it only because my father, who was in charge of the computer lab at the university, saw someone running off flyers for the convention on one of the printers there and brought one home for me. I was a sophomore in high school.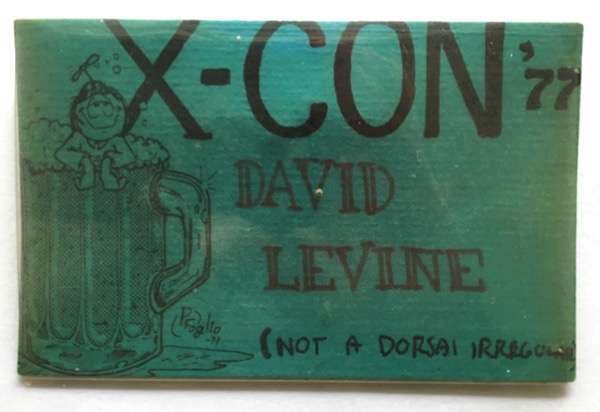 At the convention I got autographs from guests of honor Gordon R. Dickson and Robert Lynn Aspirin (he was the Fan GoH, not yet a pro writer, and famous mostly for founding the Dorsal Irregulars; my badge bears the note "not a Dorsal Irregular" because I was wearing a black turtleneck) and spent most of the time playing the new-to-me game of D&D. A couple of weeks later, I got a letter from the organizers inviting me to attend a MA2OSF3 meeting. I attended, I had a good time, and I started hanging out with them. I went to a couple more conventions that year, in Chicago and Champaign-Urbana, and several more the next, including Wiscon 2. When X-Con '78 rolled around the following June I was on the committee, as co-head of Gaming.
Since then I've attended four or five cons a year. I have saved every convention badge, though I haven't counted them lately — it probably totals something in the vicinity of 150 cons. I have been active in science fiction clubs: MA2OSF3 in Milwaukee, StLSFS in St. Louis, and PorSFiS in Portland. I have been a conrunner, fanzine editor, costumer, artist, gamer, and even dealer. I'm still involved in con running, maintaining the website and mailing lists for Oregon Science Fiction Conventions Inc., but most of my fan-related time now comes from attending conventions as a pro.
Thanks to Fandom I have traveled the world, made hundreds of fabulous friends and lovers, and met my spouse. I've laughed, I've cried, I've eaten far too many meals in hotel coffee shops. Fandom has been the spine upon which much of my life has been hung, and it is a marvel to me that I now find myself somewhere near the top of a field of which I have been a reader and fan for my entire life.
Many of the people reading this have been part of this journey, and continue to be part of it. I'd like to thank you from the bottom of my heart for being there for me, and I hope I've been there for you as well.
Next stop, Helsinki!