My big publication in 2017 was the novel Arabella and the Battle of Venus, sequel to the Andre Norton Award winning Arabella of Mars. I also published short story "Command and Control" in Infinity Wars, edited by Jonathan Strahan, and novelette "Under the Arch" in Mississippi Roll, edited by George R. R. Martin.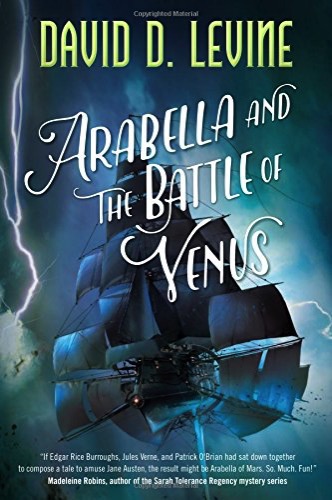 Arabella and the Battle of Venus was well received:
"Set in a well-constructed 19th century world where battles between countries take place on the inhabited planets of Mars and Venus, Levine's latest is an extraordinary read. The very independent and spirited Arabella is a bold, intelligent heroine who stands out as she drives the story forward. The cleverly crafted plot is believable in its originality, and the colorful, distinctive characters will engage readers. Levine's storytelling is animated, infused with humor and wit, and with this second installment in his series, he pens an entertaining, adventurous tale that readers will not be able to put down." — RT Book Reviews, 4.5 stars, Top Pick
"Charming young Arabella embarks on another entertaining quest in an imaginative setting that combines 19th-century seafaring with pulp-style space adventure. … This interesting piece of speculative fiction draws on venerable imaginings of distant worlds while still feeling fresh and original." — Publishers Weekly
"Levine's sophomore work brings back his plucky heroine and introduces charismatic characters for another engaging steampunk adventure among the stars." — Library Journal
"The joy is in the details of the language and inventiveness of incidents that Levine piles upon each other. Levine nearly convinced me that this fantastic world is true history. He introduces many notable new characters, especially Commander Daniel Fox, whose personal recklessness contrasts with his charisma and his ability to command a vessel. … This rich, joyful novel of action, espionage, and fascinating characters is completely its own thing. It's a series to get lost in. More, please." emissourian.com
"Juxtaposing space travel with historical episodes from the Napoleonic Wars, and contrasting polite English society with swashbuckling seafaring exploits, Mr. Levine has written a delightful, sometimes amusing, always exciting steampunk adventure." — New York Journal of Books
The Arabella trilogy will conclude with Arabella the Traitor of Mars, coming in July 2018.