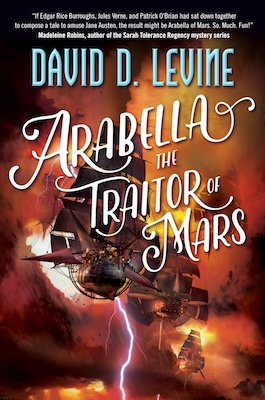 I see that the cover of Arabella the Traitor of Mars, the third and final book in The Adventures of Arabella Ashby, is out in the wild! (Click to embiggen.) The book will be available on July 31, 2018 and here's the publisher's description:
Taking up almost immediately after the great Battle of Venus, Arabella has finally returned home to Mars to settle in to life with her husband, the mysterious Captain Singh.

The Regent of the United Kingdom sets his eyes on solidifying his rule in the colonies and dispatches a fleet to better cement his control over Mars. Now Arabella and Singh must decide where their ultimate loyalties lie, with the Empire or with their home.
I turned in the final copy-edited manuscript of Arabella the Traitor of Mars on Boxing Day. This book brings Arabella's adventures to a close (she's done more than enough damage to her timeline!), and my next novel project will be something completely different. It's been quite an adventure and I'm happy and grateful to Tor for giving Arabella and her story a chance!