Sunday 10/20: Arrived in Barcelona after an uneventful flight via Amsterdam. After checking into our hotel and a brief nap, took a walk to Plaça de Catalunya and down into the Bari Gotic (Gothic Quarter) where we saw some Roman sepulchres and stopped into a torrone shop for a sweet treat, followed by tapas at Bar del Pi ("I'm scared to go in there, which tells me we ought to do it"): anchovies, patatas bravas, empanada de verdura, champignons and a brief stroll through the hopping streets of La Rambla, getting to sleep around 10:00.
Monday 10/21: Awake for an hour in the night, but got back to sleep until after 9:00. Breakfast in hotel, where we learned that "macedonia" means "fruit salad" (not, as you might guess from the yogurt label, "coyote"), then to the local tourist office for various tickets and passes.
Decided to take the tourist bus around town for a quick orientation, but after obtaining our tickets we found that there was a huge line for the bus at Plaça Catalunya. So we walked to another stop nearby, with a detour into the FNAC department store book dept. in hopes of finding a Catalan phrasebook. We found one, but decided not to lug it around for the rest of the day.
The stop we walked to was for the blue line (we wanted red) but we got on anyway and took it a few stops to a place we could transfer, then rode the red line 3/4 of the way around to orient ourselves. Rather than the loudspeaker spiel I expected, this bus had multilingual audio with free earbuds. Dozens of earbuds could be seen on the roofs of the bus shelters, having been tossed there from the bus's open top.
Before preparing for this trip, I had thought that Catalan was a dialect of Spanish (like Bayrisch in southern Germany) or a nearly extinct language (like Languedoc in France) but it is neither: it is a thriving independent language — in some ways closer to Italian than Spanish — with a strong regional (wants to be national) identity. Like Scots, it is a point of differentiation and rallying point for partisans who were swallowed up by a larger power over a hundred years ago. Like Welsh, it is given equal status with the conquerors' language (signs at the airport were in Catalan first, then English, then Spanish). I don't regret having learned Spanish before coming here, but seeing the amount of Catalan in daily use here is an eye-opener.
We got off the bus near the port, at Palau de Mar, the walked to restaurant Casa Delfín near the Santa Maria del Mar church for a late (2:45) lunch: tuna & tomato salad, grilled asparagus with Mahon cheese, bread with tomato, chickpeas with blood sausage & spinach, rice casserole de la casa (= with shellfish). Yum. After lunch it was 3:30, and the church was closed until 4:30, so we headed to the nearby Chocolate Museum. Got rather lost looking for it, but it was an interesting neighborhood to wander in.
The Chocolate Museum ticket was a bar of quite good chocolate. The museum itself, rather small, was notable for many amusing translation errors in its signage and for a story of the mythological history of chocolate that prompted Kate to comment "Even the story of chocolate begins with a woman in a refrigerator." The museum also featured many marvelous sculptures in chocolate, including a bigger-than-life Komodo dragon, a pietá, Tintin on the moon, and a Minbari(?). How do they still look so good after being on display for years?
From there we walked to the nearby "House of Three Dragons," formerly the zoological museum, now just a cool building, then back to Sta. Maria del Mar for a visit to the spacious and quiet church with some excellent stained glass. Then took the tourist bus back to Plaça Catalunya, followed by a quick stop at FNAC to pick up that book & some others. Upon leaving FNAC: gee, it's getting kind of dark… Wait, how did it get to be 6:45? Back to hotel for a nap — we seem to have stumbled into a Spanish schedule.
Dinner (8:30) at Cachitos. Montaditos (tapas on crusty bread): crab & pineapple, goat cheese & honey, and foie gras & fig jam. Entrees: grilled squid stuffed with potato; macaroni with cheese & "Iberian meat." Desserts: tarta de pera (pear cheesecake) and torrija (white bread soaked in milk and egg and caramelized on top, with ice cream). Back to the room by about 10:00; to bed (after messing with photos and such) around midnight.
That was our first full day. Tomorrow will be a busy one.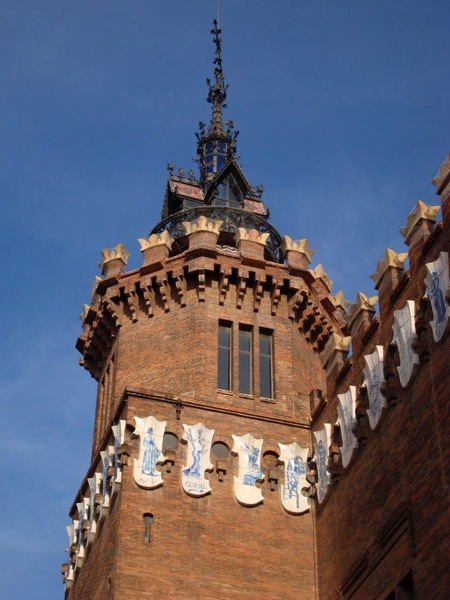 House of the Three Dragons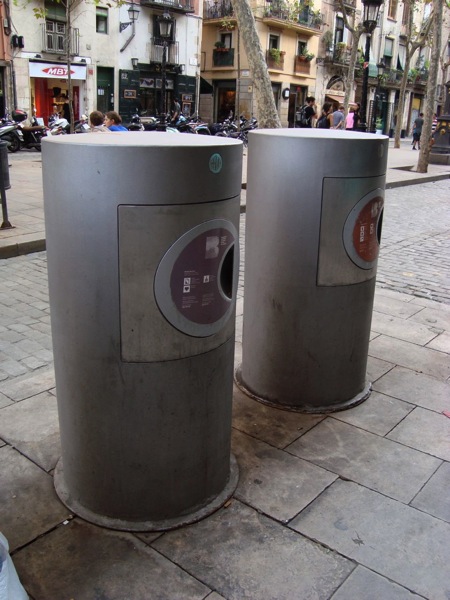 Civic garbage "aspirators" (they suck the garbage away like a giant vacuum)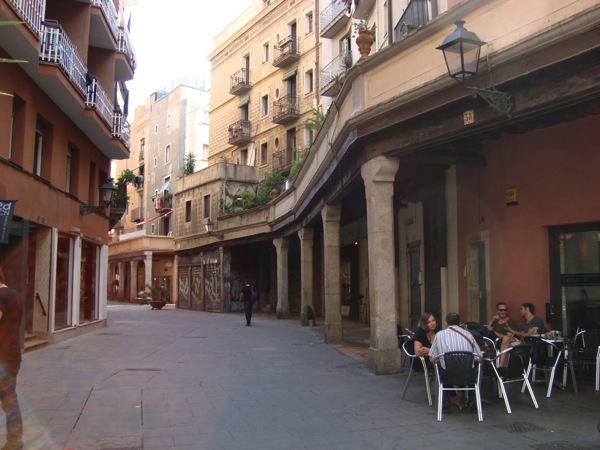 Picturesque street scene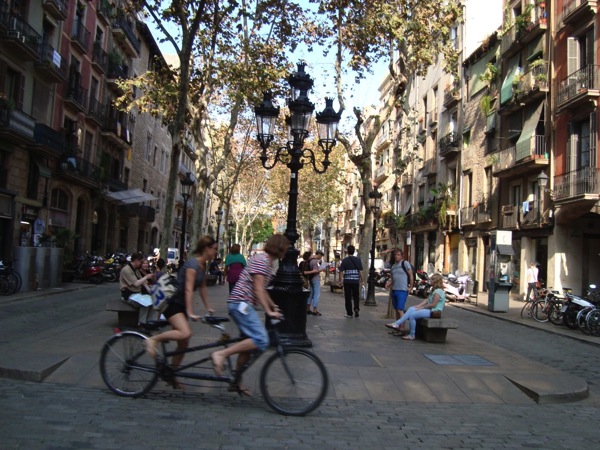 El Born, where we had lunch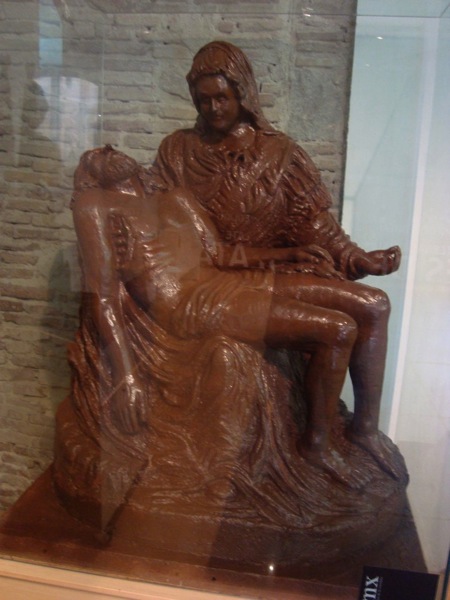 Chocolate Pietá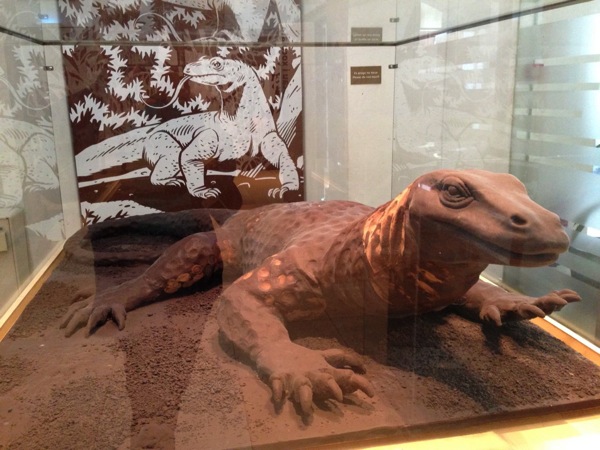 Chocolate Komodo dragon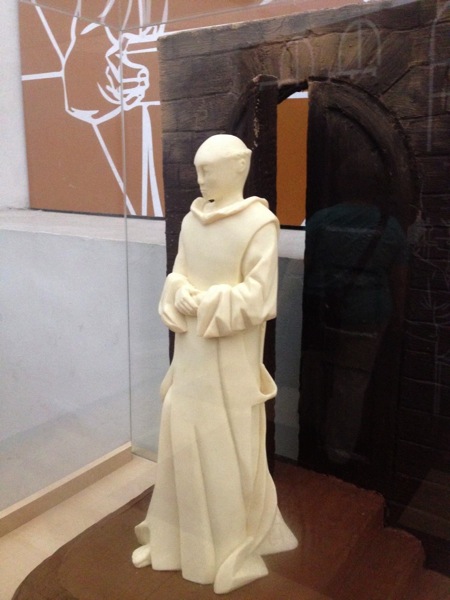 Chocolate Minbari (not really)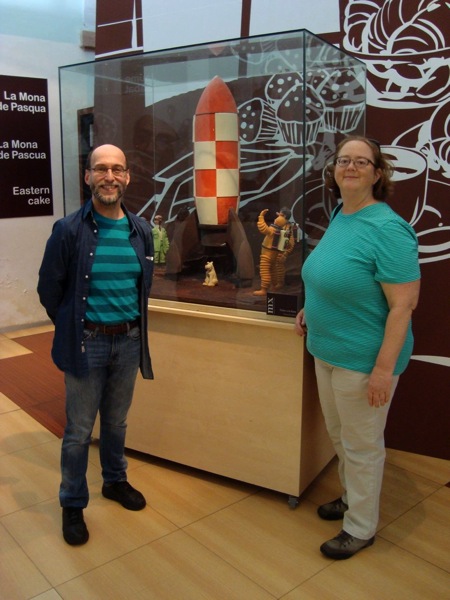 David and Kate with chocolate Tintin scene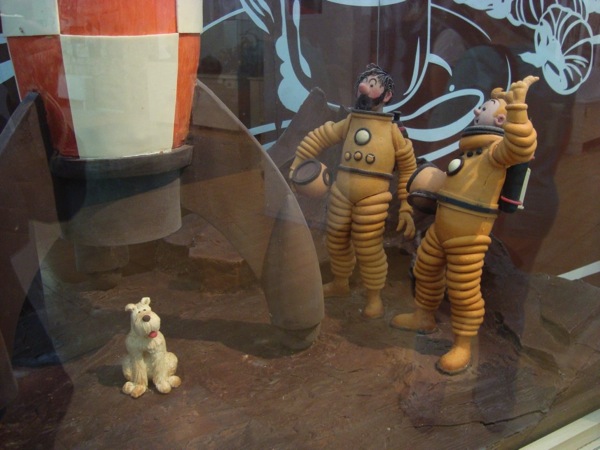 Chocolate Tintin, Captain Haddock, and Snowy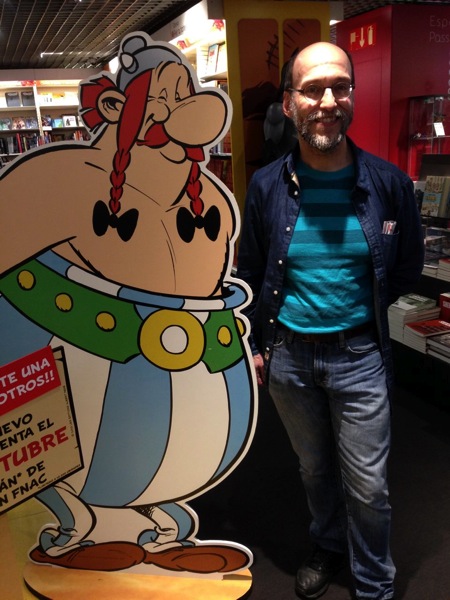 Me and a friend