Monday 10/28: The weather forecast for today included "hurricane-force winds." The wind rattled the doors, waking us up around 6:30, and took down one small tree on our block (and by "small" I mean really small — a sidewalk tree about six feet tall and three inches in diameter — actually, it might have been hit by a car) and also caused some transit disruptions, which we were able to avoid by taking different routes, so, although it was a substantial storm and did hit some people hard, it didn't affect us much at all.
Breakfast at our B&B at 8:00 again. Our breakfast companions were a different couple, no kid, but like the couple from yesterday they were also visiting an adult child at Greenwich University. We did a load of laundry at the local launderette (not quite dry, but dry enough) then walked down to the dock to catch a ferry to Embankment (I had checked while the laundry was going that it was still running despite the weather, which it was except for the London Bridge stop) and then a tube to Baker Street. We had lunch at a place called Nourish, apparently new, where we each got a wrap with hot tandoori chicken and then your choice of items from the salad bar to complete it; nummy, healthy, quick, cheap. Then to Madam Tussaud's to squash ("mangle") a penny (a real penny for once, not a cent as usual) before waiting for Kate's surprise at a nearby bus stop.
The bus was a little late, but when it finally arrived it turned out to be a double-decker plastered with Harry Potter billboards, which took us to the Making of Harry Potter Studio Tour at Warner Brothers London (where the HP films were, in fact, made, but which is actually about an hour's drive from the city). I had not even known that this tour existed, and it was a fine surprise.
The tour was great — a very enjoyable visit to some of the actual sets (including the Great Hall, Gryffindor boys' dorm and common room, potions classroom, Dumbledore's office, and Diagon Alley) with many original costumes, props, models, and special effects on display (including the gigantic Hogwarts Castle "miniature" — approximately the size of our house — and an impressive animatronic griffin). Highlights included the prosthetics and practical effects department, with Warrick Davis and the effects guy on a large screen, clips from the film on a second smaller screen, and the actual gizmos on display and moving below them. One of the staff members who answered our questions had been an extra (not really a surprise) who told us that he'd been one of the students in the big welcome feast in the first film; the food had been real and had gotten extremely rank over the many days of filming. The extras were also encouraged to carve their initials in the tables for verisimilitude. The tour ended in a room decorated as Ollivander's Wand Shop, where the walls were lined with wand boxes bearing the names of every single person who worked on the films.
We had dinner at the tour cafe, which was actually very good and reasonably priced (I had a "jacket potato" with chili), then took the tour bus to the tube to Docklands Light Rail and then home. To sleep about 11:30.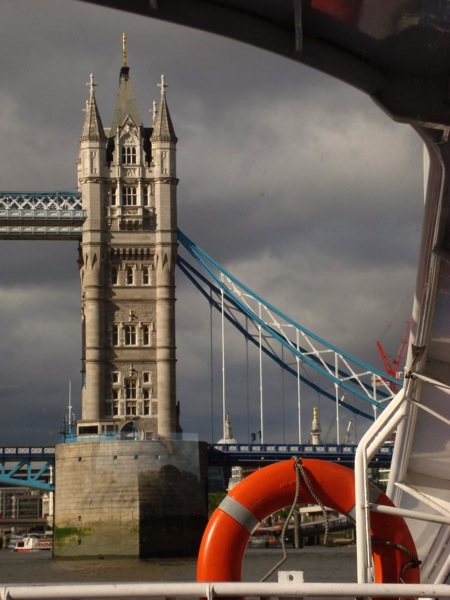 Tower Bridge as seen from the Thames ferry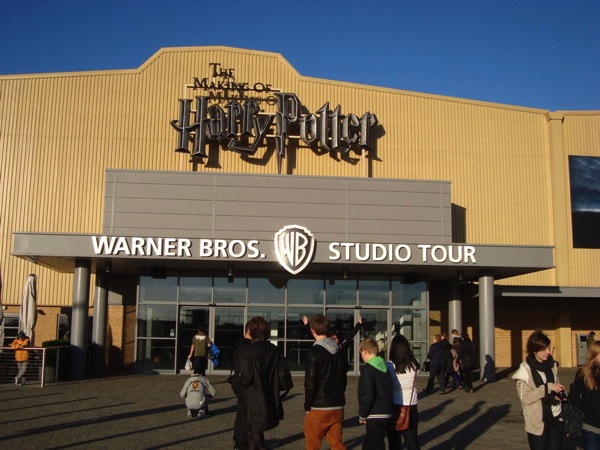 Harry Potter studio tour entrance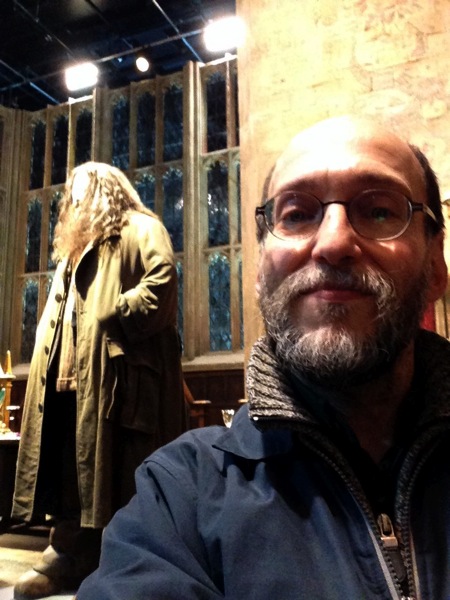 Me and Hagrid's costume in the Great Hall set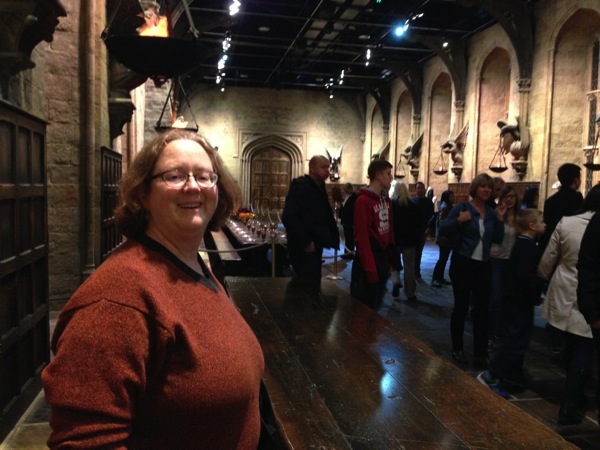 Kate on the Great Hall set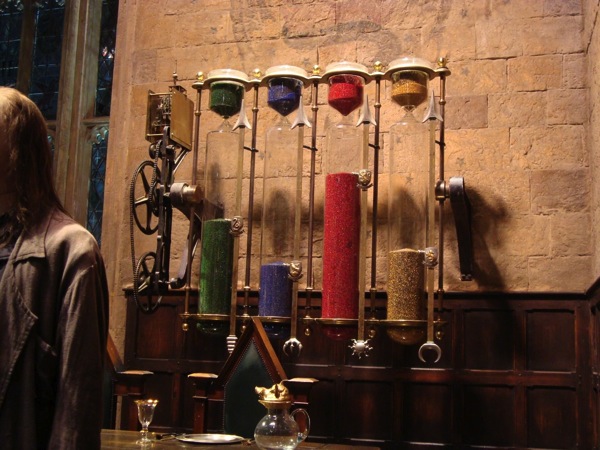 The house points counter (barely seen in the films). Apparently its creation caused a shortage of colored beads in the Czech Republic

Wig cart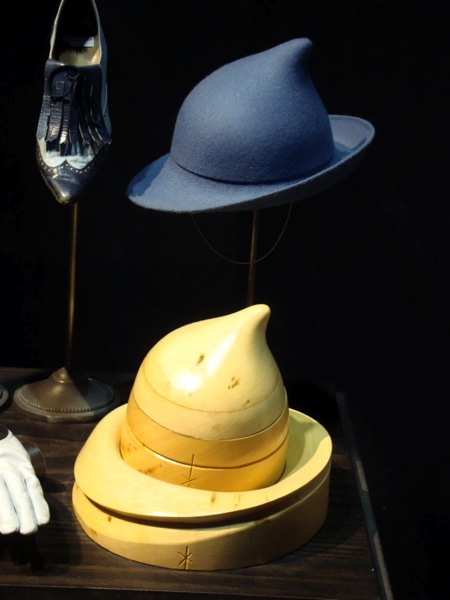 Fleur's hat and hat form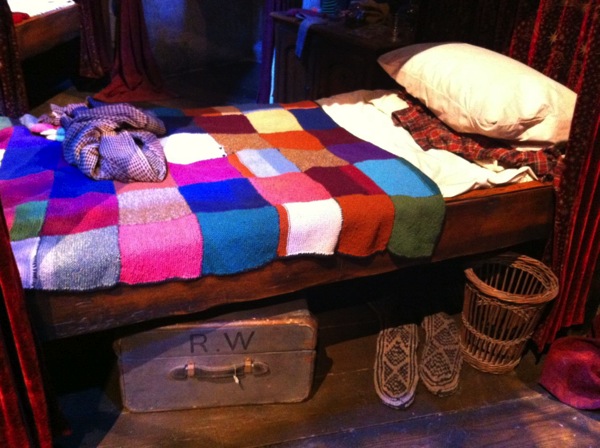 Even without the initials RW, we'd know whose bed this was from the ghastly hand-knitted coverlet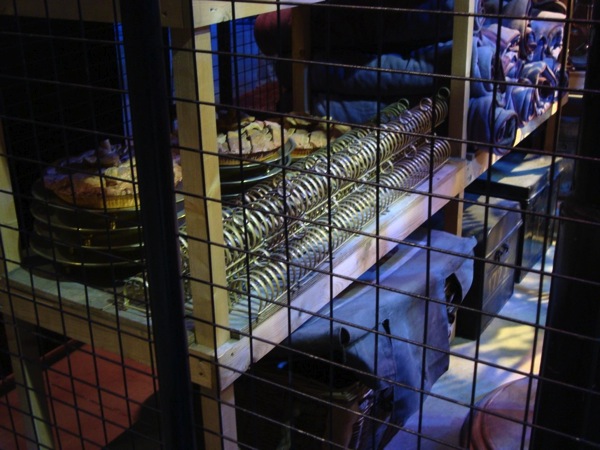 Toast racks!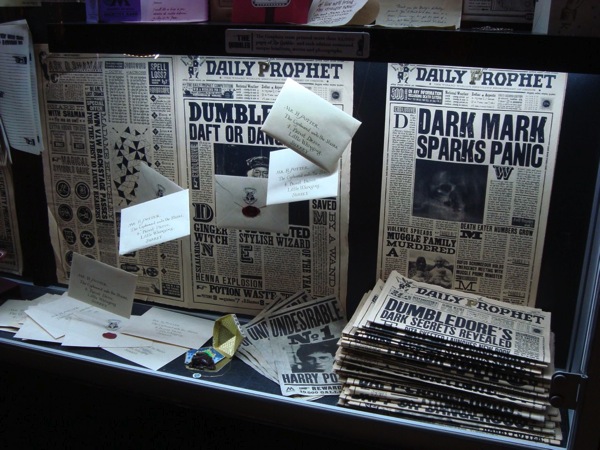 A small part of the very cool "graphics created for the films" display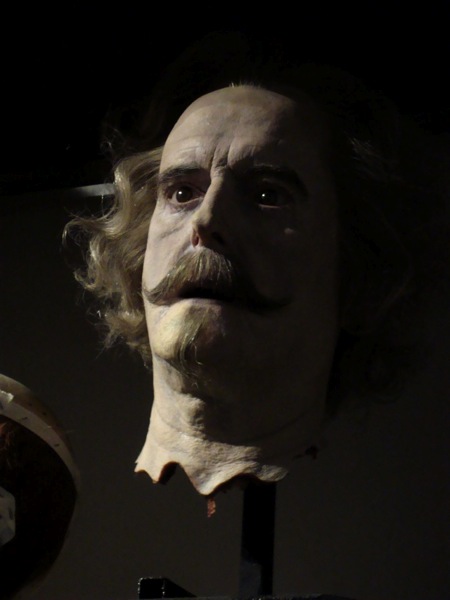 The disembodied head of John Cleese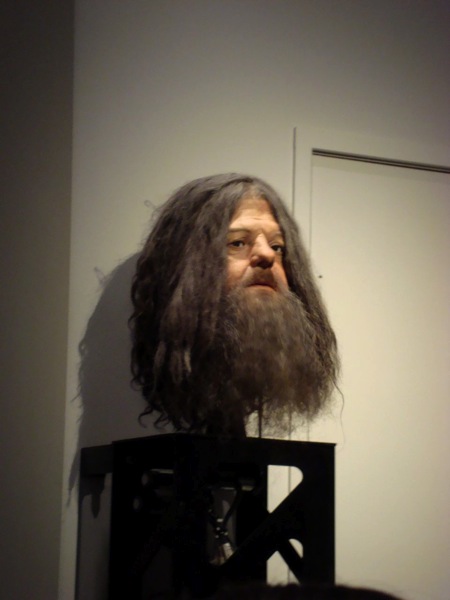 The disembodied head of Robbie Coltrane. This creepily realistic animatronic head was mounted on the shoulders of a 6'10" actor wearing built-up boots for full-body shots of the full-sized half-giant Hagrid

Many of the original "white card" set models were on display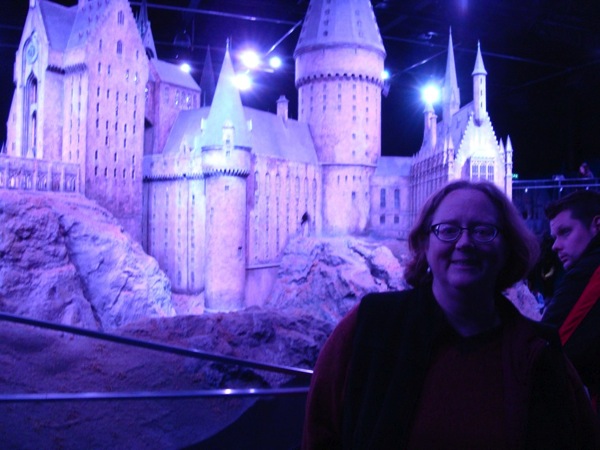 Kate in front of the enormous Hogwarts Castle "miniature"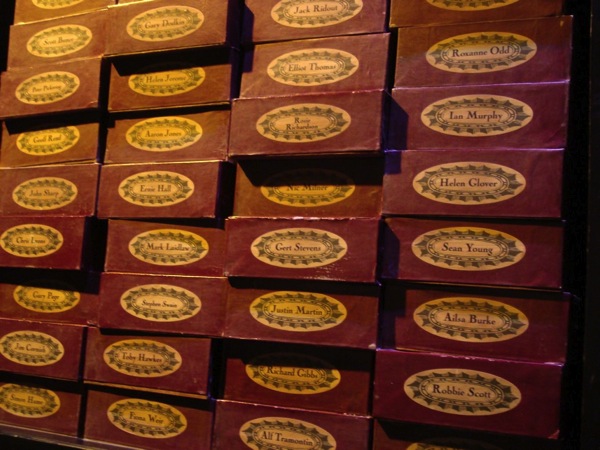 A small part of the wall of wand boxes in the last room, showing the names of everyone who worked on the films