Friday 10/25: Woke up too early, washed some clothes, then walked to bar Centric for breakfast: cafe amb llet (Catalan for cafe au lait) and a "bikini" (toasted ham & cheese, so called after the Bikini Club which made it famous). Stumbled on a used CD shop, then took the subway (there were keen mosaics in the station) to Casa Batllo, which is apparently pronounced "bayo," the T being silent. This curvy, organic apartment building by Gaudi has an underwater theme and was the most comfortable and livable of the buildings we've visited; Kate said she could move right in.
Got out of there about noon, walked to Lizarran, a Basque pintxos (tapas on sticks) place for lunch. After that, really brain-dead, took bus back to hotel and fell over. Then, after our nap, hit grocery store Carrefour, then the Boquieria market for juice, empanadas, candies. We were looking for a cafe, or even a bench, to sit and write some postcards but there was NO PLACE TO SIT DOWN! Many cafes, but no open tables…
After wandering for an hour we finally sat on some steps in the plaza outside Santa Maria del Pi. A couple of Americans, just arrived in country, were talking about getting Sagrada Familia tickets from the ATM and we offered them some advice. Wound up chatting for a while, nice people, nearly fannish; they shared some pintxos (things on sticks) with us and told us that the church would be having a choral contest, but we elected not to stick around for it (though this explained the groups of women in matching costumes that crowded the square). The pintxos were good so we went to where they'd come from, bar Irati, and had some more for an early supper (though the restaurant part of the bar was closed and there was no place to sit down, they brought out a chair for Kate).
Still hoping for a place to sit and write postcards, we headed for some cafe but wound up at bakery/cafe La Pallaresa, where the waiter came up with an expectant expression and we just ordered chocolate and churros (I had expected a menu or something but it's just as well, that's what we would have ordered anyway). The chocolate was thick and rich, maybe a bit too bitter, churros crisp but not as fresh as some. Wrote some postcards, returned to the hotel, checked in for tomorrow's flight, synced and backed up photos, wrote these notes, to sleep by 10:30.
Even though I didn't get a lot of what you'd call "use" out of my Spanish study (as most tourist professionals spoke English and much of the local communication was Catalan, not Spanish), I don't regret it. I feel much better about my coping skills here than I did in the Czech Republic, where I did not have the local language at all. I think I would like to keep on studying with the Duolingo app, but I don't know whether I'd rather keep on with Spanish or switch to French. Then again, realistically, with no deadline I probably won't really keep on with it…
Saturday 10/26: Awake 8:00, breakfast in hotel, packed up, checked out, cab to airport. Brief moment of panic when I realized we'd been waiting in the place where you wait for your gate to be assigned as though we were at the gate, but there had been no announcements and I had not been keeping track of the time. But we got to our gate a few minutes before boarding started. Uneventful flight, decent chicken wrap snack on board.
Arrived Gatwick and walked about a billion miles to immigration, paused after leaving secure area for ATM and another meal (ate at Joe's, not bad for airport food), because stupid and cranky. Decided to take the train to our Greenwich B&B because a cab would be awfully expensive. We had some difficulty finding our connection at London Bridge station but did eventually make it onto the right train with all our luggage (and off again ditto). It was only half a mile to the hotel from the Greenwich train station but we took a cab anyway, as just lugging our bags from one end of the station to the other was a schlep. Our B&B, "Number 37," is a delightful little place with a charming host and a tiny little room (so small it uses an umbrella stand as a trash can) but tastefully decorated with a fine selection of books on the shelves.
After tea, graciously provided by our host, I walked to the TI for transit passes. I arrived just after it closed but did get to see Cutty Sark and the dome of the pedestrian tunnel under the Thames, neither of which I'd known were here. I must confess that the streets near the train station looked pretty bleak but now that I'd had a chance to explore Greenwich I was charmed. A fan of naval history could happily spend several days in Greenwich without visiting central London at all! Also stopped in a used record shop and a candy shop before returning to the B&B.
Greenwich has just about every kind of restaurant you might expect to find on a British high street. We wound up having Indian dinner at Mogul, recommended by our host: chicken with pulses (a sweet and spicy sauce), lamb with spinach, okra, all very good. We showed up at 6:45 and the place was half empty, but by 7 they were turning people away, so we were very lucky in our timing. After dinner walked around the area a bit, then made an early night of it.
Sunday 10/27: Awake 7:00 for 8:00 breakfast — clocks changed overnight; it wasn't GMT here when we landed yesterday but it is now. A typical English egg-and-bacon B&B breakfast, but with homemade muesli and yogurt, very nice. The other guests were a couple from Yorkshire and their 5-or-6-year-old daughter Poppy, rather entertaining.
After breakfast we walked down to the TI but arrived a bit before it opened, so strolled the grounds for a while. Weather very blustery, with a big storm in the forecast; my hat blew off and got more than half a block before I managed to intercept it. At the TI, obtained Oyster cards and looked at some nice exhibits about the naval hospital etc., then proceeded to the Naval Museum, where we saw the orientation exhibit, East India Company exhibit, brand-new exhibit on Nelson, and the hall of ship models, leaving much more unvisited, but admission is free and we can theoretically go back. I bought the books of the Nelson and East India Company exhibits at the museum shop.
Lunch at Rivington Bar & Grill: venison & mushroom pie (with a ceramic pie bird in it) for me, Sunday roast beef with Yorkshire pudding for Kate, side of squash, expensive but very good. Visited the antiques market next door, then went back to the room for a nap, awaking too late for more touristing. Had a decent fish & chips supper at The Pier (since 1900) then back to the room for an early night of television and blogging. Feeling a bit blah, what with the weather (still blustery and cold) and Kate's knee and all being a bit of a drag, but still having a good time.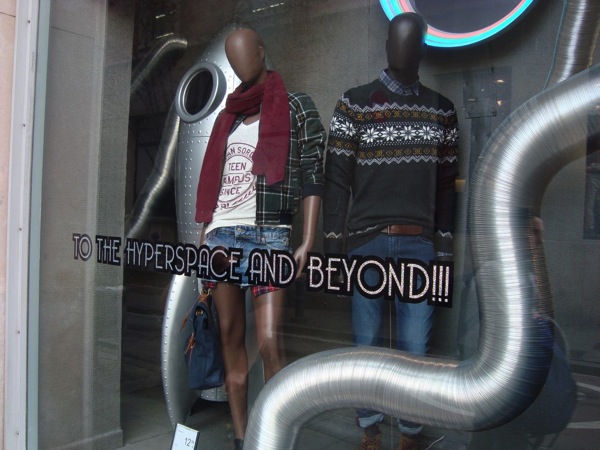 Shop window on La Rambla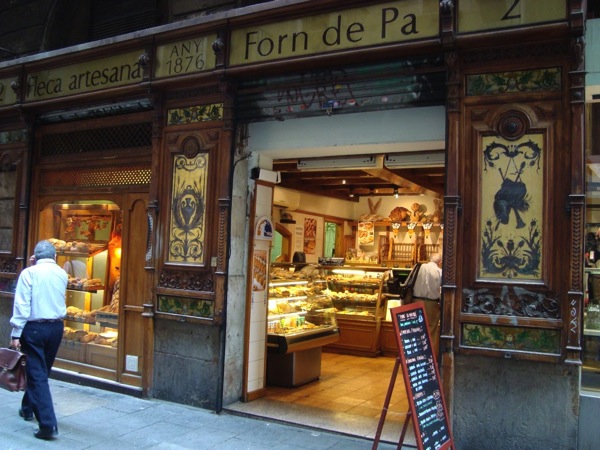 Beautiful Barcelona bakery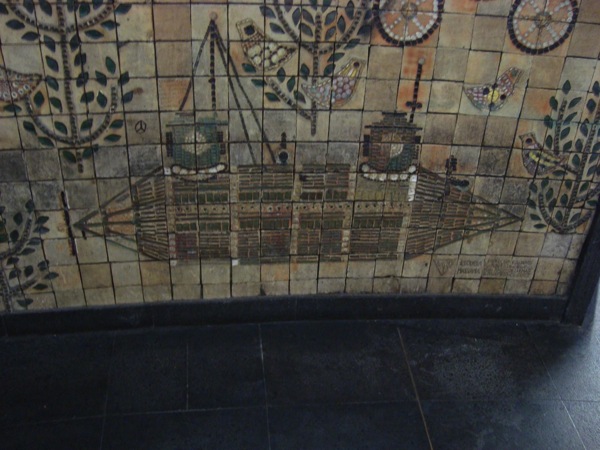 Mosaic of a submarine in the subway station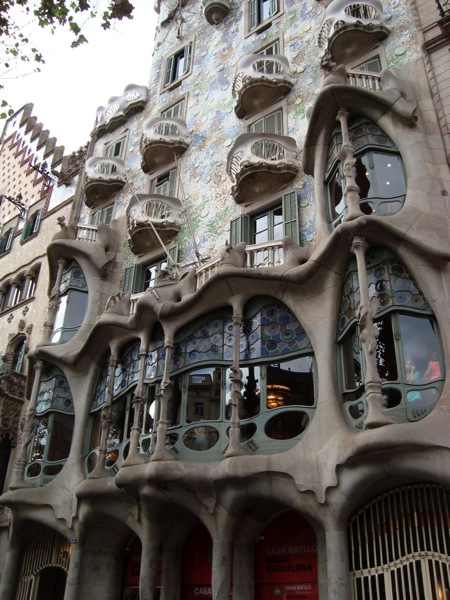 Exterior of Caca Batllo, aka The House of Skulls or The House of Yawns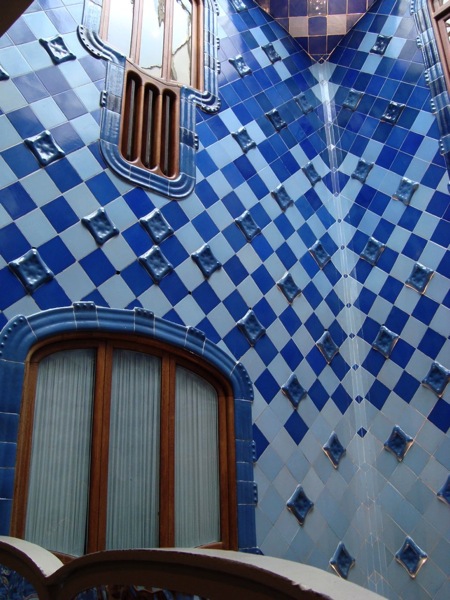 Tiled interior light well at Casa Batllo adds to the "enchantment under the sea" theme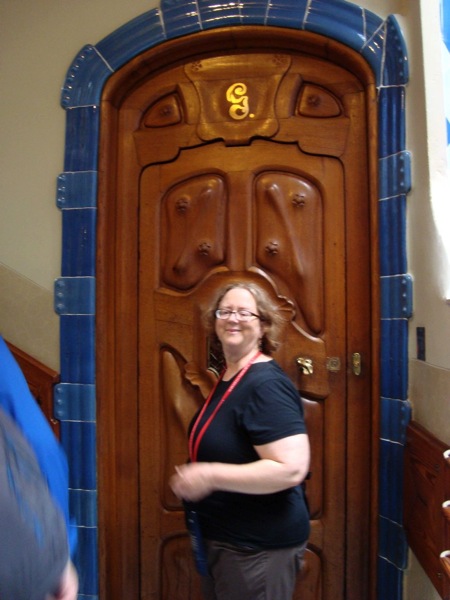 Kate with one of the delightful hand-carved doors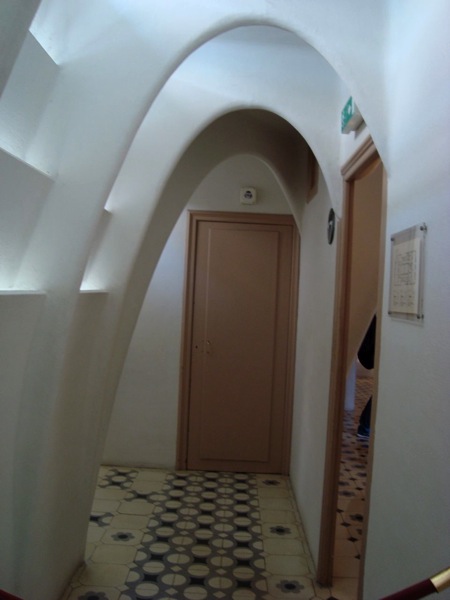 This is the servants' quarters in the attic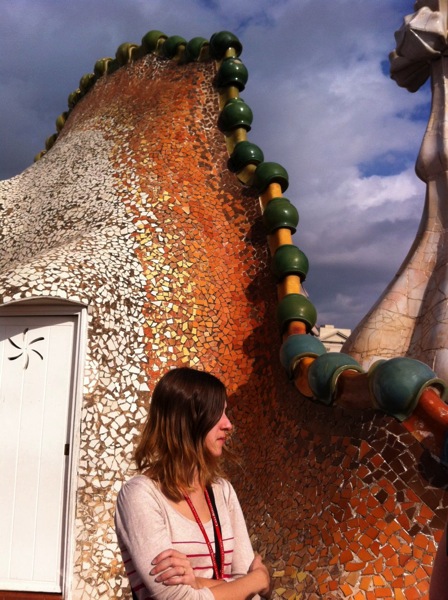 "Dragon" roof tile detail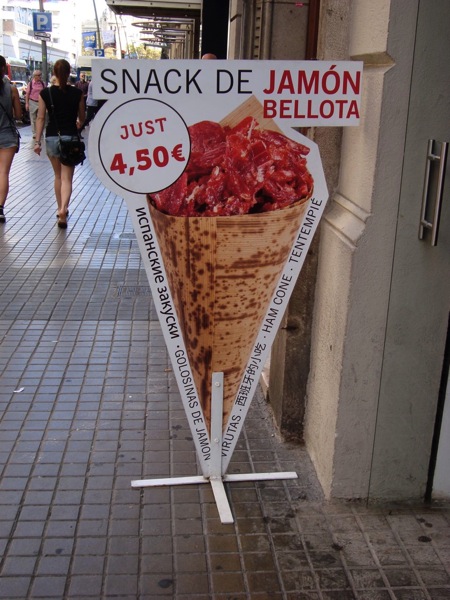 Ham cone. Ham cone. HAM CONE!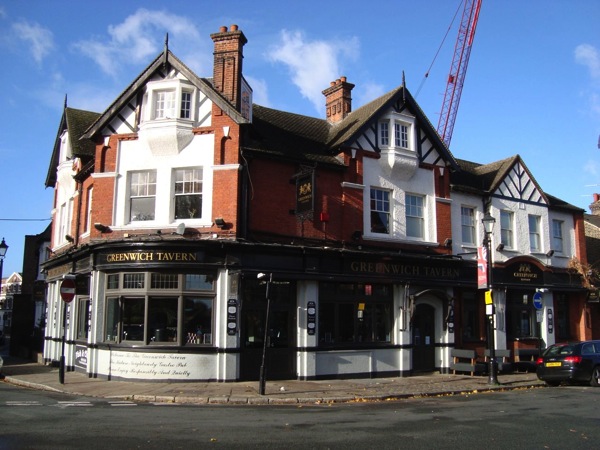 Now we are in Greenwich. It's different from Barcelona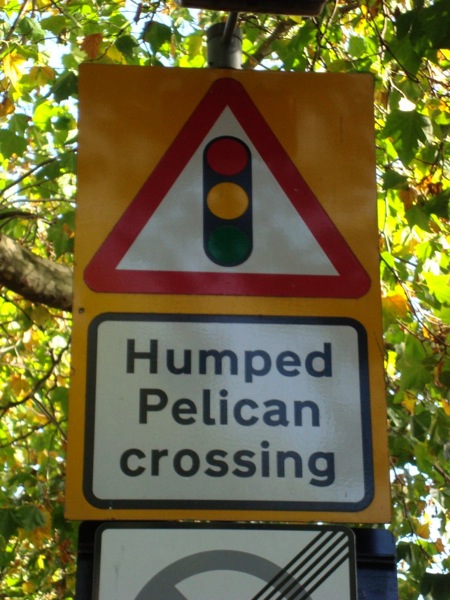 Quote without comment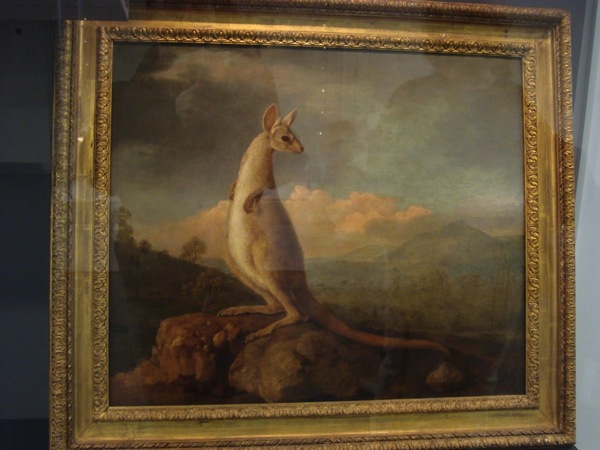 First known European painting of a kangaroo. Not from life.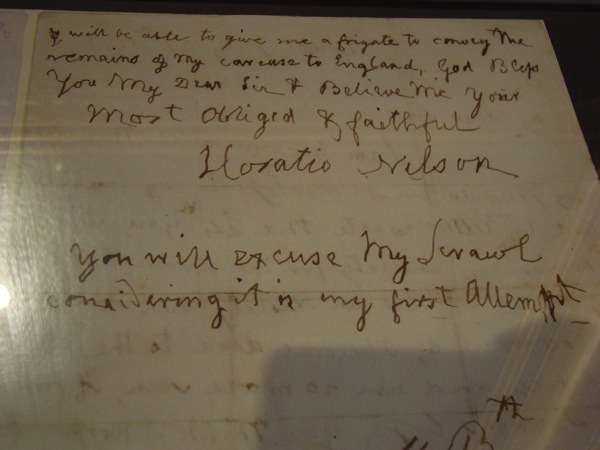 The first letter Horatio Nelson wrote after losing his right arm. "You will excuse my scrawl."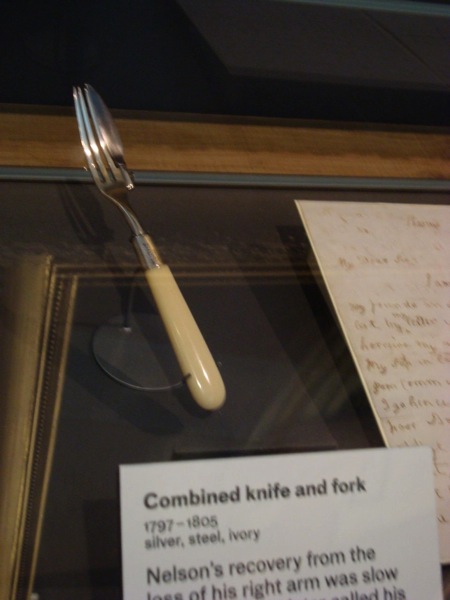 Nelson's spark. (Okay, fork/knife.)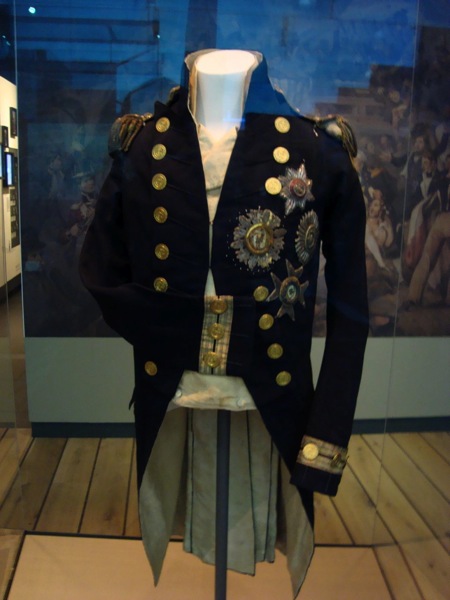 And, finally, the jacket Nelson was wearing when he died. You can see the bullet hole in the left shoulder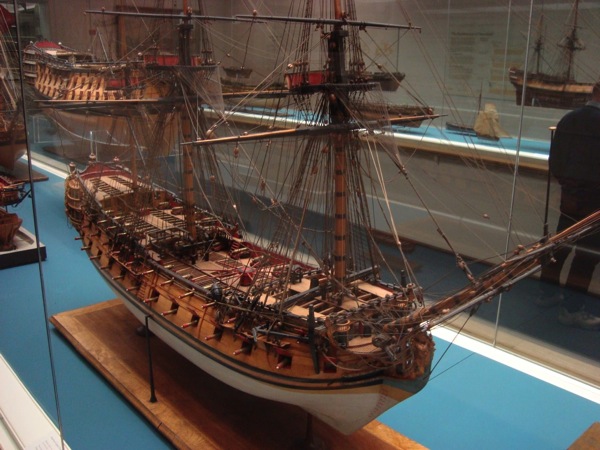 There was a whole room of these beautiful ship models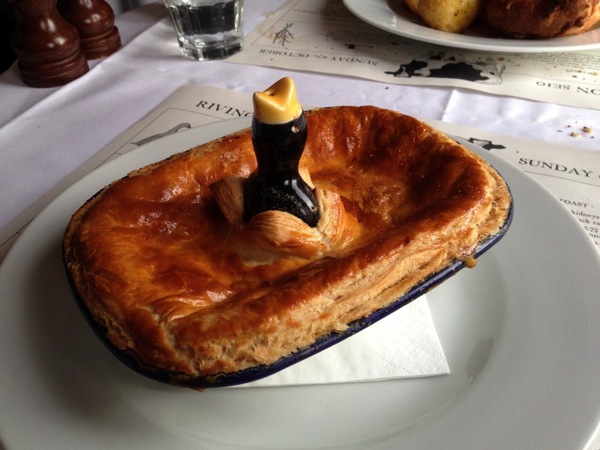 Receipt said "deer pie." Blackbird is just a serving suggestion