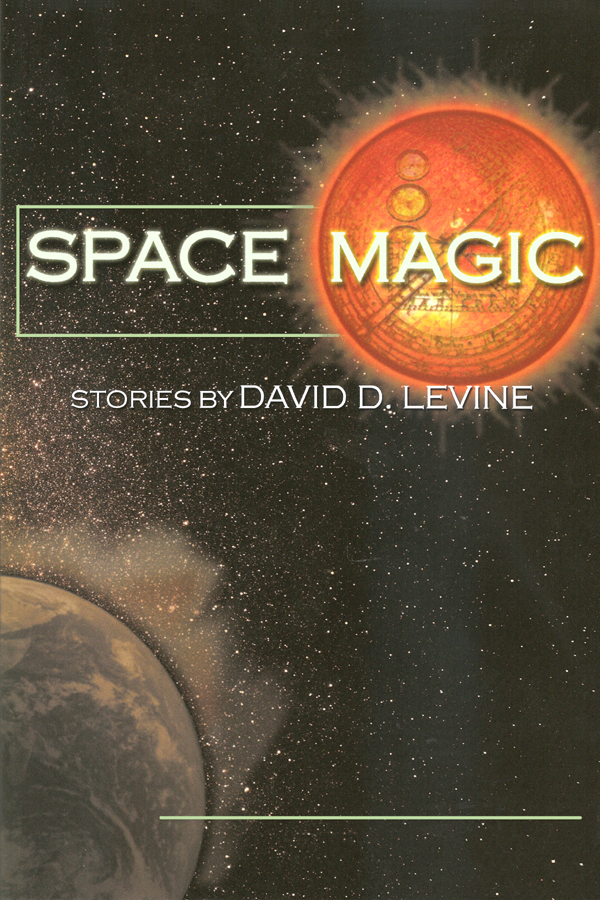 This Endeavour Award-winning collection pulls together 15 critically acclaimed science fiction and fantasy stories that take readers from a technicolor cartoon realm to an ancient China that never was, and from an America gone wrong to the very ends of the universe. Including the Hugo Award-winning "Tk'Tk'Tk," the Writers of the Future Award winner "Rewind," "Nucleon," "The Tale of the Golden Eagle," and many other highly-praised stories, Space Magic shows David D. Levine's talents not only as a gifted writer but as a powerful storyteller whose work explores the farthest reaches of space as well as the depths of the human heart.
New! Audiobook Edition
Space Magic is now available as a professionally-produced audiobook, read by the author. You can buy it from Book View Café, Audible, Amazon, and iTunes in a variety of audio formats.
If you'd like to try before you buy:
Reviews
"Levine is a multitalented author whose fertile, wide-ranging imagination is—as his title implies—equally at home in the fields of fantasy and science fiction. The best of these stories combine the mythic power of fantasy with the sense of wonder only science fiction can provide."
—Realms of Fantasy
"Levine finds a way to show that the sense of wonder can be alive in all of us. This collection makes it clear that David D. Levine is a writer to watch."
—Internet Review of Science Fiction
"Collections like Levine's are more important to the genre's creative vitality now than before. There is something important to science fiction's future here—a transcending of generic boundaries, and even the constraints of a science that seems far less friendly than before to the idea of a 'life among the stars.'"
—The Fix
"These are the kind of stories that set the mind in motion; they are encapsulated vignettes of what could be, without belaboring the how or why—leaving much of that for you to explore in your own imagination. How he manages to do that, while still giving you a sense of satisfaction, of narrative completeness, is no less than… well, 'magic.'"
—Spectrum Circus
Stories
Space Magic includes the following stories. Click a story title below to read more about each, including a sample.
Awards